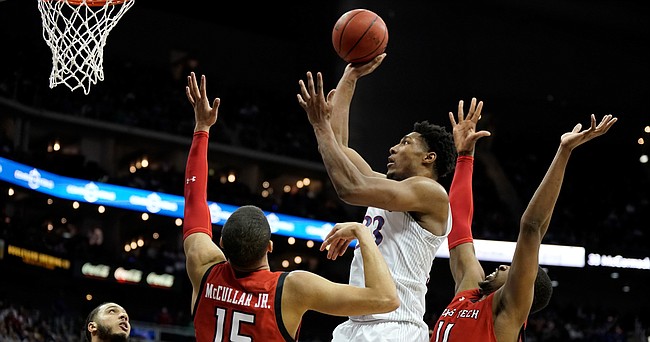 Kansas forward David McCormack is turning his attention toward chasing his lifelong dream of playing in the NBA.
On the heels of finishing his senior season by helping Kansas claim its fourth NCAA championship, McCormack announced Tuesday that he was declaring for the 2022 NBA Draft.
The announcement came early Tuesday afternoon on his Instagram page, exactly two weeks after he posted a photo of himself kissing the 2022 national championship trophy with the words "Mission Accomplished" attached to that post.
McCormack's announcement did not mention anything about retaining his college eligibility, though he will have until June 1 to pull his name from the NBA draft pool should he still want to consider returning to college for his super-senior season brought about by the COVID-19 pandemic.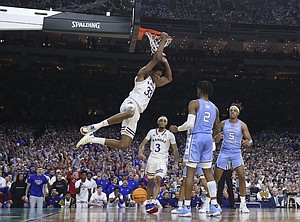 It does not seem likely that McCormack is headed down that path.
"I can't imagine ending my career at Kansas any better than we did this past season, as national champions," he wrote.
He also added the words "what a ride" and noted that it was "crazy to think how much I've grown both on and off the court — as a person and a player" during his four years at Kansas.
The words associated with the graphic announcing his decision included: "It's been a true privilege to call myself a Jayhawk and now it's time to chase a lifelong dream. Rock Chalk Forever."
If Tuesday's announcement is a true goodbye, McCormack leaves KU as a member of the 1,000-point club — he scored 1,148 points, which ranks him 46th on KU's all-time list — and with career averages of 8.7 points and 5.2 rebounds in 17.7 minutes per game.
He appeared in 132 games and made 96 starts and was heavily praised by KU coach Bill Self for putting in countless hours of extra work in the training room just to be able to practice and perform on game nights. This season, that resulted in McCormack making 37 starts and playing in all 40 KU games.
Often criticized by the fan base and even Self for not consistently performing at the level he was capable of, McCormack saved his best for last by starring in the NCAA Tournament and, specifically, at the Final Four.
After defeating Villanova and North Carolina to win this year's top prize, Self said the 6-foot-10 forward from Norfolk, Virginia, was deserving of being named co-Most Outstanding Player with teammate Ochai Agbaji. Self also noted that he will look into whether McCormack's name and No. 33 jersey belongs in the Allen Fieldhouse rafters for his strong career and stellar finish.
It remains to be seen whether McCormack will get an invitation to next month's pre-draft combine in Chicago. In New Orleans, some analysts said his performance at the Final Four likely earned him that opportunity.
Still, McCormack has not ever consistently seen his name appear on NBA mock drafts and one NBA draft analyst recently told the Journal-World that McCormack was a long shot to get drafted in the June 23 NBA draft.
If he isn't, he still could catch on with a pro team via the free agent route or, more likely, he could wind up making a lot of money while playing professionally overseas.
"We are all excited for David," Self said in a news release Tuesday. "What David did in the NCAA Tournament puts him in a position that he can capitalize on this. We should all appreciate everything he has given to us throughout his career at Kansas and we are certainly not national champs without his efforts and sacrifices he made to our program. This is a good day, and we respect and support David in his wishes."