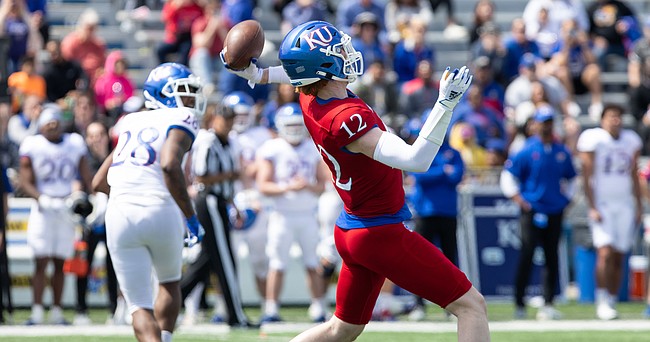 Kansas walk-on Chris Teahan on Saturday added another chapter to what was already a memorable week for the Leawood native.
Five days after celebrating his team's 72-69 win over North Carolina in the national championship game in New Orleans, Teahan traded in his high-tops and shooting shirt for shoulder pads and a helmet to take part in the Kansas football program's spring game.
Donning a red No. 12 jersey, Teahan came out to warm up in full uniform about 30 minutes before checking into the game.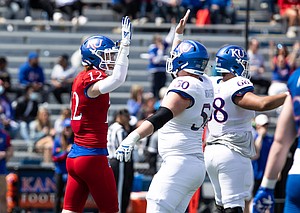 A left-handed thrower and right-handed shooter, Teahan zipped 20-25 passes on the sideline to get his arm loose. Finally, near the end of the first session of the spring game, the public address announcer revealed that there was "time for one more play."
That's when Teahan took the field, grabbing a few last-minute instructions from the sideline before heading to the huddle.
Because of the nature of the spring game, and the color of his jersey, hitting Teahan was off limits. Still, he lined up in the shotgun, took a deep snap and a short drop and then stepped into a deep throw down the right sideline.
"All I was told was that he wants to throw it as far as he can," KU coach Lance Leipold said after Saturday's fun was finished. "You know, he's known for those half-court shots. He came out slinging, for sure."
The pass traveled roughly 49 yards in the air and KU wideout Lawrence Arnold hauled it in behind the defense around the 22-yard line. Arnold raced into the end zone untouched from there, and both the crowd and Teahan went wild.
A wide receiver at Rockhurst High during his prep playing days, Teahan grew up around football and watched as his older brother, Conner, starred as Rockhurst's QB.
Saturday's TD pass was a full-circle moment of sorts for the Teahans. Back in 2010, Conner Teahan actually went through a full spring practice and played several snaps in the spring game for Turner Gill while playing as a walk-on for KU coach Bill Self's basketball program.
The older Teahan opted out of football shortly after that spring game appearance and went on to help lead Kansas to a spot in the national title game in New Orleans in 2012.
Self watched the younger Teahan's pass from the Memorial Stadium press box and several of Teahan's basketball teammates watched their buddy step into the gridiron spotlight for one play from their position on the field near the south end zone.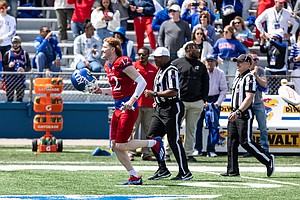 Shortly after the TD pass, Teahan and the rest of the national champion Jayhawks were introduced on the field to the spring game crowd.
The idea to get the recently crowned national champs involved on Saturday was Leipold's. He even made sure to join in, wearing a black "National Champs" hat for portions of the practice.
"I kind of threw it out there to see if we could do something like that, to have a little fun here today to recognize the great job that they've done," Leipold said. "And, of course, Teahan's not too shy on those things and he jumped right at it."
After the pass, Leipold joked that the rest of his day just got busier because he was headed to KU's compliance office to see if Teahan had any eligibility remaining. For the record, he does not.
But the KU football players enjoyed seeing him add to Saturday's fun.
"I didn't know he had that in him," said sophomore running back Devin Neal.
Added junior quarterback Jalon Daniels: "He looked like a real QB1 out there. Looked like he could play for Bama one day."
In an on-field interview with KU's social media team, Teahan said he thought one time was probably enough. But it was clear he enjoyed every second of it.
"I had a great time and I appreciate all of them for letting me come out and do this," he said. "I thought I did a decent job. I threw everything I had into it. Thank God it was a spiral."
Teahan's week will wrap up Sunday with a championship parade in downtown Lawrence, slated for 2 p.m.