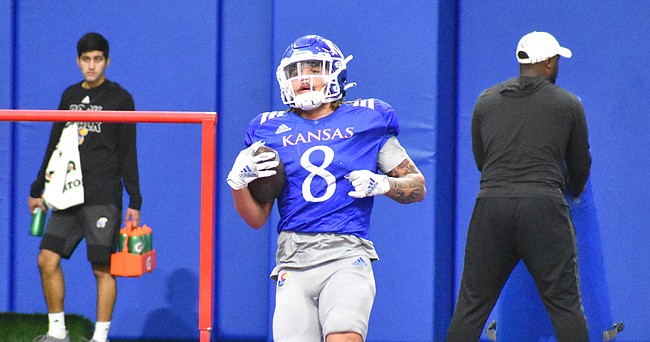 Even though he was in his third semester of college, Ky Thomas didn't really feel the sting of being so far from home until his sister decided upon her own post-high school plans in October.
That's when Thomas, the former Topeka High standout who had been playing football at Minnesota, found out his sister, Talayah, had committed to play basketball at Northwestern Oklahoma State.
Had he been home — or even closer than the eight-hour drive from Topeka to Minneapolis — Thomas could have consulted her on the recruiting process or advised her of her decision. Instead, he found out via text message that she had made her decision.
"I was like, man, I wasn't there," Thomas said, his voice still carrying regret. "You didn't tell people before and you're going to tell me after you did it? She eventually had another little signing (ceremony) so that everybody could come, but that was the biggest reason. I saw that and I was like, 'That's crazy.'"
Thomas won't be missing out on too many more family moments. He decided to transfer from Minnesota to Kansas in early January, and after enrolling at the university later that month, he'll be doing something on Saturday that he hasn't since he graduated from Topeka High in 2020. He'll play a football game in Kansas.
The Jayhawks will hold their annual spring game at David Booth Kansas Memorial Stadium at 1 p.m., giving coaches a chance to evaluate players in a more structured, game-like setting and fans to get a glimpse of what they can expect from the team next season.
The team will participate in individual and position drills for a portion of the time on Saturday before splitting up into a more traditional scrimmage-type setting.
One thing observers will notice is the new-look running back rotation, which includes Thomas and Nebraska transfer Sevion Morrison joining last year's standout, Lawrence High grad Devin Neal, in the backfield.
Even though there's nothing at stake and it won't compare to a late-fall Saturday night, Thomas is still excited to have his parents, sister, younger brothers and several other friends and former coaches in the stands.
"I haven't played in Kansas since my last high school game, so what, two years? Three years?" he said. "That's what I'm most excited about. Just being able to play close to home again."
Thomas led Minnesota in rushing last season as a redshirt freshman with 824 yards and six touchdowns on 166 carries, or an average of 91.6 yards per game. It was mid-October when he stepped in as the Golden Gophers' top back following injuries to Mohamed Ibrahim and Trey Potts — around the same time his sister was making her college decision.
He finished his season with 144 yards and a touchdown in the Golden Gophers' win over West Virginia in the Guaranteed Rate Bowl to be named the game's offensive MVP. Within a week, he formalized his decision to transfer by entering his name in the NCAA's online portal.
Though he wasn't interested in attending Kansas after leaving Topeka High, where he ran for 7,703 yards and 95 touchdowns, it was essentially the only school he considered once he left Minnesota, he said. Neal, a former grade-school teammate, said last month that he played an active role in recruiting Thomas to the Jayhawks, but Thomas said that Neal didn't need to do so because his decision had already been made.
"It wasn't about playing (time)," Thomas said. "I was playing, so it was really just about being close to family. I'm the oldest sibling. I have three younger siblings, so just seeing them grow from a distance, it was crazy to me. I'd come back and they'd get a little taller, get a little older, so just not being able to see them as much as I necessarily wanted to, that was (difficult)."
How Kansas will get enough carries for Thomas, Morrison, Neal and even Daniel Hishaw, who is returning after missing all of last season following a leg injury, remains to be seen. Earlier this spring, offensive coordinator Andy Kotelnicki said running backs are "some of the most athletic guys you have on your football team," and he would like to have at least three be among the Jayhawks' top performers each game.
Thomas, who considers himself an "all-around back," said he, too, is unsure how the coaching staff will be able to get the running backs enough touches. He did, however, see film of how they did so at Buffalo and Wisconsin-Whitewater, their previous stops, and that included using a two-back system that included swing passes to the backs and even having them line up in the slot on occasion.
It seems unlikely Kansas will show many of those wrinkles during the spring game; coaches are loath to show unique concepts in such a scenario and instead will run a limited number of staple plays.
Regardless of what Thomas does on Saturday, though, he'll know one thing is true: He's not in Minnesota anymore.
"When I entered the portal, I kind of knew like, I'm gonna end up in Lawrence, Kansas, now," Thomas said. "It's just a crazy journey being from Topeka. It's just crazy."