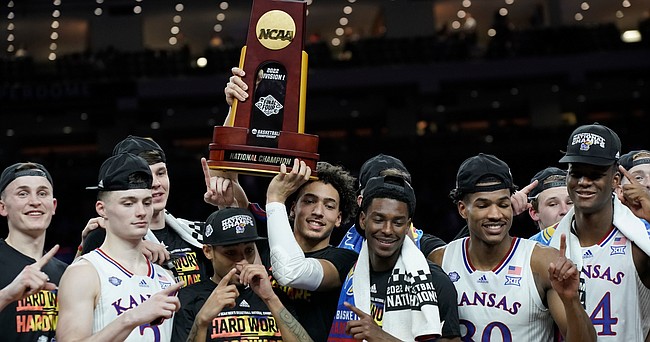 A parade to celebrate the University of Kansas men's basketball team's NCAA Championship victory will take place at 2 p.m. Sunday in downtown Lawrence, the university announced Wednesday evening.
A news release from KU said the parade would run south on Massachusetts Street from Sixth Street to 19th Street. In addition to the men's basketball team, the parade will also feature the university spirit squad and band, according to the release.
Massachusetts Street will be closed to traffic from 3 a.m. Sunday until roughly two hours after the end of the parade, the release said.
Photo Gallery
Kansas basketball v. North Carolina (NCAA Championship Game)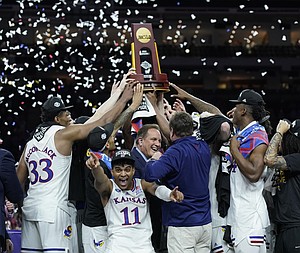 View a gallery of images from the 2022 National Championship game between the Kansas Jayhawks and North Carolina Tar Heels at Caesars Superdome in New Orleans.
Beginning at 11 a.m. Sunday, fans can park on the KU campus in Lot 90, the Burge Union and the Computer Center and take a shuttle to downtown, according to the release. The shuttles will run for up to an hour after the parade, as well.
Sunday's parade will continue a long tradition of celebrating KU men's basketball national championships by sending players, coaches and staff members down Mass Street in front of thousands of cheering fans. Similar parades took place in 1988 and 2008 and both drew tens of thousands of screaming Kansas fans.
The Jayhawks' latest parade was made possible by their 72-69 win over North Carolina in Monday's national championship game at Caesars Superdome in New Orleans, Louisiana.
Five Jayhawks scored in double digits and KU overcame a 15-point halftime deficit to win. The comeback was the largest in NCAA championship game history and the win made KU coach Bill Self the first Kansas coach to guide the Jayhawks to multiple NCAA titles.
The Jayhawks finished the 2021-22 season with a record of 34-6 and on an 11-game winning streak.