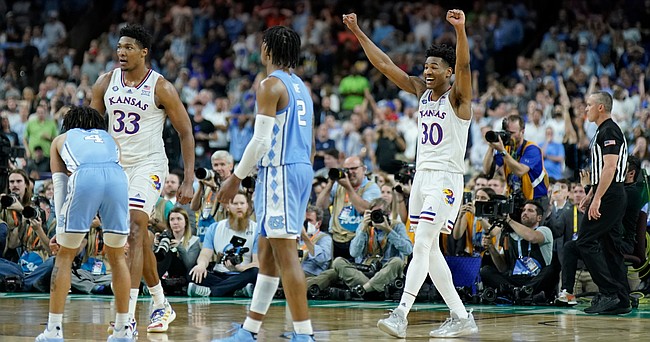 New Orleans — Four years ago, Kansas coach Bill Self brought in a four-man recruiting class that, as usual, featured some promising young players.
Two of them were still with the KU program on Monday night, playing in the school's first national title game in 10 years.
"I'm thrilled for them," Self said. "When we recruited the senior class, the headliners were not David McCormack and Ochai Agbaji. They were Devon Dotson and Quentin Grimes."
Dotson left for the NBA after two seasons. Grimes left for Houston after one, and Agbaji and McCormack were left to hold it down for that group. As a result, the two grew closer and learned how to carry the torch as KU upperclassmen tasked with teaching incoming youngsters and veteran transfers the KU way of doing things.
Photo Gallery
Kansas basketball v. North Carolina (NCAA Championship Game)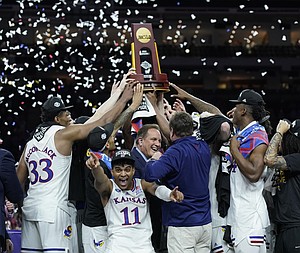 View a gallery of images from the 2022 National Championship game between the Kansas Jayhawks and North Carolina Tar Heels at Caesars Superdome in New Orleans.
"I'm extremely happy for those guys and what they've given us," Self said of Agbaji and McCormack, who both leave KU as 1,000-point scorers.
While the two seniors technically could return to KU for one more season because of the COVID-19 exemption, Monday's game likely was the end for both of them. It also marked the final game in the KU careers of seniors Mitch Lightfoot, Chris Teahan, Remy Martin and Jalen Coleman-Lands.
"I know it's going to hit hard after the season," McCormack said earlier this week. "I've just been so focused on getting to Monday that nothing else has sunk in, honestly."
Pierce talks to team
The Jayhawks welcomed a special visitor to the team hotel late Sunday evening for a little pregame reminder of what they were about to embark on roughly 24 hours later.
Hall of Famer Paul Pierce, who starred at Kansas from 1995-98, spoke to the team briefly in a ballroom at the JW Marriott in downtown New Orleans.
"You all have a chance to do something special that's going to last forever," Pierce told them, according to a video from KU's Twitter account. "You all will be talking about it forever. "These moments don't come around like this (all the time).
During his three seasons with the Jayhawks, Pierce never made it farther than the Elite Eight. The former All-American and NBA lottery pick who went on to win a world title with the Boston Celtics lost to Syracuse in the 1996 Elite Eight, to Arizona in the 1997 Sweet 16 and to Rhode Island in the second round in 1998.
"You all represent guys like me who didn't have a chance to play in this game," he told the current Jayhawks. When you all go out there, I feel like I'm winning. You all represent family, you all represent culture and you all represent the tradition. Former players, we watch from afar. We always keep up. That's what Kansas basketball's about. We're a culture; we're a family."
Faces in the crowd
Among the couple dozen former KU players who attended Monday's title game, the one with the most interesting wardrobe had to be former KU point guard Russell Robinson.
While the black KU pullover was pretty basic, Robinson's hat caught some eyes. Not only was it autographed by the members of the 2008 national championship team, but it also featured Robinson's piece of the net, tied to the back, from that KU win in San Antonio 14 years ago.
Robinson said Monday marked the first time the hat and net had left his house.
"I had to bring it out," he said, noting that he hoped it would bring the current Jayhawks the same good fortune that his team experienced.
Robinson was far from the only notable name in the stands on Monday night. Several former KU players, along with Kansas football coach Lance Leipold, sat behind the KU bench to cheer on the Jayhawks.
Included in the Kansas contingent on Monday were: Pierce, Drew Gooden, Nick Collison, Danny Manning, Aaron Miles, Brandon Rush, Mario Chalmers, Jeff Boschee, Eric Chenowith, Billy Thomas, Jeff Hawkins, Russell Robinson, Devon Dotson, Jeff Graves, Wayne Simien, Ryan Robertson, Ron Kellogg, Roger Morningstar, Niko Roberts, Tyler Self, Christian Moody, Matt Kleinmann and others.
Hey there, Dad
After losing his father, Bill Self Sr., in late January, Self has talked often about feeling his dad's presence with him during the Jayhawks' NCAA Tournament run.
In fact, Self said he estimated that he probably talked to his father more in the past couple months than he did during the past few months of his life.
"I don't know if there's anything specific," Self said. "I know when we get in a bind (it's), 'All right, what do you think? What do we need to do here?' Stuff like that."
Self said the idea of playing for his dad, along with his mother, Margaret, who was able to attend every one of KU's nine postseason games this season, made the run even more memorable.
"Everybody goes through stuff," Self said. "And certainly my stuff isn't bigger than anybody else's. But I've probably taken more pride in this than I ever have before because I know exactly how much he would be enjoying this right now."
Roy in the house
Former North Carolina and Kansas coach Roy Williams was in attendance at Monday's title game.
Wearing the same Carolina blue, white and gray striped sweater that he wore to the Tar Heels' Final Four win over Duke, Williams sat about eight rows behind the UNC bench.
He arrived at his seat about 55 minutes before tipoff and was immediately greeted by chats of "Roy! Roy! Roy!" from the Carolina student section nearby.
While in his seat, on the aisle next to his wife, Wanda, Williams welcomed a steady stream of visitors from fans and people requesting pictures to former players and old friends.
During a timeout midway through the first half, Williams received a large ovation from the 70,000 fans in attendance after he was shown on the giant video board.
No nerves now
After rolling to 32 wins to get to New Orleans, the Jayhawks looked as relaxed as they had all season once they were here.
Their confidence played a big role in that calm and collected demeanor. But they also talked throughout the week and in the hours leading up to Monday's title game about how much they appreciated the opportunity and were soaking it all in.
"Nerves haven't really been too much of a part of it," sophomore forward Jalen Wilson said. "I think every kid playing basketball (growing) up wants to be in this game, wants to play in front of 70,000 people with the highest stakes. It's really special to be here."
This and that…
KU's victory on Monday night was its sixth national title and fourth NCAA Tournament championship. That ties the Jayhawks for the sixth most NCAA Tournament titles all-time behind UCLA (11), Kentucky (8), North Carolina (6), Duke (5) and Indiana (5). … KU is now 4-6 all-time in the NCAA Tournament national championship game. … KU's 34 victories are the most in a single season since they won 35 games during the 2010-11 season. … The Jayhawks finished the season 12-1 in neutral site games. … The all-time series between KU and UNC is now tied at 6 wins apiece. KU owns a 5-2 edge over the Tar Heels in games played in the NCAA Tournament. … The Jayhawks are now 14-14 in NCAA Final Fours, which counts semifinals and national title games. … Kansas is now 45-13 all-time as a No. 1 seed in the tournament and 8-1 against No. 8 seeds. … KU's record in NCAA Tournament games in New Orleans is now 5-5, including 1-2 in national title games at the Superdome.