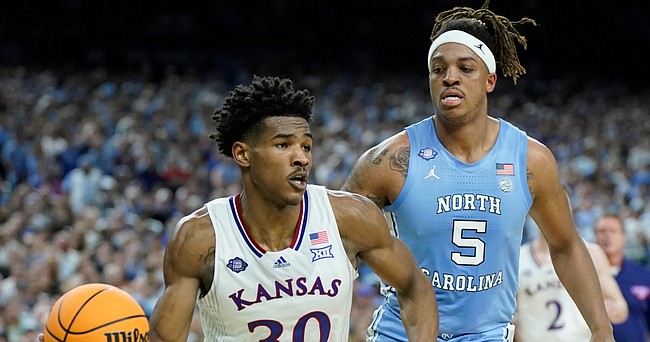 New Orleans — Kansas guard Ochai Agbaji was named the most outstanding player of the NCAA Tournament on Monday following the Jayhawks' 72-69 victory over North Carolina in the national championship game.
Agbaji, a senior from Kansas City, Missouri, earned the honor after he had 12 points in 37 minutes as Kansas claimed its sixth national championship and first since 2008.
A consensus first-team All-American and the unanimous Big 12 Player of the Year this season, Agbaji averaged 17.8 points and 4.7 rebounds while shooting 30-for-65 (46.1%) during the six-game NCAA Tournament run.
The only other players to win the award who played for the Jayhawks are Clyde Lovellette, B.H. Born, Wilt Chamberlain, Danny Manning and Mario Chalmers. Born, who won it in 1953, and Chamberlain, the winner in 1957, earned the honor despite not winning the national championship. Lovellette (1952), Manning (1988) and Chalmers (2008) did.
Agbaji, the Big 12's leading scorer during the regular season at 19.8 points per game, struggled to score during the opening rounds of the NCAA Tournament. He had 11 points in the first-round romp over Texas Southern, 15 points in a narrow win over Creighton in the second round and scored a season-low five points in the Sweet 16 win over Providence.
But he helped carry the Jayhawks to an Elite Eight win over Miami, when he scored a team-high 18 points on 8-of-12 shooting, and then set a Final Four record by shooting 85.7% (6-for-7) from 3-point range in the 81-65 victory over Villanova in which he finished with 21 points.
Joining Agbaji on the all-tournament team were KU's David McCormack, North Carolina's Caleb Love and Armando Bacot and Duke's Paolo Banchero.
"He's the most accomplished player that we have had at our university since Danny (Manning)," coach Bill Self said. "To think that four years, win the national championship, win the league, win the Big 12 tournament, win the NCAA Tournament, to be most outstanding player — we may have had some guys that had comparable years, but never had anybody cap it off like what he has other than D."
As he has all season with a variety of honors, Agbaji downplayed the significance of the award after the game.
"I don't really care because we won the national championship," Agbaji said. "If I really had a most outstanding player throughout the entire Final Four, it would be David."
Agbaji, who has a year of eligibility remaining because the NCAA granted an extra season to players at the start of the COVID-19 pandemic, has made it clear he intends to leave Kansas to begin a professional career. He is expected to be chosen in the first round of the NBA Draft, which will be held June 23.