New Orleans — Down 15 points at halftime, David McCormack was smiling.
His Kansas teammates, understandably, were confused.
"He was looking at me and I was like, 'Why are you smiling, dude? We're down 15,'" Christian Braun said. "He was telling me, like, 'Keep your head up, keep going, we'll be all right. We've been here before.' I was like, 'Man, I don't know if I've ever been here before. Down 15 in a national championship game? I've definitely never been there.'"
"But we're just proud of him. He kept us going and then, obviously, hit a really big shot."
Photo Gallery
Kansas basketball v. North Carolina (NCAA Championship Game)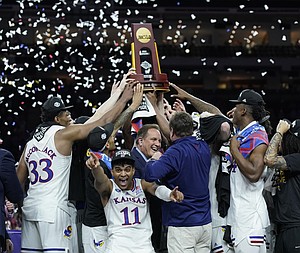 View a gallery of images from the 2022 National Championship game between the Kansas Jayhawks and North Carolina Tar Heels at Caesars Superdome in New Orleans.
McCormack's positivity paid off, as the Jayhawks powered out of their 40-25 halftime hole and recovered to defeat North Carolina 72-69 at the Superdome on Monday to win the national championship.
And McCormack's steadying presence showed up in the box score as well. He finished with 15 points, tied with Jalen Wilson for the team lead, and had 10 rebounds for his 11th double-double of the season.
"I smiled," McCormack acknowledged. "I laughed. Down 15, I said, 'We're built for this. Just go out there and have fun.' When you let loose and have fun, the game will come to you. Offensively, defensively, whatever you need. That's exactly what we did. I came out smart and I was ready for the second half."
McCormack scored the first points of the second half off a lob from Ochai Agbaji, and he made a jump hook with 13:11 remaining.
But the pair of baskets McCormack made over the final minute and a half proved to be the most crucial. With 1:27 left, McCormack missed a left-handed jump hook over Brady Manek, but the ball bounced off the back of the rim and back toward the two of them, and McCormack was able to tip it back to himself before taking a power dribble and letting go of a right-handed jump hook between Manek and Armando Bacot from 8 feet that restored Kansas' lead at 70-69.
The Tar Heels didn't score on their next possession — Bacot, already playing on an injured right ankle, aggravated it by planting and driving — and the Jayhawks regained the ball. Wilson fed the ball to McCormack in the low post and McCormack delivered with another jump hook with 22.6 seconds left to extend the lead to the final margin.
"It was a big play," McCormack said. "It shows how much trust Coach and my teammates have in me. Coach called the play and said, 'We're going to throw it inside and we have trust in you and faith in you to deliver and get us a basket.' I just prevailed. I made the basket happen. I appreciate them for allowing me to have that opportunity."
McCormack's performance on Monday followed another breakthrough effort in the Final Four, an 81-65 victory over Villanova in which he scored a season-high 25 points.
The senior joined Agbaji on the all-tournament team, and though Agbaji was named its most outstanding player, he said after the game that he wished McCormack earned that honor.
Coach Bill Self did, too, so instead of a trophy, he gave McCormack one of the nets, telling him that "this will mean just as much to you moving forward."
It has been a trying season for McCormack, who underwent surgery to repair a broken foot nearly a year ago and has been experiencing and managing discomfort for much of the last 10 months.
McCormack has never publicly used the pain as an excuse — though there have clearly been games in which he has not looked comfortable, and Self limited his minutes in the first two Big 12 tournament games in order to keep him healthy for the NCAA Tournament.
Sixth-year senior forward Mitch Lightfoot said Sunday that he doesn't think "people on the outside truly understand what he fights through, but the guy's a warrior." Self said the athletic training staff told him recently that McCormack has been spending at least three hours a day receiving treatment on the foot for the last 10 months.
"David is as maligned a player that we've had in large part because he can be a little bit of a tease sometimes," Self said. "He's 6-foot-10, build like a Greek god and sometimes, it doesn't always go his way, but what people haven't realized — and it's not fair to him — the kid's playing on one foot half the season. The toughness he shows ... just to be there and then to see his foot feel the best it's felt all year long in the tournament is great, and I'm so happy for him."
Agbaji, McCormack's classmate, felt the same.
"If I really had a most outstanding player throughout the entire Final Four, it would be David," Agbaji said. "We got here at the same time. These goals and dreams that we're living right now, we never would have thought it when we first stepped foot on campus — but now living it and living it with him and leaving here with history and history in our name, it just means so much to the both of us — and obviously, Mitch and all the guys here."
McCormack averaged 9.8 points per game during the regular season but 13.1 points per game during the six-game NCAA Tournament run. He has repeatedly said that he felt compelled to win the title for his teammates in 2020, who did not get a chance to compete for one given the tournament was canceled at the start of the COVID-19 pandemic.
On Monday, he followed through on his promises — to his teammates of the past and his teammates of the present.
"I was in the locker room (at halftime) telling the guys, 'Just believe in yourself, have fun with it. It's our last game regardless. Do what you need to do because that's how we got here in the first place. Don't doubt yourself,'" McCormack said. "And we came out in the second half."
https://www.youtube.com/watch?v=fix5hEGFhdU
https://www.youtube.com/watch?v=zE-0LbStojA
https://www.youtube.com/watch?v=HVaPNoD6p-A
https://www.youtube.com/watch?v=Z6Haz6M1dJE