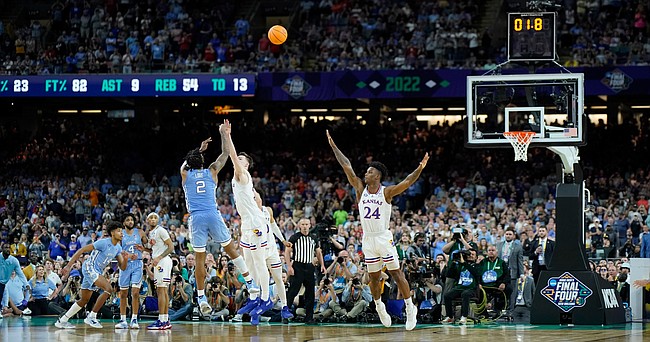 New Orleans — Christian Braun stared Caleb Love in the eye, undaunted, and made the biggest play of his life.
Braun defended Love's last-chance 3-point attempt with 2.2 seconds remaining — a shot that missed the rim completely — to help Kansas hold on for a 72-69 victory against North Carolina that gave it a sixth national championship.
It was an appropriate finish for Braun, who played a large role earlier in the half in spurring Kansas' furious rally back from a 40-25 halftime deficit. He finished the game with 12 points and 12 rebounds for his fifth double-double of the season, and he scored all but two of those points in the final 20 minutes.
The final play gave North Carolina a chance to tie the score after point guard Dajuan Harris Jr. narrowly stepped out of bounds at center court while trying to run down the clock.
"We were trying to make him obviously take a 2," Braun said. "It was just me and him one-on-one. I thought I got a pretty good hand up. It looked short from when he shot it. When I turned around, it was short. When it came off, I felt good."
North Carolina forward Puff Johnson, in for injured center Armando Bacot, was tasked with inbounding the ball from just outside the coaching box near his team's bench. Kansas' Ochai Agbaji was originally guarding Love and Braun was defending Brady Manek, but they switched on a screen and Braun was left with Love on the perimeter. Manek, meanwhile, ran along the baseline to the far corner, but his feet became entangled with Agbaji's, he fell and couldn't get back up in time.
Love caught the short pass near Johnson and tried a jab step to shake free of Braun, who didn't bite. Instead, the step forced Love to shoot while falling away, and the shot never hit the basket and just as time expired.
"Coach (Hubert) Davis and (assistant coach Brad) Frederick drew up a play for either Brady or me to get the ball, whoever was open — whoever got open," Love said. "And so it was kind of a screen to get me open and it was supposed to be a screen for me to get a flare. Got the ball, and I took the shot and came up short."
Said Davis: "The play was for (Manek) to get a baseline screen. We were supposed to throw it to him. Looked like he was going to be open, throw it to the opposite corner, but he stumbled, so it threw the play totally off. I think he would have been open."
Braun drifted back to midcourt, raised his arms in exasperation and jumped into the arms of Wilson and KJ Adams as Kansas completed the comeback.
Braun was one of five Kansas players who reached double figures in scoring, and he did so despite being defended most of the game by North Carolina senior Leaky Black, whom coach Hubert Davis said on Sunday was "not just a great defender, an elite defender."
Braun made just one of seven shots in the first 20 minutes — a driving layup past the Tar Heels' RJ Davis with 12:54 left before halftime.
He then emerged with a vengeance after halftime, scoring six of Kansas' first 10 points and keying a 25-10 run over the first 9:07 that tied the score at 50.
Braun attacked the rim on all three shots, including a layup in transition and a runner that caromed in off the glass. He then made a layup in transition with 12:44 to play that pulled the Jayhawks within 46-45 and forced North Carolina to call a timeout.
The defensive play, though, was certainly his highlight.
Braun became the 65th player to reach 1,000 points at Kansas during the Final Four victory over Villanova on Saturday. He finished with 10 points in that game, all of which were scored after halftime — including a pair of backbreaking 3-pointers that ended the Wildcats' late surge.
He said on Saturday, a day before the Final Four, that one of the things that he has appreciated about the team this season is that players — including Ochai Agbaji, the Big 12 Player of the Year — have deflected individual attention toward their collective success.
And as he stood on the dais at the Superdome, all that was left for Braun was a jovial kind of stare — and the greatest collective success he could have ever wanted.