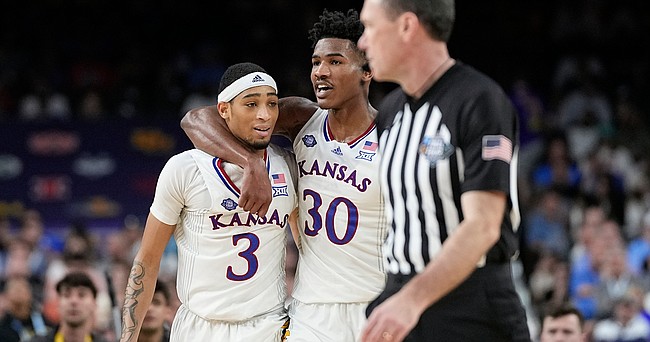 New Orleans — Throughout his 19 seasons in charge of the Kansas basketball program, KU coach Bill Self has always celebrated the fact that the school expects to win championships and that the opportunity to do it is always there.
But it's been 10 years since the Kansas Jayhawks have found themselves in this position — one win away from a national title. In those 10 years, the program, it's players and certainly Self have seen all kinds of ups and downs.
From a Final Four run in 2018 and a prime, pre-pandemic opportunity in 2020 to blowout second round losses, an NCAA investigation and the coming and going of all kinds of different names and faces, the Jayhawks have done their best to stay on the road that leads to the final Monday of the college basketball season.
Sometimes it has been easy. Other times it has been met with downright disaster. But through it all, Self has maintained that the expectations will not be lowered and the standard will not change.
"When you have as many good teams as we've had, I think one's not enough," Self said Sunday of his one national title at Kansas, which came 14 years ago, in 2008. "So I don't think that I personally feel pressure that we have to win. But I do know that when you have a chance to coach at a place where you have an opportunity to be in the game most years, you need to take advantage of that more than we have."
That idea is only part of what makes Monday night so magnificent for Kansas and college basketball.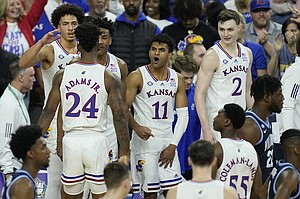 While last year's title game featured the terrifically talented Baylor and Gonzaga squads that both belong on the list of the great teams we've seen in the past few decades, neither carried with it the caché of a Kansas or a North Carolina.
And this final has both.
A couple of weeks ago, Kansas moved into first place on college basketball's all-time wins list. During this same tournament, North Carolina took over the top spot for all-time NCAA Tournament victories. That they're facing each other only adds to the excitement surrounding college basketball's Academy Awards night.
Dean Smith played at Kansas and became a legend at North Carolina. Larry Brown played at UNC and led Kansas to a national title as a coach. And North Carolina native Roy Williams, who is expected to be inside the Caesars Superdome for Monday's title game (8:20 p.m. on TBS), racked up a ridiculous run of success at both schools before retiring one year ago and passing the torch to former UNC guard Hubert Davis.
All Davis has done is take the Tar Heels to the brink of a championship in his first season in charge.
"It's incredible," Self said of what Davis has done with the Tar Heels this season. "All teams go through blips and, obviously, they had a great year, but they were a bubble team six weeks ago."
Now they're on one of the hottest runs we've seen in recent memory — as a No. 8 seed, no less — and they're they only thing standing between KU and its sixth national title.
"Both teams are as blue as you can get when you talk about blue bloods," Self said. "But to play a Carolina program that's intertwined with Kansas history, I think that's special. I'm very proud to be a part of this game."
The significance of this one for Kansas goes well beyond the identity of the program on the other bench and their shared history.
For the Jayhawks, this has been a season — and a run — about redemption. Individual redemption. Team redemption. Erasing ugly memories from the recent past and replacing them with those that bring smiles to the faces of coaches, players and fans alike.
Fans spilling onto Mass Street is a thing again in Lawrence, Kansas. And even though the players responsible for that are nearly 900 miles away, they are keenly aware of what this kind of run means to the Kansas faithful. It's about way more than a few beers with friends and a new T-Shirt or two in the dresser drawer.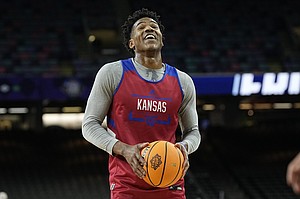 Players who fans already liked are now beloved. The name, image and likeness explosion that has allowed those fans to wear these players' names and faces on their shirts has not hurt that.
Entire school districts have created a whole day to honor the face of this year's team, with Ochai Agbaji's Oak Park High in Kansas City, Missouri, proclaiming Monday "Och Park Day."
Winning at this level has a way of turning good players into icons, leading scorers into legends and role players into heroes.
Agbaji's name and number are already a lock to head into the Allen Fieldhouse rafters a few years down the road, but a couple of his teammates could be in the running for tournament MVP if the Jayhawks come out on top on Monday night. That immediately would qualify a guy like David McCormack or Remy Martin to have their name join the legends who are already up there.
No one saw that coming six weeks ago.
These Jayhawks might have, though. Quietly, they stayed locked in, driven and focused on what they wanted to do all along. Throughout March, Self has joked about this team's irrational confidence and how they might not have been the most talented team he's ever had but they darn sure thought they were.
You know what happened in the time between those jokes starting and Kansas reaching the title game? They gained on it a whole lot.
"We've had some really terrific seasons and some great teams that came up short," Self said on Sunday. "But this team has probably stayed as locked in as any that I've ever had. And they like each other. I mean, they're brothers. They want to do everything together. They spend all their time together. They love each other. And I think that has certainly allowed us to stay more locked in. This is a focused group we've got right now."
With each win, the confidence has soared. It's sort of been like one of those video games where reaching another level brings with it a whole bunch of extra lives. The Jayhawks are playing like they're invincible right now, but they're doing it in a way that shows they respect the grind and the game.
Getting to this point is all about work. And these guys — dating back to last spring in the wake of the embarrassing and historic second-round loss to USC and to last month when they lost on the road at TCU — have put in the work.
Both of those pitstops along the way were significant to Kansas being where it is today.
The USC loss gave them another reason to carry a chip on their shoulder, right next to the one from 2020 that came after their chance to make this kind of run then was taken from them.
"We took one week off and then got right back into it," unheralded point guard Dajuan Harris said on Sunday. "Everyone got better. We had something on our chest. We had a goal to make it to the Final Four and win a championship. We wanted to leave a legacy."
The TCU loss forced them to recalibrate things and reminded them that they were, in fact, human and very beatable and that simply playing well wasn't nearly enough for this type of run.
From there, they caught fire, winning two tough home games to clinch a share of the Big 12 regular season title and rolling to eight postseason wins in a 24-day span after that.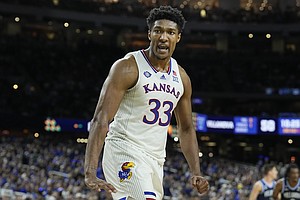 The most recent was Saturday night, 81-65 over a Villanova team that crushed their dreams at the 2018 Final Four in San Antonio. Only a couple of these Jayhawks were on that team, but they all knew about it. And they all carry the torch for the generations of players that came before them and the future Jayhawks who have yet to arrive.
That's why this group has spent so much time talking about avenging that loss or making this run so the 2019-20 team that didn't get to can feel like a part of it. Several players on this year's team said this week that they were certain that the 2020 team was on its way to winning it all. And Agbaji said he feels the same razor-sharp, laser-focused approach bubbling up within this team.
"That's why I keep saying that we're doing it for them," he said Sunday. "Because we just have that same feeling."
The road between KU's last trip to the title game and today has been full of memorable moments both good and bad. As the game has changed and recruiting has become more challenging with the NCAA investigation looming, the Jayhawks have continued to grind.
Self has worked with more veteran players who develop in the program and fewer five-star talents who are destined for a nine-month stop on the college circuit. Those same veterans who have stuck around have been there for the disappointments and used them to fuel their run this season, both on game night and in the quiet times that no one sees.
Because of that — because of the work — Self always believed Kansas would be back here one day, playing for a national title with the entire college basketball world watching.

"There was never a doubt," Self said. "Because two out of the last three years we've been arguably as good as anybody, but it's been different playing with older kids as opposed to playing with young kids."
Two of those "older kids" played huge roles in knocking off Villanova on Saturday, and both said sitting on the brink of tipping it off in a national title game was everything they could have hoped for and more.
"Now I get to play a part in that," said McCormack. "We've fought all this way, battled to make it to the biggest stage in college basketball. And there's no better feeling. It doesn't get any better than that. … Now it's just our year to go get it."
Added Agbaji: "This is the moment every kid dreams to be in, to play for a national championship for their school, to represent their school on the highest stage, that's just a dream come true for me and all the guys on my team."
As confident as they are in how they're playing and as ready as they are to tip it off one more time with this special team, there's not a single player in the Kansas locker room who is taking any of it for granted.
"Being at Kansas, the good thing about that is you are going to have a team that competes for a national championship every year," junior guard Christian Braun said Sunday. "It's time. We got here. This was the goal all along. Everybody is feeling good right now. We are all confident. It's time to (put) another national championship banner up."
More from the Journal-World heading into Monday's NCAA title game:
• Game Day Breakdown: No. 1 seed Kansas basketball vs. No 8 seed North Carolina - 2022 National Championship Game
• Why this KU run, at this particular time, means so much for a Kansas basketball team that sits 1 win shy of a national title
• UNC's Armando Bacot expects to face Kansas in NCAA title game despite ankle injury
• Jayhawks' mindset heading into Monday night: 'Might as well give it all we've got'
• North Carolina's Brady Manek provides Kansas with unique 3-point shooting challenge
• Time with Bill Self nearly convinced UNC's Armando Bacot to play for Kansas
• Jalen Wilson, who chose Kansas over UNC, recounts 'crazy journey' to title game
• North Carolina assistant and Lawrence native, Brad Frederick, calls chance take on Kansas program he grew up cheering for 'unbelievable'
• North Carolina the final obstacle for Kansas on road to sixth national championship