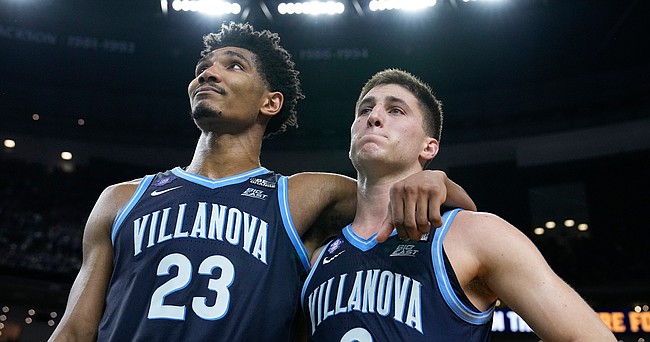 New Orleans — Villanova's Collin Gillespie stood under the outstretched left arm of teammate Jermaine Samuels, fighting back tears, unwilling to acknowledge that his time playing basketball in college had ended.
Gillespie, the Wildcats' do-everything fifth-year senior point guard who returned this season after a torn MCL robbed him of the chance to play in the NCAA Tournament a year ago, ended his career with a team-high 17 points in Villanova's 81-65 loss to Kansas in the Final Four on Saturday.
Photo Gallery
Kansas men's basketball vs. Villanova (Final Four)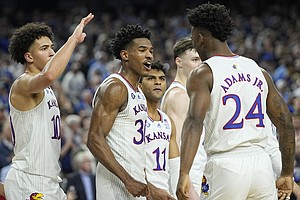 View a gallery of images from Saturday's game between the Jayhawks and Wildcats in the Final Four in New Orleans.
The two-time Big East Player of the Year made five of eight 3-point attempts, including one with 11:21 remaining that trimmed Villanova's deficit to eight, and played the entire game until coach Jay Wright substituted him out with 35 seconds remaining so his reserves could take the court.
"(I was thinking) that this was the last time I was going to put the jersey on, and the last night I was going to be able to go out there, play with these guys, my teammates," Gillespie said, sharing his emotions of that embrace. "They're the reason that I came back for my fifth year, for my teammates and coaches. Just wanted to be around those guys and have an opportunity to play in games like that and be with those guys."
Gillespie also did not play in the NCAA Tournament in 2020, when it was canceled at the start of the COVID-19 pandemic, and played in just two games in 2019, when Villanova was knocked out in the second round by Purdue.
His memories of postseason success, then, were framed by the Wildcats' run to the national championship in 2018. That's when they claimed their second title in three years by winning every NCAA Tournament game by an average of 17.7 points, including a 95-79 romp over Kansas in the Final Four.
But Gillespie played just 14.4 minutes per game off the bench that season. This season was his.
Photo Gallery
Kansas basketball fans celebrate Final Four win over Villanova on Mass Street
Kansas basketball fans celebrate Final Four win over Villanova on Mass Street
"I feel as if Collin is a legend of Villanova basketball," fifth-year senior guard Caleb Daniels said. "He's what Villanova basketball is. And even off the court, he's a near-and-dear brother to me, brother to Brandon, brother to all of us."
"It's amazing to have somebody like him with you your whole career," said fifth-year senior forward Brandon Slater. "That's all you can ask for is somebody who embodies the true meaning of Villanova basketball."
Gillespie, who averaged 15.6 points per game this season on 43.4% shooting, including 41.2% from 3-point range, and shot 90.5% from the free throw line, said he wanted to be remembered "as a guy who was going to do anything to help his team." Wright called him "one of the best ever."
In the moment, however, his frustration and disappointment were clear.
"We felt like we were right there," Gillespie said. "We were going to do whatever it took to battle back. We got down early, but it's a long game, a 40-minute game, and we pride ourselves on playing 40 minutes every night.
"We were just talking about dig, scrap and claw and try to steal it in the end. We got close. They made some big plays. You've got to give them credit. They made big shots down the stretch when we got close."