New Orleans — Kansas senior Ochai Agbaji has been known, throughout his career, for his humble nature and friendly demeanor.
That's what made his uncharacteristic gesture early on in KU's 81-65 Final Four clubbing of Villanova on Saturday night at Caesars Superdome, worth paying attention to.
After the fourth make in an early barrage of 3-pointers by the KU All-American, Agbaji dropped his shoulders and momentarily paused in front of the Villanova bench, walking a couple of steps first before sprinting back on defense.
Although the jumper only put Kansas up 19-8, the response to it was a true indicator of both how this game would go and how Agbaji's season had gone.
Photo Gallery
Kansas men's basketball vs. Villanova (Final Four)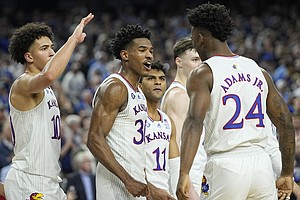 View a gallery of images from Saturday's game between the Jayhawks and Wildcats in the Final Four in New Orleans.
"I was flexing, standing there, because I wanted everyone to see me there and be like, 'That's the national player of the year,'" Agbaji said after dropping 21 points on 6-of-8 shooting, 6-of-7 from 3-point range. "That's just what I do. This is why I do it. This is me."
Agbaji's teammates have marveled all season about his consistent approach. Never too high and never too low is the way it's often presented. And they say you would never know that KU senior is proud of his accomplishments or feeling himself for his many accolades.
But on this stage, with a spot in Monday's national championship game on the line, Agbaji decided to let it all hang out.
All of it came one day after Kentucky big man Oscar Tshiebwe, in this very building, was given the player of the year award after his monster season for the Wildcats.
Asked if he felt slighted by Tshiebwe winning player of the year honors, Agbaji shrugged.
"Not slighted," he said. "Obviously Oscar's a great player. But, you know, I'd rather have a national championship over that accolade all the time."
Now he gets a chance to play for one, in what will go down as his final game as a Jayhawk on Monday night.
Record-breakers
Kansas and Villanova both hit 13 3-pointers in Saturday's game, marking the most by two teams combined in Final Four history. The old record was set by these same two programs, in 2018, when Villanova torched Kansas for 18 and the Jayhawks made seven.
Villanova guard Collin Gillespie, who made one of two 3-point shots in the 2018 win, led the Wildcats with five 3-point makes on eight attempts on Saturday. Brandon Slater added four 3-pointers on seven attempts and Caleb Daniels knocked in two.
Agbaji led all shooters with six 3-point makes — one off a career-high — while Dajuan Harris Jr. hit three of five and Christian Braun made two of six. Jalen Wilson and Remy Martin also each made one 3-pointer on Saturday.
Go Big 12
Several Big 12 head coaches were sitting in the front row, opposite the team benches for Saturday's Final Four.
TCU's Jamie Dixon, Texas' Chris Beard, Baylor's Scott Drew, and West Virginia's Bob Huggins were all together watching the Jayhawks move the conference into the national title game for the second year in a row.
It also marked the third consecutive NCAA Tournament that a Big 12 program reached the title game, with Texas Tech going in 2019, no tournament in 2020 and Baylor winning it all in 2021.
Huggins, who recently received word that he had been elected into the Naismith Memorial Basketball Hall of Fame, also was sitting just a few seats down from former Oklahoma coach Lon Kruger.
Defense wins
All week, Kansas coach Bill Self, among others, talked about how tough Villanova's guards were when they posted up at 20 feet and backed their opponents down toward the basket.
Entering the game, that seemed like it could be a problem area for the Jayhawks, with smaller guards Dajuan Harris Jr. and Remy Martin in the lineup. But, in the game's first five minutes, Harris showed that he was up to the task of defending the post when Collin Gillespie tried to back him down.
Twice in the game's first five minutes, those sequences led to Villanova turnovers, as Harris sat on Gillespie's right shoulder, invited help defense from his teammates and made Gillespie think and hesitate a lot longer than he normally might.
Villanova shot just 33% (10-of-30) in the opening half, giving it away six times (of nine total) while trailing by 11 at the break.
"I thought we played great," Self said after Saturday's win. "I thought we were disciplined defensively. I thought we stayed down on shot fakes, basically for 40 minutes. And, with the exception of defending the arc, I thought we just played terrific."
Photo Gallery
Kansas basketball fans celebrate Final Four win over Villanova on Mass Street
Kansas basketball fans celebrate Final Four win over Villanova on Mass Street
Villanova made 13 of 31 3-pointers in Saturday's game, but never led and never drew closer than six after KU blew the game open early.
70 the magic number
Villanova, which held Houston to just 44 points in last weekend's Elite Eight victory, has been terrific this season when holding teams under 70 points.
When teams crawl above that number, however, things get dicey.
Saturday marked the sixth time in eight losses that Villanova's defense allowed its opponent to score 70 or higher.
The Jayhawks, who had 40 points by halftime, cracked the 70-point mark on a desperation 3-point heave by junior guard Christian Braun with 3:25 to play that pushed KU's lead from nine to 12 and felt an awful lot like a dagger.
This and that…
Saturday's win moved Kansas to 33-6 on the season, marking the program's first 33-win season since 2015-16… KU is now headed to its 10th all-time NCAA title game and the third under Self. The Jayhawks are 3-6 in the previous five games, with wins in 1952, 1988 and 2008. It will mark KU's first opportunity to play for a title since that 2012 loss to Kentucky right here in New Orleans… KU is now tied with Villanova in the all-time series at 5 wins apiece… The Jayhawks' win moved them to 11-1 in neutral-site games this season and to 2,356 all-time victories, which is now three ahead of Kentucky… KU is now 44-13 all-time as a No. 1 seed… Self's 54-21 NCAA Tournament record gives him the fifth most tournament wins in college basketball history. Self is now 3-1 all-time in games played in April.