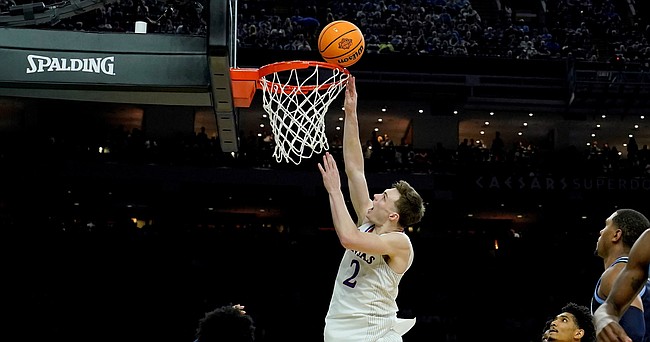 New Orleans — Christian Braun knew everybody else had been shooting well from 3-point range, so with nearly four minutes to go, he figured he had nothing to lose.
That decision paid off. Braun made an off-balance 3-pointer with the shot clock expiring in Kansas' 81-65 win over Villanova in the Final Four on Saturday evening.
The junior guard finished with 10 points, all in the second half, as the Jayhawks advanced to the NCAA Tournament's title game against North Carolina on Monday with a chance to win their sixth national championship.
Photo Gallery
Kansas men's basketball vs. Villanova (Final Four)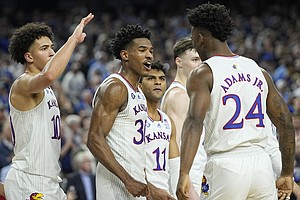 View a gallery of images from Saturday's game between the Jayhawks and Wildcats in the Final Four in New Orleans.
And it was his 3-pointer, off a pass from redshirt sophomore point guard Dajuan Harris Jr., that served as the final salvo in a game in which perimeter shots were the key to the Jayhawks' success.
"Just threw one up there and it went in," Braun said. "I told Juan before that, if it breaks down, I'll hit it. It was a big shot. These guys told me all game, 'Just keep your confidence, keep shooting and they'll fall.' Everybody tells me that. Coach (Bill Self) always tells me that, so I was confident in those shots."
Kansas shot 13-for-24 (54.2%) from 3-point range against Villanova, which, coincidentally, is known for its high-volume perimeter shooting. It was the Jayhawks' best performance from beyond the arc this season.
Senior guard Ochai Agbaji went 6-for-7 on 3-pointers and made each of his four first-half attempts, and Braun said Agbaji's strong shooting fueled the team's confidence from the perimeter.
"He gave us confidence, and Och — we saw them fall early, and everybody else started falling behind him," Braun said.
Agbaji was inbounding the ball with 4:07 to play and Kansas up 68-59 when Harris broke free from a screen and caught the inbounds pass at the top of the 3-point arc. Only eight seconds remained on the shot clock, however, and Braun, who was being defended by Villanova's Caleb Daniels, rotated from the baseline to the left side of the court.
Once the shot clock hit four seconds, Braun screamed to Harris to pass him the ball — and Harris obliged. With Daniels just a step behind, Braun caught the ball, turned and shot it with two seconds remaining, then watched it sail through the net.
"Juan forgot that the shot clock was that low," Braun said. "He knew it was low, but he didn't know it was that low, so I called his name and he just threw it to me."
Braun opened the second half with his first points, a tap-in at the rim on a feed from Harris. He didn't score again until nearly 14 minutes later, when he made a runner in the lane. That basket provided his 1,000th point at Kansas, making him the 65th player in school history to hit that mark.
And after Braun made the 3 with the shot clock expiring, he knocked down another two possessions later. After catching a pass from redshirt sophomore Jalen Wilson, Braun, in the right corner and in front of the Kansas bench, took a shot with Villanova junior forward Eric Dixon sagging off him.
"I think that how well we shoot it, in large part, probably depends on Ochai in many ways, because he's going to take the majority of the 3s," Self said. "And the start he got us off on, I think he just gave everybody else confidence."
Braun, who matched Wilson with a team-high five assists, went just 2-for-6 from 3-point range. But they counted.
"I'm just excited that I could hit a shot that help my team," Braun said. "I knew all game my shots were going to fall and my team was confident in me taking those shots, so I just jumped up and hit it. I hit a big shot and that's what everybody on our team has done all year.
"Everybody's hit a big shot this year and everybody's had a big moment, and I hit a shot in the moment that we really needed, so I was excited. It was a proud moment for me just to hit something to help my team."