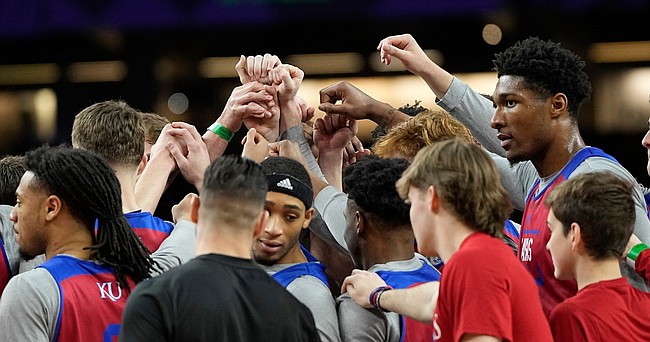 No. 1 Kansas Jayhawks (32-6) vs. No. 2 Villanova Wildcats (30-7)
Time: 5:09 p.m., Saturday, April 2, 2022
Location: Caesars Superdome, New Orleans, Louisiana
TV: TBS | Radio: IMG Jayhawk Radio Network
Keys for Kansas
1. 3-point defense
Even though this Villanova team is very different from the one that torched the Jayhawks in the 2018 Final Four, they're still more than capable of getting hot from the outside and riding that to victory.
So much so, in fact, that Kansas coach Bill Self watched that 2018 game again this week while preparing for the Wildcats.
"When I said I watched it, I got through about 12 minutes of it. And after that, it was very obvious I wasn't going to learn very much from it. That was probably good for me to see from the standpoint of how dangerous they can be when they've got it cooking."
Make no mistake about it: This Villanova team can still reach that level. And if they do, it will make winning this game decidedly more difficult for the Jayhawks.
The Wildcats hit double-digit 3-pointers eight times in a game this season. And they knocked in seven or more 11 other times. Their 35.7% 3-point clip ranks 61st nationally according to KenPom.com, and the Wildcats are getting 38.6% of their points from behind the 3-point line, which ranks 25th in the country.
Two things are working in KU's favor in this department, though. First, the Jayhawks shut down Providence and Miami's 3-point shooting to the tune of 7-for-44 shooting (15.9%) in their Sweet 16 and Elite Eight victories.
Beyond that, Villanova has not exactly been lighting it up from the outside either. The Wildcats are shooting 34.3% from 3-point range in the tournament and just 27.5% (14 of 51) in their Sweet 16 and Elite Eight victories.
KU knew that defending the 3-point shot against Providence would be a key to winning that game, and the Jayhawks were so turned up defensively in the first half of that one that they built a 13-point lead and sent the Friars into scramble mode for the rest of the game.
A similar approach would do wonders in this matchup.
"I think we've got to lock in from the start," KU senior Remy Martin said Friday. "I think we've got to make sure they feel us and they're not too comfortable and run them off the (3-point) line. The main thing is to stay in front of your man so we don't have to rotate, so it's really just locking in defensively individually. If we do that, we'll be in good shape."
One thing to watch for with the Wildcats at the 3-point line is the way they move into the catch when passes are headed their way to create a little early daylight to get their shots off.
The Wildcats also like to utilize pump fakes and several Jayhawks talked this week about the importance of staying disciplined and down on defense to make Villanova make tough shots over them.
"Villanova is a great shooting team," KU big man David McCormack said. "They like to play around the perimeter and do lots of ball slips just to kind of get a spread floor. You have to stay down because they're good at drawing fouls. And you have to guard the perimeter."
2. D up to play through nerves
It's natural for any team and even the most talented and experienced players to experience serious nerves at this stage in the season.
For one, millions of people are watching around the world. For two, the stakes are as high as they get in college basketball.
The Jayhawks showed signs of nerves during their rough first half against Miami in the Elite Eight and junior guard Christian Braun said their response to that first half provided them with a valuable lesson for how to proceed through the rest of the tournament.
"Coach says a lot that if you are nervous or if you are playing tight, take it out on defense," Braun said. "If you get a steal and you get running, it'll take a lot of your nerves away. If you get a quick layup or a quick dunk, it's easier. The hole looks a lot bigger when you do those things. So to take away the tightness you've got to play defense."
Self said he thought his team was loose when they arrived in New Orleans on Wednesday. And he told broadcaster Jim Nantz, in an on-court interview at Friday's open practice that the Jayhawks were "focused, loose and jacked and ready to go."
While there's a lot of reason to believe that's true, it's only natural for the nerves to fire on game day.
On offense, nerves lead to turnovers and bad decisions, which can derail a team's hopes as quickly as anything.
On defense, nerves lead to slow rotations, being in the wrong spot and fouls. And if there's one thing you don't want to do with the Wildcats, it's send them to the free throw line.
Villanova, at 83%, is on pace to break the single-season college basketball record for free throw percentage currently owned by Harvard (81.8%) from the 1983-84 season.
3. Play fast
Anyone who listened to Villanova coach Jay Wright talk about Kansas throughout the week surely came away with fully aware of one key point. Wright is very worried about KU's speed.
"Just watching more of Kansas, I'm just so impressed with their team speed, their intelligence defensively and their execution in dead-ball situations," Wright said Friday. "They're going to be one of the fastest, quickest teams we've played against."
The Wildcats, who average 71.9 points per game, no doubt would like to slow this one down and play it in the 60s, where they're giving up just 62.2 points per game to their opponents.
Their plodding style, with guards who like to post up at 20 feet from the basket and back guys down will make that easier to do — if successful — and the Jayhawks can combat that by getting out in transition whenever possible.
Three of Villanova's seven losses have come with the Wildcats scoring in the 70s. And five of those losses have come when they have allowed their opponent to score 70 points or more.
The matchup of Villanova's bigger guards, including senior leader Collin Gillespie, posting up KU's smaller guards, Djuan Harris Jr. and Remy Martin will be worth watching. And Wright said KU's length could create issues for Villanova's favored style.
"If you look at Braun, Agbaji, those guys, and even Harris, they play with length and size," Wright said this week. "And they always have a (Mitch) Lightfoot or McCormack around the basket to protect the basket. That's going to be difficult. So we're going to have to be creative in finding ways to get our guards down there. If we can, it's going to be good for us. If we can't, we have to have other answers."
Said Harris of the idea of he and his teammates creating problems for the Villanova guards: "Our wings are tall. We just use our length against them (and) I feel like it will bring a lot of pressure."
Pressure leads to turnovers, turnovers lead to transition and easy baskets and that type of track meet, if it plays out that way, would almost certainly favor Kansas.
Marquee Matchup
KU senior Ochai Agbaji vs. the Villanova defense
It's been an interesting tournament for Kansas guard Ochai Agbaji, a first-team All-American who won both the Big 12 regular season player of the year honor and the Big 12 tournament MVP award.
He enters the Final Four on a major uptick, having dropped 18 points with a strong second half in the Elite Eight win over Miami. But his overall numbers in this year's NCAA Tournament have not matched what he did during much of the regular season.
He's averaging 12.3 points per game on 41.7% shooting — after hitting for nearly 20 ppg during the regular season — and, at times, has appeared to be stymied by the way teams have defended him.
Expect that to be a big factor here. Villanova no doubt will make Agbaji the focus of its defensive game plan. Jay Wright is too good to let KU's All-American beat him. But Agbaji still has to be a factor, even if the Wildcats crowd him and try to make him uncomfortable.
Self said on Thursday that, given the stage and the senior's role and status, KU needs Agbaji to play well in order to win. The easiest way he can ensure he does that is by putting his head down and driving to the rim.
He showed signs of that in the Elite Eight win over Miami and that helped him breakout for an NCAA Tournament high 18 points. Settling for jumpers plays into Villanova's hands too much.
Open jumpers are one thing. He has to take those, as long as they're in rhythm and good looks. But if they're not, or if he's not hitting, it'll be up to him to force the action and make sure he's a factor.
Agbaji's defensive intensity also could play a role in making sure he gets going. Steals, deflections and run-outs are the easiest way for him to get points. And when he gets them that way, it tends to bring energy and confidence to the entire KU roster.
"They have very quick and physical guards," Villanova forward Brandon Slater said. "They love getting downhill. Even their forwards can drive, as well. Their drives are going to be big for them. We are going to try and take away as much of their offense as we can."
Jayhawk Pulse
Kansas and Villanova have met five times since 2013, with four of those five games being decided by five points or fewer.
These programs, these coaches and even several of these individual players know each other pretty well, and players and coaches on both sides are expecting this to be a coin-flip game that is physically and mentally intense from start to finish.
The focus for Kansas is to go win the game. Attack instead of react. Play aggressive basketball from the jump and leave nothing to chance.
"If you were to ask coaches across America that played against (Villanova), they'd say they're unbelievably sound, they're fundamental, they don't turn it over, you have to beat them. They don't beat themselves," Self said of the Wildcats. "In our sport, there's more games lost than there are games actually won. And they're not going to help you beat them."
Both teams are red-hot and riding nine-game winning streaks. And both teams feature some serious experience, both on the floor and on the bench.
Although the Jayhawks have three wins over Big East teams this season (St. John's, Creighton and Providence), Self said they have not seen a team that looks that much like Villanova. The Wildcats said the same about Kansas.
"I don't believe that we've gone against anybody during our regular season that would actually prepare us for the style that Villanova plays," Self said.
Not that it would matter much here anyway. All bets are off when teams reach the Final Four, as the experience takes on a life of its own and is the culmination of nearly a week's worth of preparation and analysis. Nothing is a secret anymore. Strengths and weaknesses have been discovered and highlighted and game plans are in place for each one.
At this point, it's all about execution, and the Jayhawks are hoping that their late-season surge, with Martin at the heart of it, will be enough to move past a tough but short-handed Villanova team that will be playing without starter Justin Moore, who tore his Achilles' in the Elite Eight win over Houston.
The Wildcats were thin to begin with and they'll be asking some of their reserves to take ahold of that next man up philosophy that so many teams turn to when injuries hit.
Whether it works or not remains to be seen, but there's no doubt that the Jayhawks have done everything in their power to be ready for everything that will come their way on Saturday night. Given that this is the first NCAA Tournament to feature a true Final Four, with all of the fans and pageantry of years past, the excitement is even higher than it might have been.
The fact that it's blue blood city, with KU, Villanova, Duke and North Carolina all competing for one trophy, merely adds to it.
"This is the first time since 2019 that we've actually had a tournament that we actually feel like we've participated in and had a chance," Self said Friday. "Even though that year we didn't perform well. So I'm excited. I think our players are excited. Several of them were on the (2019-20) team that might have had a chance. We're jacked to be here and soaking it all in."
KU leads the all-time series with the Wildcats 5-4 and Self is 4-5 overall against Villanova, 3-5 while at Kansas. The Wildcats have won four of the last five games in the series, including two in the NCAA Tournament — the 2018 Final Four and the 2016 Elite Eight.
Oddsmakers in Las Vegas list Kansas as a 4-point faorite over the second-seeded Wildcats. KenPom believes the Jayhawks are just one point better (70-69) than the Wildcats and gives the top seed a 53% win probability.
Probable Starters
No. 1 Kansas
G – Dajuan Harris Jr., 6-1, 180, Soph.
G – Ochai Agbaji, 6-5, 210, Sr.
G – Christian Braun, 6-7, 205, Jr.
F – Jalen Wilson, 6-8, 225, Soph.
F – David McCormack, 6-10, 265, Sr.
No. 2 Villanova
G – Collin Gillespie, 6-3, 195, Sr.
G – Jalen Daniels, 6-4, 210, Sr.
G – Jermaine Samuels, 6-7, 230, Sr.
F – Brandon Slater, 6-7, 220, Sr.
F – Eric Dixon, 6-8, 255, Soph.
Here's a look at our coverage from New Orleans so far:
• Kansas, Villanova don't care if they're playing in the Final Four shadow of Duke and North Carolina
• Kansas' confidence, swagger during Final Four run drawn from experience
• Kansas will be tested by Villanova's strategy of posting up its guards
• KU guard Ochai Agbaji is in position to add name next to Danny Manning's on exclusive list
• Hi Mom: KU coach Bill Self's mom has been back in the bleachers for KU's run to the Final Four
• Villanova's Caleb Daniels completes 'marathon' from New Orleans to Final Four
• Bill Self, Jay Wright agree – 2018 matchup has no bearing on this year's game
• Self finds it 'pretty special' to have Kansas City-area kids Ochai Agbaji and Christian Braun as key part of KU's run
• Bill Self hopes Jayhawks play for themselves and each other and 'just enjoy it'
• Photo gallery from Day 1 of KU-Villanova
• Duke coach Mike Krzyzewski reached out to KU coach Bill Self after passing of Self's father
• Bill Self breaks down Villanova guard Collin Gillespie
• Villanova, Jay Wright give initial thoughts on Kansas
• A quick capsule glance at Villanova
• Kansas enjoying 'great experience' in its first day at the Final Four
• Jayhawks arrive in New Orleans ready to soak up 'college basketball's best'