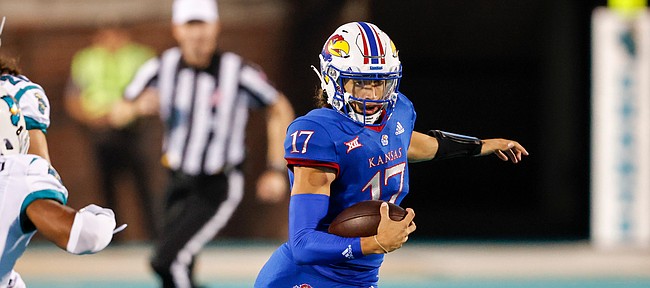 A third of the way through the season, quarterback Jason Bean leads the Kansas football team in rushing. But if the Jayhawks' offense continues making the progress the coaches and players have in mind, a running back will hold that distinction before long.
Now in his ninth season working as an offensive coordinator for head coach Lance Leipold, Andy Kotelnicki said he's not used to having a QB as the offense's top runner.
"Obviously he's really fast," Kotelnicki said of Bean, who has produced 270 rushing yards, 4.9 yards per carry and two rushing touchdowns through the first four games. "And he's done a good job and had a lot of our explosive runs. I know that's stressful for (opponents), both schematically and personnel wise."
Kotelnicki said he and Leipold have always talked about making sure the best players are able to maximize their talents within the offense. Even so, the O.C.'s system, while adaptable, wasn't installed with the idea being to make the QB KU's primary rushing threat. After Bean led the team in rushing in each of the first three games, Kotelnicki said he wasn't certain that was ideal.
Right on cue in Week 4, true freshman Devin Neal gave the Jayhawks (1-3 overall, 0-1 Big 12) the type of running back production they were lacking. Days after former starting running back Velton Gardner left the program and entered the transfer portal, Neal replaced Gardner as the primary back and went for 107 rushing yards on 17 carries in his first career start at Duke.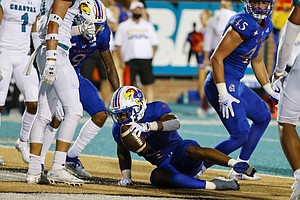 "Our running back position will continue to grow," Kotelnicki said, "our offensive line will continue to grow and then as Jason has those explosive plays, those pieces of the puzzle as they grow, you'll see more running back runs that are more explosive and bigger, because (defenses are) worried about Jason a little bit more."
Entering KU's Week 5 trip to Iowa State (6 p.m. kickoff on Saturday, FOX Sports 1), Bean has accounted for 47% of the Jayhawks' 570 rushing yards to date. Neal (181 yards and 4.6 yards per carry) has been responsible for 32% of the yards on the ground, even though he only had one rushing attempt for 1 yard in his college debut, the season opener versus South Dakota.
While Neal made up some ground on the QB in total rushing yards at Duke, Bean still ran for 54 yards. Bean recently said leading the team in rushing isn't something he's given much thought to.
"It's cool. Whatever the team needs to win, I'm all for it. If that's what it takes, then that's what it takes," the redshirt junior QB said.
Though Neal in Week 4 became the first KU running back this season to lead the team in rushing, the former Lawrence High star said he's not concerned with trying to top Bean within the ground game.
"If it comes to a game where he's leading in rushing, he's pulling the ball, he's making good reads and he's getting long, big runs, then hopefully I can get up to the second level and make a big-time block for him to score," Neal said.
Describing Bean as an efficient runner within Kotelnicki's offense, Neal said when defenses key in on the QB, then that should benefit KU's running backs, too. Neal said the Jayhawks just need to make the correct reads as they react to what defenses show them.
With Neal, Bean and redshirt sophomore Torry Locklin (seven rushes, 47 yards, TD) punctuating the Duke game with big runs, KU had a season-high 207 rushing yards.
Neal thinks the Jayhawks' rushing attack — from the offensive linemen, to the receivers' downfield blocking, to the the play of the running backs — has improved since the season began and is finally beginning to click.
"That's super important as we keep trying to build this thing," Neal added. "When we can keep stretching out and seeing big-time blocks down the field, seeing guys make pancake blocks that create big-time runs, that's really starting to come together, and that's what's really huge for us in our improvement."
The Jayhawks love Bean's speed, as well as his ability to improvise and make plays with his legs, but Kotelnicki considered it fair to say he hopes a running back will be KU's leading rusher by the end of the season.
So how many weeks before Neal surpasses Bean for the team lead?
"I'm not even sure," a smiling Neal replied, "because that dude, he can just flat out run. I wouldn't be surprised if he goes for another big-time, 100-yard rushing game. He's just a super-electric guy, and he's a great leader. I'm just looking forward to what we all can do as a team coming up."
KU football rushing leaders (through 4 games)
• Jason Bean — 55 carries, 270 yards (4.9 yards per carry), 2 TDs
• Devin Neal — 39 carries, 181 yards (4.6 YPC), 2 TDs
• Torry Locklin — 17 carries, 66 yards (3.9 YPC), TD
• Velton Gardner (left the team after 3 games) — 29 carries, 56 yards (1.9 YPC)
KU football leading rushers, by game
• vs. South Dakota: Bean 15 runs, 51 yards; Gardner 19 runs, 21 yards
• at Coastal Carolina: Bean 13 runs, 100 yards, 2 TDs; Neal 11 runs, 40 yards, TD
• vs. Baylor: Bean 12 runs, 62 yards; Neal 10 runs, 33 yards
• at Duke: Neal 17 runs, 107 yards, TD; Bean 15 runs, 54 yards