Saturday, September 25, 2021
Durham, N.C. — The Kansas football team didn't only suffer a 52-33 loss at Duke on Saturday. A targeting call in the fourth quarter against safety Kenny Logan Jr. means the Jayhawks will lose their veteran leader in the secondary for one half next week, too.
Logan, who totaled 11 tackles in the defeat at Wallace Wade Stadium, got flagged while looking to tackle Duke quarterback Gunnar Holmberg on a run in the fourth quarter.
The officiating crew reviewed the contact and determined because Logan made the hit "with the crown of his helmet" it was targeting, and the junior safety was disqualified. NCAA rules mandate Logan will have to sit the first half of KU's next game: at Iowa State on Oct. 2.
Head coach Lance Leipold said after the game the targeting call was a "tough" one.
"That's a guy just going to make a play," Leipold said of Logan. "And it looked to me like the quarterback was partially going down but had tripped almost as he was going."
Logan also was credited with his second forced fumble of the season during the loss.
Burroughs gets starting nod
The KU secondary had a modified look for its Week 4 starting lineup, as true freshman safety O.J. Burroughs made his first career start.
Document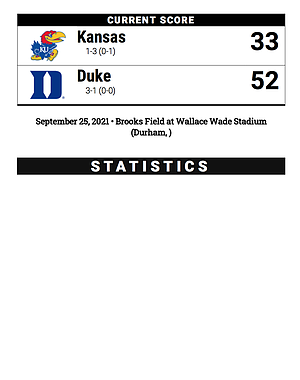 Burroughs, a 5-foot-10, 175-pound defensive back form Savannah, Ga., replaced super-senior safety Ricky Thomas as the starting safety opposite of Logan.
Both Burroughs and Thomas played in the loss, and each of the safeties totaled three tackles.
Pair of 100-yard days
In a game that starting QB Jason Bean finished with a season-high 323 passing yards, the Jayhawks also had a 100-yard rusher and a 100-yard receiver.
On the strength of KU's longest carry of the season so far (62 yards), true freshman Devin Neal totaled a career-high 107 yards and set a new personal record with 17 rushing attempts.
It was also a standout day for redshirt sophomore receiver Trevor Wilson, who had season-highs of five receptions and 122 yards.
With Neal and Wilson both surpassing 100 yards, the duo became the first KU rusher and receiver to do that in the same game since late last season, when Amauri Pesek-Hickson rushed for 100 and Kwamie Lassiter II had 116 receiving yards versus TCU, on Nov. 28, 2020.
Cutcliffe on Leipold's impact at KU
Leading up to Saturday's ACC-Big 12 matchup, Duke head coach David Cutcliffe spoke highly of Leipold and what the first-year KU coach has done over the course of his career.
Cutcliffe said "you can see the handprint of Lance Leipold on this team."
"They will compete and compete at a high level," the Duke coach said.
Leipold-coached teams, Cutcliffe added, are known for running the ball and stopping the run.
"That's a commitment you see in his career," Cutcliffe said. "At Buffalo, they did just that. They recruited toward it and put the numbers together that tells you that's a big part of who they are."
The 14th-year Duke coach said Leipold has a formula he believes in while building programs, noting KU's offense turned the ball over just once in the first three games.
"All the things that good teams do to win, you can already see that personality taking place at Kansas," Cutcliffe said.
Brief KU-Duke history
Saturday's nonconference finale for both teams marked just the third time the Blue Devils and Jayhawks met on the gridiron.
The most recent matchup also took place at Wallace Wade Stadium, on Sept. 13, 2014. The Blue Devils rolled against then coach Charlie Weis' Jayhawks, 41-3. In that game, former Free State High star and soon-to-be standout KU linebacker Joe Dineen played as a reserve running back.
Weis would only coach two more games for KU before being fired.
Duke improved to 2-1 all-time versus KU with Saturday's win. The Jayhawks beat Duke, 44-16, in Lawrence in 2009, Cutcliffe's second season with the program.