Durham, N.C. — The underdog Kansas football team entered the third quarter Saturday at Duke with not just some promise, but even a lead. However, the Jayhawks' familiar second-half woes and inconsistencies took the spotlight again — just as they did the previous two weeks — this time inside Wallace Wade Stadium during a 52-33 road loss.
The KU offense (530 yards in the loss) couldn't keep up with the Blue Devils (3-1) in the second half. It took a 61-yard strike from quarterback Jason Bean to receiver Kwamie Lassiter II for the Jayhawks to finally crack the scoreboard after halftime, but that didn't come until there was 8:42 left on the fourth-quarter clock.
Head coach Lance Leipold said KU's irregular offense contributed to the second half lull.
"Like I told our team, unfortunately, I think a lot of things that I'll answer will continue to sound like a broken record right now," the coach said, "as we grow as a football team. But I know they're working at it and we're working to get better."
Document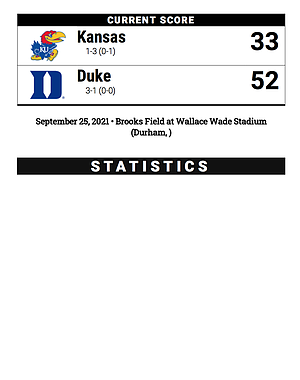 Although the Jayhawks began the third quarter with a bang, as true freshman running back Devin Neal (17 carries, 107 yards, one TD) took off for a 62-yard run on the second half's initial snap, the KU offense couldn't build upon that promising start.
The Blue Devils stymied KU's chance for a quick TD to open the third, and the Jayhawks could only extend their halftime lead by three, to 27-21, with a 29-yard Jacob Borcila field goal.
"We get a big run and we have to settle for a field goal," Leipold lamented, while discussing the team's inconsistencies. "We get a pick that maybe could've gone for six early in the game," Leipold added of an early takeaway by cornerback Ra'Mello Dotson, "and we don't get anything."
The Blue Devils put up 607 yards of offense against KU's defense, much to the chagrin of Leipold.
"They ran a lot of plays, explosive plays. We didn't tackle as well as we need to. I think that continues to be a spot where we need to continue to work on our physicality and our execution of that," Leipold added, noting KU's defense too often cut Blue Devils loose.
Not only did the KU defense have issues keeping Duke senior star running back Mataeo Durant (124 rushing yards, 62 receiving yards, one rushing touchdown) in check. The Jayhawks (1-3) also seldom had answers for Duke quarterback Gunnar Holmberg, who passed for 328 yards and a touchdown, and ran for 88 more, to go with his whopping four rushing TDs.
"There's a lot of holistic things there that have got to continue to be worked on as we've seen, and we continue to work on them," Leipold said.
Duke dominated the third quarter to take control after a competitive fist half from the Jayhawks.
Momentum already had swung in the Blue Devils' favor when Bean's first interception in a KU uniform proved costly. Linebacker Shaka Heyward easily picked off an ill-advised pass by Bean (19-for-32, 323 yards, two TDs, two interceptions) and looked to turn it into a touchdown before being brought down 8 yards away from the goal line. Two plays later, Holmberg ran in for a 3-yard TD, setting up a 42-27 advantage for Duke.
Bean said Duke's defense switched up its scheme, leading to his mistake.
"I got kind of lazy on my drop and just threw a little bit of a bad ball, threw it right to him," Bean said.
On the Blue Devils' first possession of the second half, KU linebacker Gavin Potter missed a clean chance at a sack, and Holmberg made the linebacker pay. The QB sidestepped the pressure and turned what looked like a loss of yardage into a throw to Durant, who took off, gaining 53 yards before Kenny Logan Jr. and Dotson could force him down 8 yards shy of the end zone.
Jayhawks linebacker Rich Miller (14 total tackles) said the Devils ran their offense the way they wanted to, and the KU defense "clearly" didn't do enough.
"They started scheming on us a little bit, but we also had some missed tackles and just things we could clean up easily," Miller said. "They just capitalized off our misses."
Three snaps after the blown sack, Duke regained the lead with a 4-yard Jordan Waters TD run and a Charlie Ham kick, making it 28-27, and giving the Devils the lead for good.
"That's the part where I don't think we're quite there yet, where we can answer back and forth. That's not going to be us right now," Leipold said of how Duke created separation in a hurry after KU settled for a field goal to open the decisive half. "I think that's a telltale of that third quarter. And yet we came in with great confidence."
Added Bean: "We had some good plays coming out of (halftime) and I think after that first drive we got kind of in a lull, and things slowed down. I think we've got to keep the positive energy and just keep pushing forward."
The Jayhawks put an end to the first half by taking a knee and heading to the locker room having already achieved a season-high 24 points to go with their three-point lead. They closed out the second quarter in style, with a defensive stop following a 5-minute TD drive from the KU offense.
Although the Blue Devils (330 total yards, 7.5 yards per play in the first half) scored three touchdowns in the opening half, the KU defense stopped them from taking back the lead before intermission, forcing Duke to punt for the second time in three possessions.
KU head coach Lance Leipold didn't mind gambling on fourth and goal from the 1-yard line with a little more than a minute left in the first half. Coming out of a timeout, the KU offense approached the line of scrimmage with speed and purpose, and after a quick snap, Bean handed the ball to Neal for a short TD run.
That score might not have even happened without Tervor Wilson's 42-yard reception four plays earlier. The redshirt sophomore receiver showed off his ball skills while fending off a defender and outmuscling his competition, wrestling the ball out of the air to complete a Bean bomb.
Even with his four first-half receptions for 103 yards, Wilson was just one of the skill players making a significant impact early on. Redshirt sophomore Torry Locklin emerged as the breakout star for the KU offense, with both of first two touches in the road game culminating with the 6-foot-2, 205-pound Locklin scooting into the end zone.
Locklin helped KU take a 17-14 lead a few minutes into the second quarter. Bean sold that the play may be a QB keeper, but he handed it off to Locklin, who found a freeway to the end zone on the right side and raced unbothered for a 36-yard touchdown.
KU took its first lead of the game on the first play of the second quarter. That's when Bean hit Locklin on a quick swing pass in the backfield on third-and-12. Locklin's first career reception went 20 yards for a TD, and KU went ahead 10-7 following Borcila's extra point.
A second critical mistake for the Duke offense in the first quarter set visiting KU up in great position for that first Locklin TD. It was the Devils' second such giveaway in the first half.
KU senior defensive end Hayden Hatcher recovered a Durant fumble on a botched handoff exchange, and the Jayhawks took over in the red zone, setting the stage for Locklin's score to open the second.
The first points of the day for KU came on the offense's third possession. But the Jayhawks went backward on the series after Bean and Wilson connected for a 45-yard passing play. Trying to escape pressure and make something positive happen as he improvised, Bean got sacked for a loss of 17 yards.
Though the offense wouldn't pick up a first down, the massive loss didn't knock KU out of field goal range. Even though Borcila missed an earlier shorter field goal try badly to the right, KU's coaches sent him out for a 50-yarder and Borcila sent it through to cut Duke's lead to 7-3 late in the first quarter.
Durant, Duke's star running back, was the first man in the end zone on the afternoon, as he sped away from the KU defense for a 57-yard run midway through the first quarter.
The Blue Devils had to wait until their second drive for a score, because KU redshirt freshman cornerback Dotson put an end to the first one with an interception — the Jayhawks' first of the season — that he returned 65 yards before getting taken down by Duke QB Holmberg near the sideline.
A 15-yard clipping penalty on KU right tackle Bryce Cabeldue backed up the offense on its second snap of the day. That mistake stalled the drive after Dotson's pick and KU ended up sending Borcila onto the field for a 37-yard field goal that sailed off to the right.
Though the disappointment of a third consecutive loss — each in a game that got away in the second half — hit the Jayhawks hard, Leipold said he told players after the game he saw them believe in one another and the excitement that created on Saturday.
"They care. They really do and they really battle," Leipold said of what he learned from the nonconference defeat. "And they want to play and they do want to do well, and I think that's the part that as you go through these — and everything they've been through, many of these older players — they're willing to stick together."
KU is on the road again next week, as the Jayhawks return to Big 12 play with a visit to Ames, Iowa, to take on Iowa State (2-2 overall, 0-1 Big 12). The Cyclones lost on Saturday at Baylor, 31-29.
SCORING BY QUARTERS
FIRST QUARTER
7:39 — Mataeo Durant 57 run. Charlie Ham kick. Six-play drive for 80 yards, in 2:00. (Duke 7, KU 0.)
1:05 — Jacob Borcila 50 field goal. Five-play drive for 36 yards, in 2:30. (Duke 7, KU 3.)
SECOND QUARTER
14:53 — Torry Locklin 20 pass from Jason Bean. Borcila kick. Three-play drive for 18 yards, in 1:07. (KU 10, Duke 7.)
11:15 — Gunnar Holmberg 4 run. Ham kick. Ten-play drive for 75 yards, in 3:38. (Duke 14, KU 10.)
9:20 — Locklin 36 run. Borcila kick. Five-play drive for 75 yards, in 1:55. (KU 17, Duke 14.)
6:24 — Jalon Calhoun 26 pass from Holmberg. Ham kick. Three-play drive for 64 yards, in 0:53. (Duke 21, KU 17.)
1:04 — Devin Neal 1 run. Borcila kick. Ten-play drive for 75 yards, in 5:20. (KU 24, Duke 21).
THIRD QUARTER
12:48 — Borcila 29 field goal. Five-play drive for 64 yards, in 2:08. (KU 27, Duke 21.)
10:29 — Jordan Waters 4 run. Ham kick. Seven-play drive for 75 yards, in 2:19. (Duke 28, KU 27.)
6:37 — Holmberg 1 run. Ham kick. Five-play drive for 67 yards, in 1:51. (Duke 35, KU 27.)
4:38 — Holmberg 3 run. Ham kick. Two-play drive for 8 yards, in 0:31. (Duke 42, KU 27.)
FOURTH QUARTER
11:13 — Ham 30 field goal. Thirteen-play drive for 44 yards, in 5:23. (Duke 45, KU 27.)
8:42 — Kwamie Lassiter II 61 pass from Bean. Bean pass failed. Five-play drive for 75 yards, in 2:31. (Duke 45, KU 33.)
5:23 — Homberg 13 run. Ham kick. Eight-play drive for 75 yards, in 3:19. (Duke 52, KU 33.)