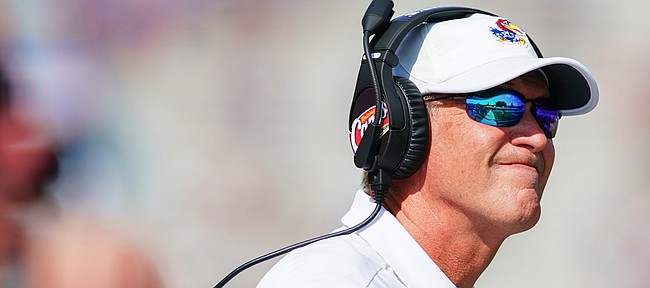 Kansas football players will have to add regrouping to their typical game week preparation after the Jayhawks suffered their first one-sided defeat of the season against Baylor.
One key takeaway from an unprosperous Saturday, KU sophomore receiver Trevor Wilson said following a 45-7 beating, was that the players can't let what transpired impact their motivation.
"Sometimes people get down. We just need the leaders to step up and keep them going," Wilson said.
Many KU football teams, players and coaches have had to find ways to deal with similar blowouts over the past decade-plus. But this was the first for Lance Leipold, who was hired in late April to rebuild the long struggling program.
Photo Gallery
Kansas football v. Baylor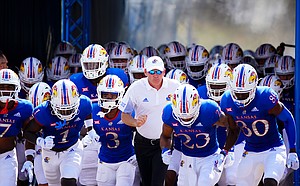 See a photo gallery from the Jayhawks' home game against the Bears on Saturday at Memorial Stadium.
Senior defensive lineman Caleb Sampson said Leipold's told the players immediately after the 38-point defeat that they need to put the game in the past.
"(Sunday) we're going to watch film, make our corrections and next week we've got to come with the mindset to get better," Sampson said.
The KU defense, which surrendered 576 yards — 307 rushing and 269 passing — and allowed the Bears to pick up 8.3 yards per play, had "a lot of issues," Sampson said. And Baylor (3-0 overall, 1-0 Big 12) didn't even vastly expand its play book and surprise the Jayhawks with new wrinkles.
So how do the players go about recovering from a deflating performance?
"You've just got to accept the culture," Sampson said. "I wouldn't say it's hard to do. You've just got to trust and believe that our coaches are our coaches for a reason and they're going to put us in the best position."
Adding to the let down on their home field Saturday, the Jayhawks only trailed 14-7 at halftime and the offense got the ball to open the third quarter.
Junior safety Kenny Logan Jr. said the players definitely felt like they had momentum when the second half began. But the KU offense went three-and-out twice three minutes into the third quarter.
"Plays are going to happen. We've just got to continue to just make sure we keep our heads up and continue to fight and just try to get our offense back the ball," Logan said. "We've just got to keep swinging."
Document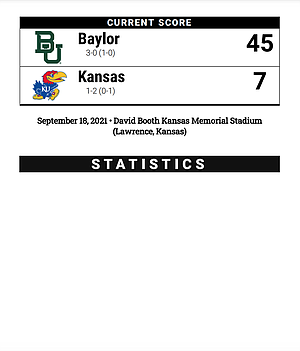 The team's mood after the loss, Logan shared, included plenty of frustration.
"But we're just ready to go to work, put our hard hats back on," said Logan, who added the Jayhawks (1-2 overall, 0-1 Big 12) have to do a better job of finishing games.
Following his first Big 12 loss, Leipold said the Jayhawks have "a lot of work to do in a lot of different ways," and said he was "highly disappointed" by what transpired.
In some ways, Leipold said, the result revealed where KU is at as a program right now, and where many of the players are at in terms of experience and confidence. Things can get away from the Jayhawks "quickly" if mistakes happen against an experienced opponent, he added.
Leipold said the staff will continue to evaluate "everything we do in the program" as the coaches try to make sure KU is competitive on game days.
"The facts are the facts. And we've got to find a way to overcome some of the things that we have right now," Leipold said. "I think we will. And I'm counting on our seniors and our leaders to continue to do so."
KU is headed back to the Carolinas this week, as the Jayhawks wrap up their nonconference schedule with a Saturday game at Duke (3 p.m., ACC Network).
The Blue Devils are 2-1 after losing their opener at Charlotte. In Week 3, Duke beat Northwestern, 30-23, in Durham, N.C.