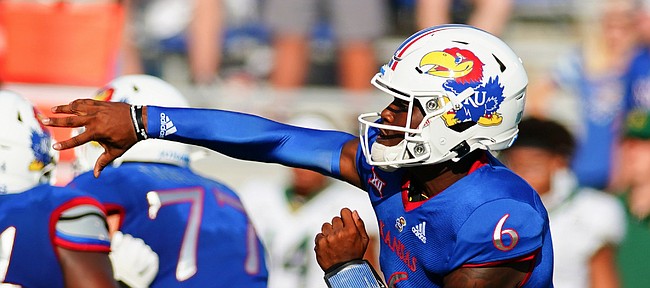 With the Kansas football team's chances of opening up Big 12 play with a win all but gone by the fourth quarter Saturday against Baylor, head coach Lance Leipold let starting quarterback Jason Bean sit.
Sophomore QB Jalon Daniels took over the position after BU went up 28 points, en route to a 45-7 drubbing.
Leipold said Bean (8-for-17 passing, 57 yards, one touchdown; 12 carries, 62 yards) wasn't hurt.
Photo Gallery
Kansas football v. Baylor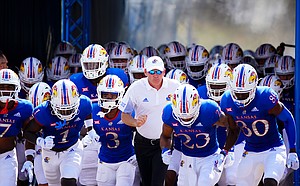 See a photo gallery from the Jayhawks' home game against the Bears on Saturday at Memorial Stadium.
"Just wanted to get (Daniels) some reps," Leipold said of the switch. "(Bean) had taken enough hits for the day."
Daniels ultimately only attempted one pass on two short possessions in the fourth. Then senior reserve QB Miles Kendrick came in. Kendrick didn't attempt a pass.
Leipold said, given the circumstances, he wanted to get some backups on the field, especially at QB.
"Like I've said before, they've worked hard and have done well," Leipold said of Daniels and Kendrick.
No Grunhard
Veteran offensive lineman Colin Grunhard didn't play for the second week in a row. Redshirt freshman Michael Ford Jr. remained KU's starting right guard with Grunhard out.
A 6-foot-1, 295-pound junior who joined the Jayhawks this past January as a graduate transfer from Notre Dame, Grunhard started at right guard in Week 1, while playing through some pain.
However, Grunhard was slowed during the preseason with an injury and has yet to fully recover.
Bulls reunion in Big 12
Saturday's conference opener had heavy Buffalo ties, with Baylor starting center Jacob Gall having played for Leipold at UB before transferring this past offseason and joining the Bears.
KU starting center Mike Novitsky, of course, knows Gall well, as the two started together at UB at times over the past two seasons. Novitsky said earlier this week he expected it would feel a little strange to see his former teammate in a Baylor uniform and going up against his new KU teammates.
Document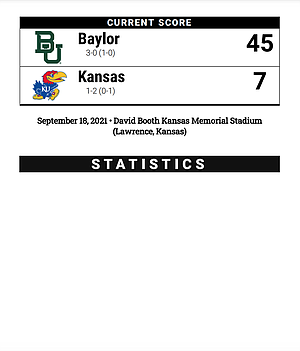 "It's very cool. I'm very happy for him and the opportunity he's gotten," Novitsky said of Gall, who was a BU captain for the game.
Though the two former UB O-linemen didn't text during game week, Novitsky said, they still have a "great friendship" and have kept in touch since they transferred to different Big 12 programs.
Asked if he provided members of KU's defensive front with a scouting report on Gall, a laughing Novitsky replied, "no comment."
Leipold said earlier this week he was "really impressed" with how Gall performed in BU's nonconference games. Gall played "very little" center for the Bulls, Leipold added.
"To jump in, move up to a Power Five program and play like he has, and have to be a guy that's making calls and communicating a lot, I can see the impact he's made and why they wanted to get him in their program," KU's head coach said of his former player.
League losing streak extended
The KU football program, which went winless in 2020 (its last of two seasons under former head coach Les Miles), hasn't won a Big 12 game since Oct. 26, 2019, when the Jayhawks defeated Texas Tech, 37-34.
Since then, the program has dropped 13 conference matchups in a row — four straight to end the 2019 season, all eight in 2020 (the Texas game was canceled), and the first of 2021.
KU's next Big 12 game is Oct. 2 at Iowa State. The Jayhawks' next home date is Oct. 16 against Texas Tech.
Finally a Saturday game
The way the schedule shook out for KU this year, the Jayhawks' Week 3 game was their first Saturday game at home, and the program's first opportunity to have high school recruits in attendance.
"It's extremely important," Leipold said earlier this week about prospects being able to watch KU in person on Saturdays after playing their own games on Fridays. "It's our chance to show our staff, our program, our new direction, but of course (also) a game day environment — and one that we want to continue to build upon and increase while we're here."
Several recruits could be seen watching KU's pregame warmups from just outside of the south end zone prior to the game.
Chandavian Bradley, rated a four-star Class of 2023 defensive end by Rivals, tweeted out Saturday that he was in Lawrence for the game. Bradley plays at Platte County and already has more than 20 scholarship offers, all from Power Five programs.
The day before the Big 12 opener, KU coaches were out in full force around the Kansas City metro area. Assistants such as Scott Fuchs (O-line), Chris Simpson (linebackers), Jonathan Wallace (running backs), Emmett Jones (receivers), Chevis Jackson (cornerbacks), Kwahn Drake (defensive line), Jake Schoonover (special teams) and Jim Zebrowski (quarterbacks) were at various Kansas and Missouri high schools to visit with area coaches.
Jon Kirby of Jayhawk Slant reported Leipold got out to multiple high school games in the area Friday night, as well.
Bowlsby in the Booth
Big 12 commissioner Bob Bowlsby attended Saturday's game at David Booth Kansas Memorial Stadium.
The Kansas-Baylor matchup was the first Big 12 matchup of the college football season, as well as the only one on the slate for Week 3.
KU will play one more nonconference game next week at Duke, before returning to Big 12 play. The Bears continue with league games the next three weeks before finishing their nonconference schedule against BYU on Oct. 16.