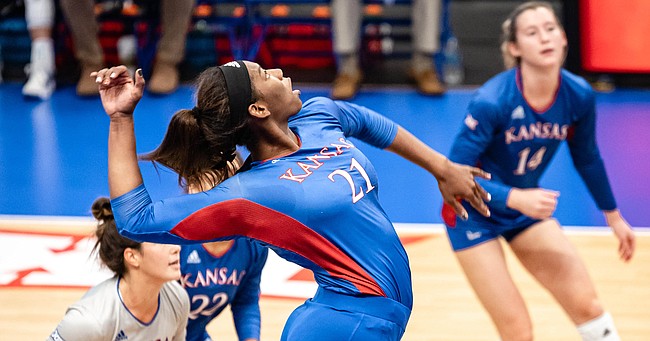 The Kansas volleyball team captured its second consecutive home tournament title on Saturday, with a sweep of Albany in the Jayhawks' final match of the Jayhawk Classic at Horejsi Family Volleyball Arena.
After dominating the first set, 25-17, Kansas held off Albany 25-23 in both the second and third set. KU came from behind to win the second and held off a late push by the Great Danes in the third.
"You have to be ready to respond and fortunately we did that," KU coach Ray Bechard said after the victory. "We played pretty well late in matches, especially sets two and three."
The win was KU's sixth consecutive match victory, which improved Bechard's young team to 7-3 on the season. After dropping the first set of the Jayhawk Classic on Thursday night, KU won the next nine sets in defeating Kansas City, Missouri State and Albany.
Last week, KU swept Delaware, Wichita State and Kent State in nine consecutive sets to win the Kansas Invitational.
Sophomore Carolina Crawford led the Jayhawks with 11 kills, while committing just one error, to post a .625 hitting efficiency. Crawford also had four blocks and one ace.
Super-senior Jenny Mosser added nine kills and nine digs, freshman Caroline Bien had eight kills and freshman London Davis recorded seven kills. Davis also had a team-high five blocks, while senior Rachel Langs had three blocks to go along with three kills.
Next up, the Jayhawks will enter into Big 12 play on Friday at Texas Tech. KU will play two matches in Lubbock, Texas, next weekend before returning home for its own Big 12 opener against Iowa State on Oct. 1.
"We know it's going to be challenging," Bechard said of conference play. "It's going to be a fight every night. We'll be ready."