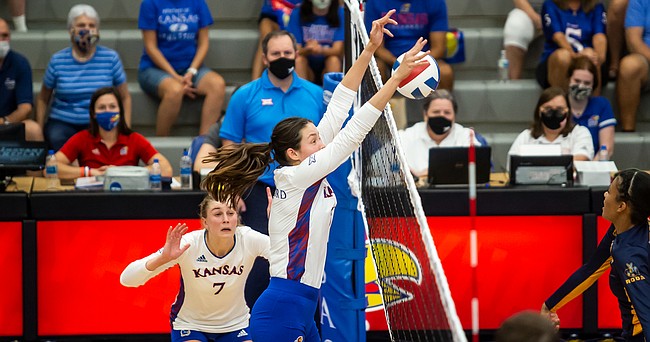 The Kansas volleyball team pushed its winning streak to five consecutive matches with an easy sweep of Missouri State on the second day of the Jayhawk Classic on Friday.
KU topped MSU 25-22, 25-16 and 25-18 to win for the fifth straight match and the seventh time in the last eight matches. During their current winning streak, the Jayhawks (7-3) have won 15 of 16 sets.
For the second consecutive night, Kansas benefited from a balanced offensive attack. Freshman Caroline Bien led the way with team highs in kills (10) and digs (16), giving the talented freshman that distinction for the second time in the past three matches.
Super-senior Jenny Mosser added nine kills, six digs and three blocks; sophomore Caroline Crawford delivered eight kills and two blocks; freshman London Davis chipped in with eight kills; junior Anezka Szabo added seven kills and four blocks; and senior Rachel Langs tallied six kills and a match-best six blocks.
The Jayhawks hit .330 as a team while holding the Bears to a paltry mark of .068.
KU's two-setter system, led by sophomore Elise McGhie and freshman Camryn Turner clicked from the start, with the two combining for 41 assists and 13 digs.
KU will return to action at 11 a.m. Saturday against Albany, looking to sweep a second consecutive home tournament before heading into Big 12 play at Texas Tech next Friday night.