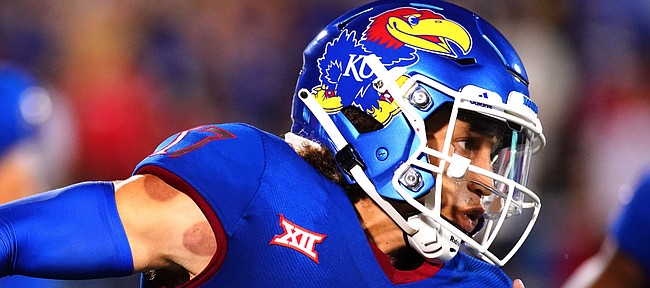 — Kansas (1-1) vs. Baylor (2-0) • 2:30 p.m. kickoff, David Booth Kansas Memorial Stadium • Game-time forecast: 85 degrees, mostly sunny, 0% chance of rain • Streaming: ESPN+ • Radio: KLWN, FM 101.7 / AM 1320
Keys for Kansas
1. Let Bean cook
Instrumental for the Kansas football offense through the first two nonconference games of the season, junior quarterback Jason Bean will need to keep showing off his speed in the Big 12 opener.
Bean and KU's receivers added more downfield explosive plays to their repertoire in a Week 2 loss at Coastal Carolina, and while the Jayhawks have confidence in his arm, it's Bean's legs and feet that make him a problem for opponents.
Head coach Lance Leipold said his confidence in the junior QB's ability to convert deep throws continues to grow.
"And watching him accelerate makes me more excited to see him carry it sometimes, too," Leipold said.
Entering his first Big 12 start, Bean, the former North Texas QB, is coming off a 49-22 loss at CCU in which he threw for 189 yards (12-for-24 passing) but also ran for 100 yards and two touchdowns on 13 carries.
"That's some of his explosiveness and dynamic running that hopefully will continue to make him a dual threat," Leipold said. "And working on the passing part will give us a chance to do that."
Bean will have to keep carrying the offense until the Jayhawks get their ground game sorted out. Through two games, KU's running backs have combined to average 2.4 yards per carry.
KU offensive coordinator Andy Kotelnicki said Bean provides "hidden yardage" when he scrambles to make something happen on a passing play or takes off to run for a first down.
"It just helps a ton," Kotelnicki said, adding the Jayhawks need to get first downs "any way that we can."
Just the threat of Bean's running ability — he leads KU with 5.5 yards per carry and 77 rushing yards a game — is something defenses will have to prepare and scheme for, Kotelnicki pointed out.
The hope, Leipold said, is Bean continues to grow as a passer, and between the QB's throwing and running — and defenses having to account for both — the run game for KU's running backs begins to open up.
"And then everything starts to complement each other," Leipold said, "and hopefully you've got yourself an offense that becomes more difficult to defend."
2. Slow down the Bears' run game
Baylor running backs Trestan Ebner and Abram Smith have been so good the first two weeks of the season that the Bears haven't had to worry about doing much else besides handing the ball to one of the veterans.
Ebner's averaging 122.5 yards a game and 8.2 yards per carry, but Smith's just as lethal, giving BU 122 yards a game, 7.9 yards per carry and four rushing touchdowns.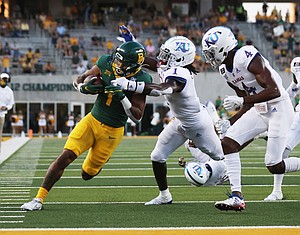 The Bears "run the heck out of the ball," as Borland put it. They enter the conference opener after running the ball 88 times in their first two games and attempting only 50 passes.
"They're good, physical, downhill type of runners that will put their foot in the ground and run through some tackles, as well as be able to make you miss," Borland said of Ebner and Smith.
KU's defense at least should be familiar with the Bears' offense, Borland said, because the players see similar play calls and schemes while practicing against the KU offense. Borland said BU uses a lot of 12 personnel (one running back, two tight ends) packages, as well as an outside zone for its running game.
In their two wins — 29-20 at Texas State to open the season, and 66-7 versus Texas Southern in a home opener — the Bears haven't had to reveal much of their offensive play book. So Borland said some of the coaching staff's prep involved going back and looking at what first-year BU offensive coordinator Jeff Grimes did at his previous job, with BYU last year.
Grimes' BU offense, KU's D.C. said, incorporates motions and play-action calls that come off similar looks, making it more difficult to key in on what's coming.
Ebner and Smith won't be the only rushers KU defenders will have to keep their eyes on, either. Borland noted QB Gerry Bohannon becomes more of a running threat inside the red zone and near the goal line.
Plus, BU actually had three 100-yard rushers in its rout of Texas Southern, as Taye McWilliams went for 102 yards on just six carries.
3. Create more TFL opportunities
In the first two games of the season, KU's defense didn't make many disruptive plays in the backfield. Entering the weekend, the Jayhawks are averaging only 3.0 tackles for loss as a team, which ranked 125th out of 130 FBS teams as of Friday.
No wonder Borland is asking his players to bring more physicality to Week 3. KU's D.C. said one thing that hurt his group in the loss at Coastal a week ago was that the Chanticleers' offense played with a down-and-distance advantage "almost the whole game."
"There was really only one third-and-long the whole game. And we jumped offside on that third-and-long and made it third-and-medium," Borland recalled.
Accordingly, Coastal went 8-for-9 on third downs against KU, often avoiding third downs altogether.
To set themselves up for more success defensively against Baylor, the Jayhawks will have to avoid those third-and-short situations.
"And some of that is you've got to win on first down," Borland said. "You've got to make it second-and-long. Sometimes you need to get some tackles for loss in those situations. So we've got to create some things, make some things happen to where we can hit a guy for a loss."
Super-senior defensive end Kyron Johnson and redshirt freshman D-lineman Caleb Taylor lead KU with 2.5 TFLs apiece. Junior linebacker Gavin Potter and sophomore D-lineman Kenean Caldwell each have one.
Prediction
BU 38, KU 24