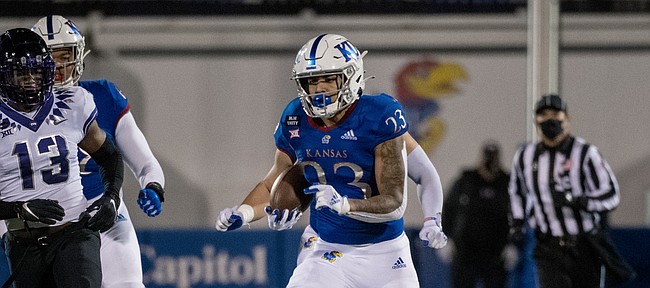 Following a brief appearance for Amauri Pesek-Hickson late in the Kansas football team's road loss at Coastal Carolina this past week, head coach Lance Leipold hopes the redshirt freshman running back can keep easing his way into a larger workload moving forward.
Pesek-Hickson, who wasn't available for the Jayhawks during their Week 1 home win over South Dakota due to injury, didn't make his season debut in Week 2 until the fourth quarter, as the offense started sending in some of its reserves.
The 6-foot, 230-pound back from Blue Valley North High had a short carry for one yard on KU's final drive of a 49-22 loss.
The Jayhawks would like to get to a point where they can rotate some with their top three running backs — junior Velton Gardner, true freshman Devin Neal and Pesek-Hickson — and establish a much stronger rushing attack that they've shown during a 1-1 start.
"We're finally getting a little bit more healthy at the running back position," Leipold said Wednesday night, during his weekly "Hawk Talk" radio appearance.
KU's head coach said a lingering injury issue has caused Pesek-Hickson to miss a lot of practice time over the past several weeks.
"And it's really been frustrating," Leipold said of what the young back is going through. "It's one of those things that you think you're feeling good and then you're not."
A year ago, when Pesek-Hickson appeared in only the final four games of the season, he became the Jayhawks' lone 100-yard rusher in 2020, going for exactly 100 on 22 carries versus TCU. He averaged 3.6 yards per carry for the year during his debut season.
Leipold said the staff wanted to get Pesek-Hickson in for at least a few snaps late in the game at Coastal just to give him some game reps.
"Hopefully we'll be in a position that he'll play a little bit more this week," Leipold added.
Through the first two games, as the Jayhawks adapt to a new offense under coordinator Andy Kotelnicki, KU's running backs haven't been particularly productive (48 combined carries, 113 yards, one TD). Most of the Jayhawks' success on the ground has come from junior quarterback Jason Bean (28 carries, 154 yards, two touchdowns).
Even so, Leipold still likes the talent in KU's running backs room. He called Pesek-Hickson a "big back" who's strong and fast. The coach said Neal has "such a bright future" and keeps learning and getting better daily. "It's not even weekly anymore," Leipold added.
Plus, Leipold thinks Gardner, the team's leading returning rusher from 2020 (325 yards, 4.5 yards per carry, two TDs in six games), can be "so dynamic" in the open field. Gardner's 18-yard run early in the third quarter at CCU was the longest gain by a KU running back in the first two weeks.
"We're just going to have to be more consistent up front," Leipold said of the offensive line and the need to get the running backs on track. "That allows these guys to kind of get in a rhythm and show what they can do."
KU RB production through 2 games
• Velton Gardner — 27 carries, 52 yards, 1.9 YPC
• Devin Neal — 12 carries, 41 yards, TD, 3.4 YPC
• Torry Locklin — 8 carries, 19 yards, 2.4 YPC
• Amauri Pesek-Hickson — 1 carry, 1 yard, 1.0 YPC