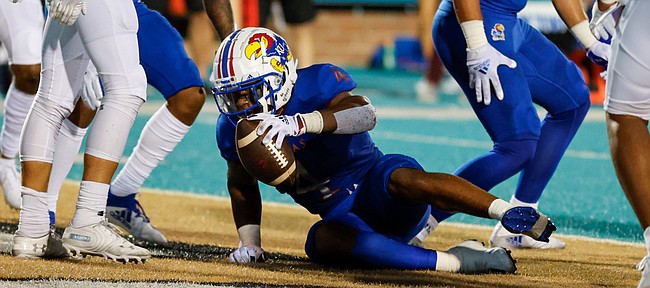 The Kansas football coaches asked far more of running back Devin Neal in Week 2 than they did in the Jayhawks' opener. So much so that the true freshman became the featured back for the offense on its second possession at Coastal Carolina, with Neal seven days removed from his one-carry, one-yard college debut.
Their trust in Neal, a 5-foot-11, 210-pound back from Lawrence High, became evident once the offense got inside the Chanticleers' 10-yard line late in the first quarter.
Beginning with a second-and-four from the seven-yard line, quarterback Jason Bean handed the ball to Neal on five consecutive plays.
With an illegal formation penalty extending the sequence, Neal rushed for one yard, three yards, then five more, then one again, before finally maneuvering into the end zone for a two-yard touchdown on third-and-goal.
"I honestly didn't expect to have that many cracks at it," a smiling Neal said Wednesday, recalling his first college TD, which allowed KU to go ahead, 9-7, with 1:40 left in the first quarter.
Neal said he tried to find "any way" he could to make his way across the goal line.
"To win games, you've got to score. And if I was going to keep getting the nod to try to score, I was going to find a way to achieve it," he said.
Making his mark for the first time in a college game, Neal totaled 40 yards on 11 carries in the loss. Seven of his rushing attempts during the 49-22 road loss came on that second series, as the Jayhawks (1-1) began relying more on their talented Class of 2021 signee, while still starting junior Velton Gardner (eight carries, 31 yards) at running back.
"Each and every time I got the ball," Neal said of his featured role near the goal line, "I just thought, 'I've got to be more physical on this run. I've got to be more physical than I was the last run.'"
Head coach Lance Leipold said this week he didn't realize in the moment at CCU that Neal carried the ball five times in a row, so that wasn't necessarily by design. But Leipold liked seeing a young player make the most of an opportunity, early on in a tight game versus a ranked team on the road.
"Yeah, I see his role continuing, hopefully," Leipold replied, when asked whether the offense might feature Neal even more in coming weeks. "For his first extensive playing time I thought he showed, I thought he did well. Like everyone, we can all be better."
Leading up to the game at CCU, Neal thought his preparation, which included extra time reviewing video clips and meeting with KU's offensive linemen, set him up for success.
Still, heading into Saturday's Big 12 opener versus Baylor (2:30 p.m., ESPN+), Neal said he "definitely" has things to work on. The freshman wants to be more physical not only on his carries, but also with his pass-blocking and run-blocking. Neal said he wants to make sure to keep improving the way he studies and prepares for games, too.
Becoming an effective blocker for Bean and improving his ability to pick up blitzing opponents, Neal said, will allow him to further help the offense. So will showing his strength on runs between the tackles, he added.
"Those are the things I think I can improve on most," Neal said.
Looking back on what could turn out to be a breakthrough game in his freshman season, Neal said his favorite moment actually didn't come on his first TD in a KU uniform.
Instead, Neal said what encouraged him most transpired on a fairly mundane play. Neal, who plays on KU's kickoff coverage team, had just sprinted down the field on a touchback by Tabor Allen. As he turned to run back to the bench, Neal said the entire visiting sideline and KU fans in a nearby section were "hyped" with the Jayhawks down just one score in the third quarter, while on the road against a top-20 team.
"For that small of a group that we were, we were just super loud and I was just so hyped. Seeing that type of energy against that type of team, that's when it appeared to me that we're going to elevate this program, we're going to flip this thing around," Neal said. "Because we can compete with anybody if we just keep trimming down on the errors."
Exactly how much Neal's role increases as the Jayhawks go through Leipold's first season is still "to be determined," the head coach said.
"Some of that's going to be feel. We have to be more productive in the run game, especially at the running back position — and that's not just all on them — and that's no secret," Leipold said.
In a 17-14 Week 1 win over South Dakota, KU's running backs produced little for the offense, as Gardner led the group with 21 yards on 19 carries.
Neal plans to keep putting in the work that will help his chances of getting on the field more in the weeks to come. For now, he's happy to have become more of a contributor just two games into his freshman year.
"I was blessed to receive the nod and have my number called, and I was just willing to do everything I could," Neal said.