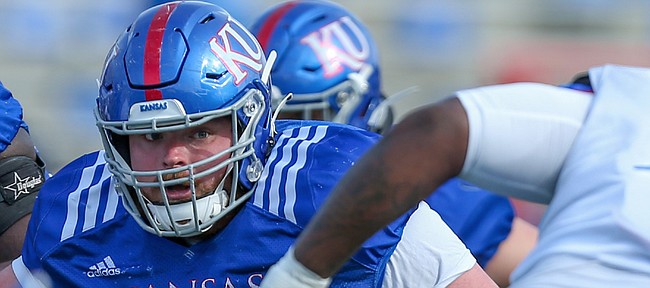 The Kansas football team could be without starting offensive lineman Colin Grunhard again this week, when the Jayhawks open Big 12 play.
Head coach Lance Leipold said Monday that Grunhard, who was unavailable to play in the Jayhawks' loss at Coastal Carolina on Friday due to a lingering injury, was considered "doubtful" for KU's upcoming Saturday game versus Baylor at David Booth Kansas Memorial Stadium (2:30 p.m., ESPN+).
A 6-foot-1, 295-pound junior who joined the Jayhawks this past January as a graduate transfer from Notre Dame, Grunhard started at right guard in Week 1, while playing through some pain.
KU (1-1) started redshirt freshman Michael Ford Jr., one of the transfers from Buffalo who followed Leipold to Lawrence, at right guard against CCU with Grunhard unable to play.
After pointing out Ford, who entered the season in a battle for starting right tackle with Bryce Cabeldue, has bounced back and forth some the first two games, playing both tackle and guard, Leipold said Ford played "OK" at right guard in the Jayhawks' 49-22 defeat at Coastal.
"I think Michael knows he can play better," Leipold said. "We need him to play better. I look forward to that happening, as well."
Ford, a 6-3, 295-pound O-lineman from Homewood, Ill., trained at both right guard and right tackle during KU's preseason practices, but spent more time at right tackle.
Grunhard was slowed during the preseason with his injury but tried playing through it in KU's Week 1 win over South Dakota.
Pass-blocking from tackles
Coastal registered six sacks during its third win over KU in three years. Leipold was asked Monday for his assessment of the O-line's pass blocking at the left (senior Earl Bostick Jr.) and right tackle (redshirt freshman Cabeldue) spots specifically, and what they can do better.
"Every time that you get beat there's something that can be corrected," Leipold replied.
The head coach said he thinks on every sack CCU recorded, KU ran into a particular issue.
"It could be a body lean, it could be opening a shoulder, it could be lunging," Leipold said. "There's a lot of different things that have to go, and again, it's something that's being addressed and not neglected.
Leipold said KU offensive line coach Scott Fuchs is "working hard with those guys," and that the staff and players know that not only do the Jayhawks need better protection from their tackles, but the offense as a whole needs to protect and execute better overall.
Eyeballs on KU vs. CCU
According to ESPN, Friday's nonconference matchup between KU and Coastal drew an average of 1.3 million viewers.
Per ESPN, it was the most-watched college football game to air on ESPN2 since Sept. 21, 2019.