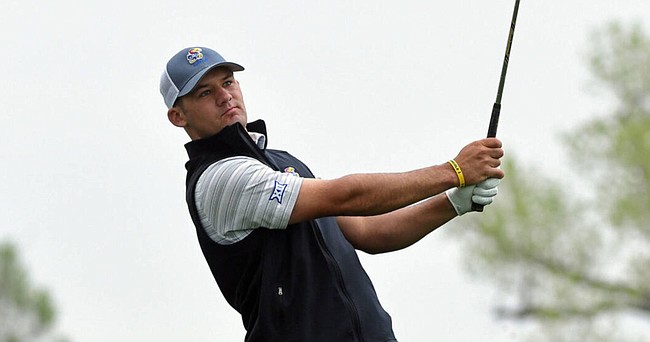 Kansas sophomore Luke Kluver won the Gopher Invitational golf tournament on Monday with a final-round 66 and led the Jayhawks to a co-championship with a team score of 14-under par.
"I'm extremely excited to get my first team and individual win at Kansas," Kluver said after the victory. "I've been waiting for this moment and trusting my process. I am really looking forward to the rest of the fall, and hoping for more."
Kansas, which shot 11-under during Sunday's 36-hole round, held off a Monday charge by Notre Dame, which shot 9-under for the final 18 holes.
The victory is the first for the program since 2018.
"It was an absolute grind out there today," KU coach Jamie Bermel said Monday. "The course was fairly tough and we got punched in the nose early in the round. To the team's credit, the guys responded and we came fighting back. Hats off to Notre Dame; they made some big birdies on the last hole."
A standout from Norfolk, Neb., Kluver has shot in the 60s three times in his last six rounds and is averaging 68.5 strokes per 18 holes so far this fall. He shot 203 this week in Minnesota to win by two strokes.
"Luke was a man out there this week," Bermel said. "He was in total control of his golf ball and putted really well. He has a chance to win every week, and if he has a good putting week, like he did this week, it's a win. He really has matured himself on the golf course, and I'm excited to see him continue to progress."
Seniors Callum Bruce (207, tied for 4th) and Ben Sigel (212, T16) were the other top Kansas performers at the event. Senior Harry Hillier (217, T31) and sophomore Davis Cooper (223, T48) rounded out the KU card.
The Gopher Invitational marked KU's second event of the fall season. The Jayhawks took fifth at the Marquette Intercollegiate last week.
Kansas now will be off for two weeks until teeing it up again at the Windon Memorial hosted by Northwestern on Sept. 27 and 28 in Chicago.