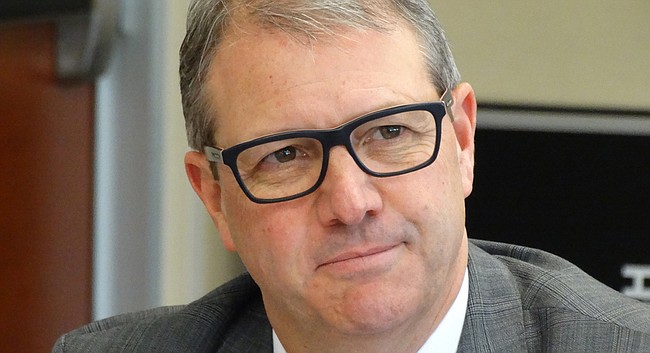 University of Kansas Chancellor Douglas Girod said Monday that KU "ended up in a good place," in the wake of last week's addition of four schools to the revamped Big 12 Conference.
During Kansas Athletics Inc.'s quarterly meeting of its board of directors, Girod told the group that welcoming BYU, Cincinnati, Houston and UCF to the conference in the coming years will bring "a lot of strength to the Big 12 and will position us well as a conference as we have Texas and Oklahoma leaving us at some point."
Their departure is yet to be determined, but it will be by 2025, when the Big 12's grant of rights agreement. First-year KU Athletic Director Travis Goff said Monday that BYU joining the conference in 2023 and the other three by no later than 2024 was a possibility.
As a member of the Big 12's expansion committee, Girod was privy to the conversations about each of the candidates discussed by the conference, and he said Monday that conference officials had specific discussions about BYU's past policies against the LGBTQ+ community.
"They have demonstrated really significant progress in that area," Girod said. "And I think all the presidents and chancellors felt pretty comfortable with that."
Regardless of when all of the coming and going takes place, Goff reiterated that he believes the conference is in a much better place today than it was just a few weeks ago.
Goff first spoke about the Big 12's new additions before last Friday's game at Coastal Carolina. He said then that the athletic department would continue to emphasize doing what was best for Kansas first and foremost.
On Monday, Goff said seeing KU's current conference home on more solid ground was positive.
"We are in a better stretch here," Goff said. "The presidents, the chancellors, the commissioner and the rest of the makeup of the Big 12 really acted in strength with clarity around the paths forward, and, honestly, it was really the only path, to add back to the league to give it some more stability."
Girod said he was pleased with both where KU stands today and what the school's future "within the Big 12" now looks like. He also said that KU's status as a Tier 1 AAU research university and a blue blood basketball program "positions KU particularly well during these conversations."
"This is not your conference realignment of old," Girod said. "This is not moving the deck chairs. We're seeing major changes (and probably will see) a very different looking NCAA after the first of the year. College athletics is shifting pretty dramatically under our feet."
In other news at Monday's meeting:
• Paul Pierce II, KU's associate AD for Inclusive Excellence, gave a presentation about the department's "Coach's Playbook" initiative, which outlines the ways that KU's coaches are handling and increasing inclusivity within their programs.
The playbook features four pillars that focus on everything from events and community outreach to hosting guest speakers and celebrating heritage months. The program was designed to cultivate a welcoming community that engages all aspects of diversity.
Examples include the men's basketball program's recent outing to the Negro Leagues Baseball Museum in Kansas City, Mo., and the football program welcoming in guest speaker C.L. Shepherd, a former NFL player and current motivational speaker whose tag line is "Born in the hood, reaching the world."
"We already did a lot of these things," Pierce said. "Which is the great part. Our coaches, throughout our athletic department, have been very aware of the need to create diversity inclusion conversations."
• Goff said that KU and Kansas Team Health were close to finding a replacement for KU head team physician, Larry Magee, who Goff said was retiring at the end of the calendar year.
"We're closing in on finishing that search out," Goff said. "Can't replace him fully after all he's done, but we're excited to land the next head team physician for KU athletics… (It's a) really important hire for us and I'm excited about that."
• While KAI is still at the beginning of fiscal year 2022, the department's chief financial officer, Pat Kaufman, provided a final update on the numbers for fiscal year 2021.
After budgeting for a deficit of $11 million last February, Kaufman said the department actually came in with a deficit of around $5 million. When adding to that the surplus carried over from the previous year, Kaufman said KAI "pretty much broke even" on the two-year combined impact of the COVID-19 pandemic.
Salary cuts, furloughs, reduced travel and other cost-savings measures helped KU minimize the negative impact of the sports world shutting down in March of 2020.
"It looks like we were able to escape the two-year COVID impact," Kaufman said. "But we still have a lot of work to do. Our season ticket holders and donors are still trying to be comfortable coming back into our indoor venues and those types of things, so we know we've got our challenges for our (fiscal year 22), which we're working hard towards."
Added Girod: "There's a lot of hard work hidden in all those numbers."