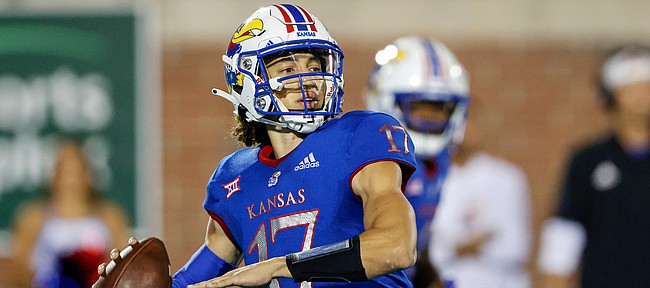 Conway, S.C. — Members of the Kansas football team didn't leave Brooks Stadium carefree Friday night following the Jayhawks' 49-22 loss at No. 17 Coastal Carolina. But head coach Lance Leipold and KU's skill players witnessed some offensive growth they considered promising in Week 2.
The Jayhawks improved their scoring, passing offense (238 yards) and rushing offense (174 yards) outputs after producing only 163 passing yards and 82 rushing yards in their 17-14 win over FCS foe South Dakota a week earlier.
"I feel like we moved the ball a little bit more," super-senior receiver Kwamie Lassiter II said after he caught seven passes for 85 yards.
"We weren't finishing drives like we were supposed to," Lassiter also pointed out after KU improved its first down totals from 12 in Week 1 to 16 in Week 2, "but we extended drives. We got down to the red zone a little bit. We've just got to finish plays."
The 412 total yards of offense for KU was more than the Jayhawks had in any of their games during an 0-9 2020 season. That was before Leipold and his assistants arrived from Buffalo — and before quarterback Jason Bean transferred in from North Texas.
Bean didn't join the program until the summer, but the longer he's been with the Jayhawks the more comfortable he gets. After a slow start for the redshirt junior in the preseason QB competition, he separated himself before the season opener.
His trajectory continued pointing upward at CCU, where Bean completed 12 of his 23 passes, but still totaled more yards (189) than he did in the opener, when he went 17-for-26, with 163 yards.
Chunk yardage on long passing plays was the difference for Bean versus the Chanticleers. His longest completion in his KU debut a week earlier went for 20 yards, but at Coastal Bean connected with Luke Grimm for 35 yards, Lassiter for 22, Trevor Wilson for 39 and Lawrence Arnold for 37.
"I think just sitting in there and obviously the protection," Bean said of what made those downfield passes possible. "The protection was pretty good all night. I'm proud of the O-line. We had a couple of busts, but like I said before, it's nothing we can not fix. I'm excited to come in this week and get it done (at practices)."
Lassiter also was pleased to see the offense look more dynamic downfield in Week 2.
"That stretches the defense, so I think that's a good thing. And it can open up the run game, too," Lassiter said, adding he thinks more deep throws will be part of the attack "from here on out."
A 6-foot-3, 189-pound QB who also rushed for 102 yards and two TDs at CCU, Bean said after the loss he is getting more comfortable making calls at the line of scrimmage, too, as he continues to grow within coordinator Andy Kotelnicki's scheme.
"Yeah, I think that just comes with time," Bean said. "Being around this team, being in this offense, getting more comfortable with the guys that are in the game and then the (plays) that the coaches are calling."
Leipold thought KU's offense operated better in the loss than it did the previous week in a win.
"I thought we took some nice steps. I thought Jason had a really good game, a gritty game," the coach said. "He's showing what he can do athletically with his legs, and I thought he threw the ball better. Statistically it shows it."
After KU's running backs were mostly ineffective in the opener, Leipold was happy to see some progress in that facet, too. True freshman Devin Neal led the way with 11 carries, 40 yards and a TD, and junior Velton Gardner had eight carries for 31 yards.
Leipold said the Jayhawks also spread the ball around a little more, and he's looking for consistency from the running back position, because they need to be balanced.
"I told them I was proud of them, because we're getting better for 60 minutes," he said.
Still, Leipold said the Jayhawks aren't going to compromise or be satisfied with where things stand offensively. KU's coach said the Jayhawks (1-1) have to improve.
One of the more glaring issues was CCU's ability to get to the QB. Coastal sacked Bean five times and backup Jalon Daniels once. Plus, the Chanticleers made five other tackles for loss.
"We've got to continue to get better," Leipold said of the entire team. "That's where I see in their eyes in the locker room that they want to. They see those glimpses. Now they know we've got to get more consistent."
One of KU's veteran leaders, Lassiter said after the loss the Jayhawks have to improve "in every aspect" of the game. Speaking specifically about the offense, the super-senior receiver said finishing drives was the biggest issue in the first loss of the Leipold era.
"For me, I feel like when you get (to the 50-yard line) and in the main thing is you've got to put it in the end zone — three's not enough, especially against a team like this," Lassiter said of settling for a field goal.
On each of KU's final three possessions of the road loss, the offense turned the ball over on downs after getting inside the CCU 30-yard line.
Bean banged up
The Jayhawks got a brief scare in the fourth quarter when a blitzing Derick Bush blindsided Bean and leveled the QB as he attempted a pass. Bean had to leave the game for one snap after a stoppage, when the QB remained down on the turf after the hit as training staff checked him out.
However, he only missed one play and checked right back in.
Bean said after the game he was feeling all right and just experiencing "a little soreness." He said he wanted to get back in the tame and "show my team that I'm here to stay."
Leipold called the QB a "pretty tough guy" for withstanding the big hit and returning to the field immediately afterward.
Daniels sees first action
With the game out of reach for KU in the final minutes of the fourth, the Jayhawks had sophomore QB Daniels handle the final series.
Daniels — he came in for Bean after the hit earlier in the quarter, too — made his first appearance since last season, and went 3-for-5 through the air for 49 yards.
KU's primary starting QB in 2020, Daniels opened up his sophomore campaign by connecting with Lassiter for 14 yards and hitting Grimm twice on the drive, for 15 and 16 yards. But CCU ended the night for KU's offense by sacking Daniels on fourth and nine after KU got into the red zone.
Burt could return later in season
Super-senior nose tackle Sam Burt, who hurt his right arm in the opener and has had it in a sling since, could potentially return for the KU defense later this fall, Leipold said.
The coach told reporters Friday night Burt would remain out with his injury "about another month or so," and the Jayhawks will wait and see whether he might be cleared to return to play.
A former walk-on, Burt started at nose tackle in Week 1.
1st time KU starters
With Burt out, redshirt freshman Caleb Taylor made his first career start for the Jayhawks on the defensive line. Taylor finished with three total tackles.
The offense had two first-time starters at CCU. Redshirt freshman Michael Ford Jr. replaced Colin Grunhard as the starting right guard. Grunhard has dealt with an injury the past few weeks and played while hurt in the opener.
Redshirt freshman tight end Trevor Kardell also started for the first time. The Jayhawks still played Mason Fairchild, who started at tight end in the opener, but Kardell was on the field for the first snap.
No KU tight ends caught a pass versus CCU, as Bean ended up looking the way of receivers most of the night.