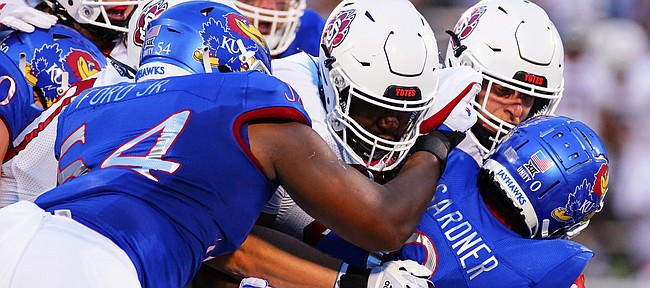 The rushing attack many expected to be a staple of the Kansas football offense in Lance Leipold's first season never got rolling in the Jayhawks' season-opening victory.
Quarterback Jason Bean (15 carries, 54 yards) turned out to be the only effective rusher for KU versus South Dakota, and the offense produced just 82 rushing yards as a team.
Leipold said a variety of factors led to the Jayhawks' mostly unrewarding ground game.
"If it was one easy thing to clean up, you make the adjustment and go," he said.
Despite junior running back Velton Gardner getting 19 carries — the most rushing attempts of his KU career — he finished with only 21 yards. The Coyotes brought Gardner down in the backfield for a loss on seven of his runs and stopped him within one yard of the line of scrimmage on five other carries.
Gardner helped KU convert a couple of 3rd and 1 situations in the third quarter, but USD stymied the 5-foot-9, 195-pound back from Dallas for the vast majority of the Jayhawks' win.
"We wanted to get Velton going a little bit more. That's probably why we stayed with him — tried to get him a little more rhythm," Leipold said.
The Jayhawks were without redshirt freshman Amauri Pesek-Hickson in Week 1 (Pesek-Hickson returned to practice this week). True freshman running back Devin Neal only had one carry for one yard against USD. Sophomore Torry Locklin, who also has practiced at receiver, filled in some at running back in the opener, and had five carries for eight yards.
Document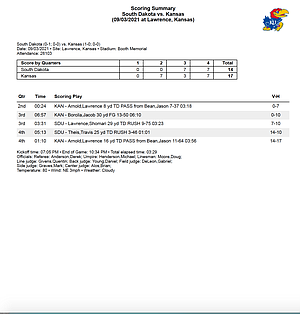 Leipold said it probably hurt the offense that the coaches didn't get Neal more involved. It also proved difficult to establish a rotation with the running backs, the coach said, because the offense wasn't sustaining drives in the first half. The Jayhawks went three-and-out on each of their first four series and it wasn't until their last drive of the first half that a possession lasted more than six plays.
"You keep rotating and nobody gets the feel of it," Leipold said of the running backs.
Of course, any back needs a functional offensive line in front of him in order to truly take off. Leipold said it was on him as a head coach that the run-game blocking, execution and communication wasn't at an optimal point throughout the opener.
"There's multiple things that need to get corrected and cleaned up. And we expect that to continue to happen as it's a work in progress with what we're doing," he said.
Leipold said he needs to make sure the coaching staff better prepares the O-line through teaching, practice reps and identifying the strengths of the unit's personnel, after some aspects of the O-line play versus USD were "obviously" not as clean as they should be.
Some of the continuity and chemistry up front wasn't exactly favorable either. Leipold said starting right guard Colin Grunhard "has been slowed" with an injury lately and missed some snaps during the opener while playing through the pain. When Grunhard sat, the coach pointed out, the Jayhawks asked redshirt freshman Michael Ford Jr., who was playing in his first college game, to step in at right guard. Though KU O-line coach Scott Fuchs trains his players at multiple positions, Ford entered the season with most of his reps coming at right tackle. Ford ended up playing both guard and tackle in the narrow win.
"So now you're talking about the timing of who you're working with," Leipold said of one of the challenges for the O-line in the opener.
At points, starting right tackle Bryce Cabeldue was working next to either Grunhard or Ford. Likewise, center Mike Novitsky at different junctures, had either Grunhard or Ford next to him.
Photo Gallery
KU football v. South Dakota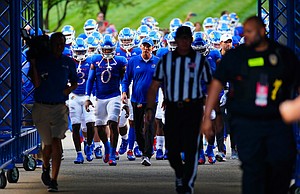 View a photo gallery from the Jayhawks' 17-14 win over the Coyotes Friday night.
And then left guard Malik Clark got hurt in the third quarter, and the Jayhawks turned to super-senior Adagio Lopeti at that spot. While Leipold called Lopeti a "swingman" whom KU can plug in at different spots as a reserve, Lopeti also spent a lot of the preseason as a backup center.
Elsewhere within the offense, Leipold said other "small things" need to be fixed.
"Fakes and things that kind of tie into play-action, as well, need to be corrected offensively and we know that," he said. "And we're working on that right now."
Plus, KU's head coach said the O-linemen weren't the only players who need to block better. Leipold said the Jayhawks on the perimeter, including the tight ends, have to execute with their blocking assignments.
Moreover, Leipold said the skill players in the backfield have to carry out better fakes. And he indicated Bean had some reads where he should've given the ball to a back instead of keeping it himself.
"And there's probably some opportunities that our vision in the backfield, we need to see a few creases when there's not a ton going on," Leipold added.
"So everybody involved could be a little bit better. And I think we're going to find a way to do that here quickly."
The Jayhawks (1-0) get their next chance to improve their running game on the road at No. 17 Coastal Carolina (1-0) on Friday (6:30 p.m., ESPN2).