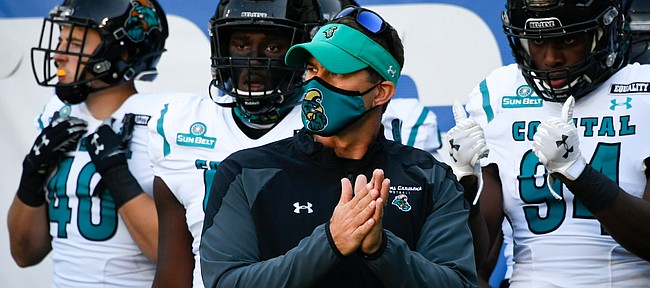 College football's reigning national coach of the year, Jamey Chadwell isn't expecting his Coastal Carolina team to see the same Kansas Jayhawks this week that the Chanticleers beat each of the past two seasons.
Ahead of Friday's nonconference rematch in Conway, S.C. (6:30 p.m., ESPN2), Chadwell told reporters during his video press conference this week that the arrival of Lance Leipold and his staff makes it a totally new matchup.
"They've won everywhere they've been," Chadwell said, referring to Leipold's 109-6 record and six national titles at Division III Wisconsin-Whitewater, as well as a 37-33 run during his six years at Buffalo.
Chadwell said the Jayhawks look "completely different" than they did a year ago, when Coastal opened the 2020 season with a 38-23 victory in Lawrence.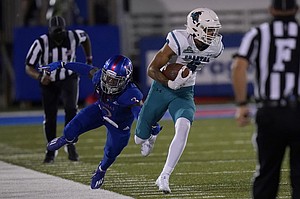 "So we're going to have to be ready to play at a high level for us to come out and achieve a victory," said Chadwell, who directed the Chants to an 11-1 record a year ago.
Asked to name the main differences he sees with the Jayhawks (1-0) now that Leipold is in charge, Chadwell's response began with him saying they're "sound" on offense and defense.
"They play with really good fundamentals. They're hard nosed. You can see that from the first game they played," Chadwell said of KU's 17-14 comeback win over South Dakota. "They made some mistakes but they didn't get their head down. They kept playing, they kept competing. You can see that they're excited about playing for each other."
Chadwell's Chanticleers opened their season, his fourth overall as Coastal's head coach, with a 52-14 blowout home win over The Citadel. The Chants (1-0) enter their third matchup with KU in the past three seasons ranked No. 17 in the latest Associated Press top 25 poll.
Of course, Chadwell led Coastal to road wins over the Les Miles-coached Jayhawks in both 2019 (12-7) and 2020. Observing Leipold's situation from afar, Chadwell thinks the new staff has made a difference, even though Leipold and the former Buffalo coaches didn't take the reins until after spring football.
"But you can see from (the players') standpoint, their mindset, things that maybe previously a penalty here or a bad situation would've caused them to spiral. And they didn't," Chadwell said of his takeaway from watching KU beat USD. "They found a way to win. I think that shows a lot about them."
The Jayhawks' batch of new transfers for 2021, including six from Buffalo, Chadwell noted, have helped the roster "tremendously."
Among those experienced players who weren't with the Jayhawks the last time Coastal faced them is new starting quarterback Jason Bean, who transferred in from North Texas during the offseason.
"Now he is an athletic quarterback, so I think he does bring a little different element than maybe a couple other guys that played last year," Chadwell said.
The last time the two teams met, at David Booth Kansas Memorial Stadium to kick off the 2020 season, the Jayhawks played three quarterbacks: Thomas MacVittie, Miles Kendrick and Jalon Daniels.
"We know he's a good quarterback," Coastal's coach said of Bean, adding he wasn't surprised Bean ended up winning the job, given the junior QB's experience as a starter at North Texas.
The Chants return 19 of their 22 starters from the 2020 season. Coastal, which has won eight straight home games at Brooks Stadium, heads into Round 3 with the Jayhawks considered to be somewhere in the range of a 25- to 27-point favorite by Las Vegas oddsmakers.
A reporter asked Chadwell whether he could have imagined three years ago his team would be nearly a four-touchdown favorite over a Big 12 program.
"I won't get into that, because I don't think we're a four touchdown favorite over anybody by any means," Chadwell replied. "One thing you learn, especially if you watched this weekend, in college football who's supposed to win and who wins doesn't happen a lot. It's all about who shows up and plays."
KU will be the first Power Five team to play at Coastal, which joined the FBS ranks in 2017.