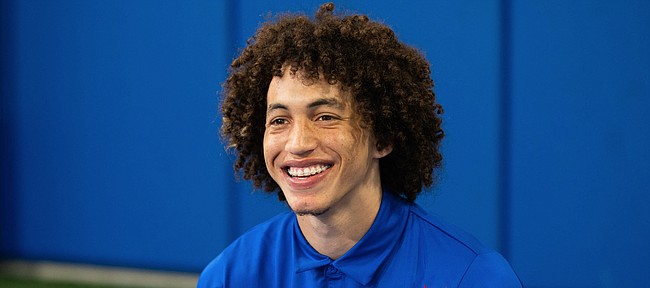 After spending the first three years of his college football life at North Texas, Jason Bean made his Kansas debut on Friday by starting at quarterback and leading the Jayhawks to a comeback victory at David Booth Kansas Memorial Stadium.
A redshirt junior who joined the program as a transfer this summer, Bean proved to be KU's offensive star, passing for 163 yards and two touchdowns and rushing for another 54 yards in the 17-14 win over South Dakota.
As the Jayhawks (1-0) prepare for a trip this week to No. 17 Coastal Carolina (1-0), Bean shared his thoughts on his first start as a Jayhawk and where he needs to go from here.
Q: What do you think you'll remember most from your first game at KU?
A: "I think just going into the game, the nerves that I had, it being my first game in the Big 12 — not against a Big 12 opponent — but just being in this stadium. There was a lot of people there (26,103), and I've never played in front of a crowd like that."
"So I just think it was a cool atmosphere and I was excited to be there."
Q: Coach Leipold has mentioned a few times already that he considers you kind of a flatline guy emotionally — you don't get too high, you don't get too low — do you agree with that? And do you think that helped you on that last drive of the fourth quarter when you guys had to get a score to go ahead?
A: "Yeah, I do agree with it. That's one thing I try to do. Being the quarterback, you can't really be — I mean, you can be emotional, but you can't really let your teammates see it."
"I think going through the game, it wasn't the best of games for us, but just believing that we were going to make that play, and make those plays on the last drive and go get the touchdown (was key)."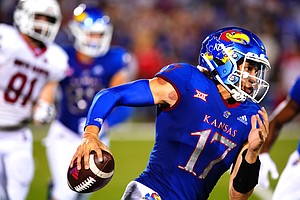 Q: Your feet ended up playing a factor, too — you were able to be effective as a rusher. How much are you reacting and taking off and how much are you going into a play knowing, "this is a run for me?"
A: "I'd rather be a passer. But just knowing that I have the capability of running the ball was great."
"But like I said before, I'd rather sit back there, trust my O-line, let them blow those guys off the line and block for me."
Q: What aspects of your game are you looking to improve upon heading into Week 2, just based off what you've seen from reviewing the game footage?
A: "I think for me the biggest thing I've got to focus on is my accuracy. I had a couple of balls that, you know, could have been game changing. And I think if some of those balls were completed there would've been a little bit different of an outcome in the game."
Q: You guys are going on the road to play a top 25 team this week. You talked about the environment here, it might be another cool environment. What are you looking forward to about the atmosphere and stage of playing at Coastal Carolina Friday night (6:30 p.m., ESPN2)?
A: "I think this is a great opportunity this week for us. We're going to play a top 25 team. This is a week where we're going to see what we're made of."
"I'm happy for this team. We're getting to go up against a great opponent. It's gonna be a great test for us and I'm really excited."