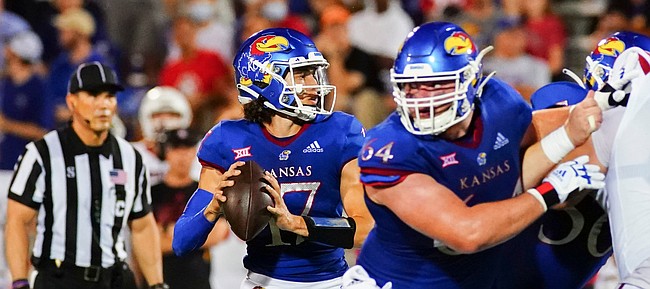 Although Kansas football head coach Lance Leipold waited until game day of his Jayhawks' season opener to publicly announce who would start at quarterback, Leipold said he reached his final decision several days earlier.
Reflecting on the job junior Jason Bean did in his first start as KU's QB, Leipold said during his weekly press conference on Monday that Bean began to take the lead in the race late during the preseason.
"I knew where it was leading," Leipold said of how the prolonged QB competition went down. "(Bean) was the first one getting some of those reps (entering the final week) through the rotation and it was trending that way."
Leipold said he decided to go with Bean as the starter on the Monday before the Jayhawks beat South Dakota, 17-14, and the coaches informed the quarterbacks simultaneously this past Tuesday.
Photo Gallery
KU football v. South Dakota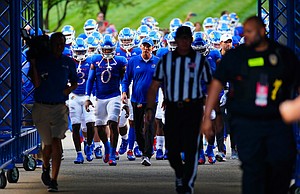 View a photo gallery from the Jayhawks' 17-14 win over the Coyotes Friday night.
In Bean's debut the former North Texas QB went 17-for-26 (65.4%) through the air, with 163 passing yards and two touchdowns — and zero interceptions. Bean's legs proved valuable, too, as he picked up another 54 yards on the ground on 15 carries.
During his postgame interview on Saturday, Bean didn't speculate on what specifically won him the job over senior Miles Kendrick and sophomore Jalon Daniels.
"Just coming in each day, trying to get better, trying to be consistent," Bean said of his approach. "I think that's the biggest thing at the quarterback position, that you're being consistent."
Finding out he would be the No. 1 QB, Bean said, meant "everything" to him.
"Kansas is a great school. It's a Power Five conference. It's every kid's dream to play quarterback at this level," Bean said.
In helping KU win the opener, Leipold said, he thought Bean "showed some flashes," especially in his ability to lead with composure for late-half TD drives in both the second and fourth quarters, and the final possession concluding with what proved to be the game-winning score.
The coach said Bean also has "to clean a lot of the things up," and "hopefully he's going to take a big step in Game 2."
Pesek-Hickson back practicing
When KU practiced Monday morning, redshirt freshman running back Amauri Pesek-Hickson was back on the field with the Jayhawks.
Pesek-Hickson missed the Week 1 win due to injury. With him unavailable and sophomore Daniel Hishaw Jr. out for the season, the Jayhawks relied almost completely on junior Velton Gardner at running back versus USD.
Gardner ran 19 times, only netting 21 yards. True freshman Devin Neal had one carry for one yard. Sophomore Torry Locklin, who also plays receiver, lined up at running back a few times, and had five carries for eight yards.
Pesek-Hickson didn't play at all during the first five games of the 2020 season, but once he got a chance during the final four weeks, Pesek-Hickson averaged 3.6 yards per carry. As KU's primary back against TCU, he ran for 100 yards.
Super-senior left guard Malik Clark, who left the opener on Saturday in the second half with an injury, also was back practicing on Monday.
Logan's big return
Leading up to the Jayhawks' season debut, Leipold heard from team leader Kenny Logan Jr. on a number of occasions that he was going to take a kickoff "the distance."
So when Logan returned a kick 83 yards in the third quarter versus USD, even though it wasn't a touchdown, Leipold heard from the junior safety again.
"Coach, I told ya," Leipold related of Logan's message to him.
Logan's lengthy return on special teams answered the Coyotes' first score of the evening, which had cut KU's lead to 10-7.
"It was big," Leipold said of Logan's contribution at that juncture. "Even though we didn't put any points on the board from that, I thought it was a big, big chance for us to kind of stymie and swing that momentum back to us, which I think is important for this football team when things don't happen well."
Along with giving the Jayhawks "a good shot in the arm" with the return, Leipold said Logan, who made seven total tackles and delivered a 4th down pass break up to seal the win, stood out on defense.
"I thought Kenny played well at safety, as well, and was one of our players of the game," Leipold said. "I thought he had a real good night."