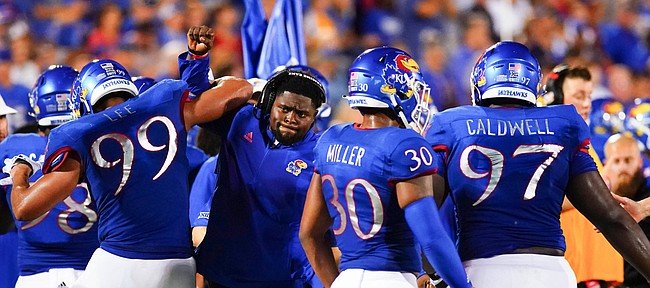 Even though one of its veteran starters suffered an early injury in the Kansas football team's season opener on Friday, the Jayhawks' defense proved to be stout, particularly up front, in a 17-14 victory over visiting South Dakota.
With super-senior nose tackle Sam Burt lost due to an arm injury on the second defensive series of Week 1, the Jayhawks' depth along the D-line — with Caleb Sampson, Ronald McGee, Eddie Wilson, Caleb Taylor, Kyron Johnson, Malcolm Lee, Hayden Hatcher and others all chipping in at different moments — still easily withstood Burt's absence.
One of the younger players up front, redshirt freshman Taylor, led KU with two tackles for loss.
"Losing Sam was definitely disappointing," Leipold said after the win. "I feel really bad for him. But to see a bunch of guys step up — Caleb Taylor being one of those — really proud of those guys, proud of the way we played, really with the whole front."
Photo Gallery
KU football v. South Dakota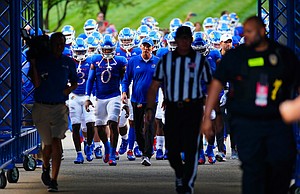 View a photo gallery from the Jayhawks' 17-14 win over the Coyotes Friday night.
With super-senior D-end Johnson (seven total tackles, one sack and a forced fumble) leading the way up front, KU (1-0) shut out the Coyotes in the first half and only allowed 262 total yards, which was the program's lowest total in that category since opening the 2017 season against Southeast Missouri State (253 yards allowed).
Leipold called Johnson KU's most athletic defensive lineman, praising the veteran for his "great motor" and ability to race into the backfield off the edge.
"We're going to need that from him all year," the coach added.
Johnson said after the opener he liked how the defense went into the game with a confident effort and maintained it.
"No matter how bad things got, like in the fourth quarter," Johnson said, referencing USD's go-ahead touchdown with 6:01 to play. "And, yes, some heads went down. But like I've said before, us captains, it's up to us to bring them along like, you can't quit. You've gotta keep hope. You've gotta keep fighting."
The Jayhawks had to get one last stop after quarterback Jason Bean and receiver Lawrence Arnold connected for a crucial KU TD. And cornerback Jeremy Webb and safety Kenny Logan Jr. delivered back-to-back pass breakups to seal the victory.
"I just liked the passion that they played with," Leipold said of KU's defense overall. "We talked about playing with motors and doing things and giving great effort and straining and good things are going to happen."
After reviewing the game footage, Leipold said Monday KU's secondary played well "when we had to," and the defense as a whole showed some confidence and made important stops.
"There were a lot of people around the ball," Leipold said.
Logan, Johnson and linebacker Gavin Potter tied for the team lead with seven total tackles apiece.
KU's defense proved to be effective on 3rd downs, too, with USD only converting on three of its 13 tries.
Document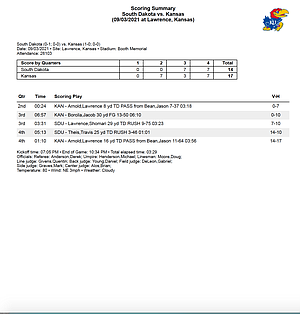 "Some of that was down and distance, I think we did a good job with," Leipold said of KU getting so many 3rd down stops.
"Like everything, as we move forward, we want to tackle better than we did, though. I think the two touchdowns there were missed tackles," Leipold added of a pair of long rushing scores, the first from 29 yards out by Shomari Lawrence and the second for 25 yards by Travis Theis.
The Jayhawks didn't create a takeaway in their opener, despite USD having three fumbles. Leipold pointed out that on a couple of those it felt to him like the ball was on the turf "for about five seconds."
Even so, from a big picture standpoint, Leipold left the opener glad that the defense gained some confidence and now has something positive it can build off of heading into Week 2.
"Again, getting a victory was first and foremost," Leipold said. "Then we go get on the film and work to get better."
The Jayhawks play on Friday again this week, when they have their road opener at No. 22 Coastal Carolina (6:30 p.m., ESPN2).