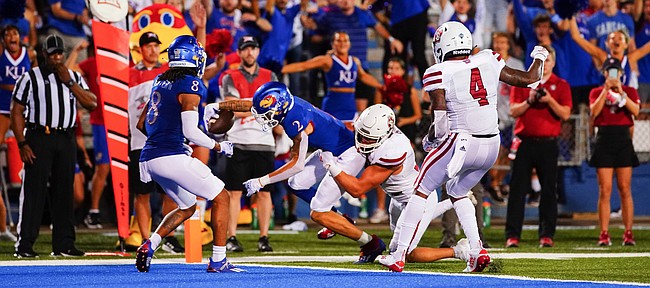 When Lance Leipold first took over the Kansas football program four months ago, he kept hearing from people around the team about the potential of a redshirt freshman receiver who only made six catches the previous season.
Friday night during Leipold's first game with the Jayhawks, the head coach saw why the buzz around Lawrence Arnold wasn't just hype.
The 6-foot-3, 195-pound wideout from DeSoto, Texas, caught both of quarterback Jason Bean's touchdown passes, including what proved to be the game-winning reception against South Dakota in a 17-14 season-opening victory at David Booth Kansas Memorial Stadium.
Leipold thought Arnold, who didn't start or play as many snaps as other KU receivers, had "a heck of a game," after missing a number of practices in recent weeks due to some shoulder pain.
"But you see the length at that position that he gives," Leipold said of Arnold, who finished with three catches for 33 yards. "He's got athleticism to go make plays. Very confident."
Many around the program figured in 2020, when Arnold was a true freshman, that he would break through with the type of big plays he made for the Jayhawks on Friday. But a season-ending shoulder injury cut his season short after four games.
The availability of Arnold for Week 1 of 2021 even came into question during the preseason, when an aching shoulder caused him to sit out of practices. It wasn't until a few days before the opener that Arnold got back on the field.
"I knew it was something I was gonna play through, something I was gonna push through," Arnold said of the pain. "And I wasn't gonna give up on my team."
The Jayhawks (1-0) were staring at a potential home loss to an FCS opponent late in the fourth quarter, before Arnold found his way into the end zone for the second time with 1:10 left on the clock. Arnold had lined up wide right and recognized the Coyotes were showing a Cover-3 look. With super-senior receiver Kwamie Lassiter II in the slot to Arnold's left, he figured Lassiter would clear the nearby safety out of position as the play progressed, giving Arnold the one-on-one matchup he desired.
Arnold was right. And when Bean's pass found his arms nine yards out from the end zone, Arnold pivoted and beat the USD defense to the goal line.
"I always go by make a man miss. Make the first guy miss," Arnold said of coming through with the must-have TD. "I just went by that and I live by that."
The KU offense was listless the vast majority of the first half before Bean found Arnold open in the end zone for an eight-yard TD with 24 seconds left until halftime.
Document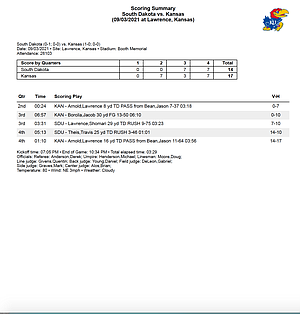 Junior tight end Mason Fairchild said Arnold proved to be a reliable target, "especially down in that red zone," for Bean.
"He did an incredible job tonight," Fairchild said.
With KU's rushing attack (82 yards as a team) mostly ineffective — Bean led the way with 54 rushing yards and USD limited junior running back Velton Gardner to 21 yards on his 19 carries — the Jayhawks needed their passing game to come through in crunch time. On the final drive, Bean found Trevor Wilson for 17 yards, Fairchild for 20 and Arnold on the go-ahead score for 16 more.
Bean said Arnold "stepped up really big for us." The QB thought the young receiver worked hard throughout the week to make sure he was ready and able to contribute.
"I'm extremely proud of him," Bean said of Arnold. "I'm just thankful he's on our side."
Photo Gallery
KU football v. South Dakota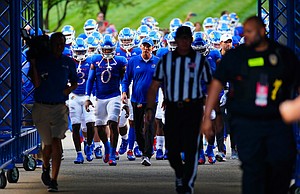 View a photo gallery from the Jayhawks' 17-14 win over the Coyotes Friday night.
KU's new starting QB looked Arnold's way on five occasions in the win. The redshirt freshman said he just wanted to be a solid target for Bean.
"That's really what the biggest thing is when it comes down to a quarterback and receiver," Arnold said of their developing chemistry. "It's just like playing throw and catch in the backyard. You've got to be trustworthy, you've got to be reliable."
After watching most of the 2020 season from afar and not getting a chance to make a significant impact, Arnold felt rejuvenated following the Week 1 victory.
"It felt great just to be back out there on the field in that atmosphere and that environment with my team," he said. "Just to be able to come out and be able to help us get a dub. I feel like we all played a big part in it."