The text message came at 3:59 p.m. on Friday and was just six words long: "Thank you again for this opportunity."
The sender was first-year Kansas football coach Lance Leipold, en route to his first game with the Jayhawks.
On the receiving end was first-year KU Athletic Director Travis Goff, the man responsible for hand-picking Leipold to lead the program — and, in some ways, the university — into an uncertain future.
"He and I are basically on the same journey," Goff told the Journal-World a couple of hours before Friday's kickoff. "My background's different and his background's different, but from the second we hired him, it meant that we were going to have to be in stride in everything we do."
For the most part, that has been the case since Goff hired Leipold in early May. Their first game day together included some built-in time apart, and they both had plenty to keep them busy.
Leipold, whose team pulled out a 17-14 victory, had pregame meetings and final touches to the game plan. Goff had to find a way to make it to the 7 o'clock kickoff.
"The butterflies were kicking earlier today," he said. "I just wanted to get here. Now that I'm here, it's a different feel. It's more excitement than nerves."
Goff's day began with a wake-up call around 5:45 a.m. at his Lawrence home.
"I slept well," he said. "And I woke up thinking, 'Man, I don't think this could've been scripted better.' This is the position we want to be in."
After an early breakfast with his wife and three children, Goff arrived at his office around 8 a.m. One of his first tasks was to go over talking points for a speech he would give to fans prior to kickoff.
That's when KU's deputy AD, Jason Booker, first got to see how Goff operates on game days.
"The attention to detail is off the charts," Booker said. "He wasn't just going to go up there and say a few words. He wanted it all scripted out perfectly. After that, we spent about 20 minutes just talking football. That was really cool because this should all still be fun, too. I just remember him saying then, 'I wish I could fast-forward to 7 p.m.'"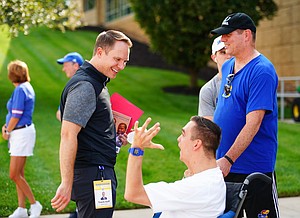 The next several hours of Goff's day were filled with mundane tasks. He ran a couple of errands, shopped at Weaver's on Massachusetts Street and changed clothes to head to the stadium.
This was not a suit-and-tie type of day. He's had plenty of those. This was game day. So he wore slacks; a quarter-zip, sleeveless black Jayhawk jacket with a gray KU polo underneath; and comfortable shoes.
Conference realignment, name-image-likeness issues, the burden of rebuilding the football program and the looming NCAA infractions case involving KU's men's basketball program all could wait.
"He's got his hands full," KU men's basketball coach Bill Self said recently when asked about Goff. "He's getting a crash course on how to deal with a lot of things at once."
The biggest of those, without question, is the football fix. Tackling that challenge was a big part of the reason Goff took the job. And it's the entire reason why he hired Leipold to join him.
He also knows what's on the line if they don't get the job done.
"I was talking to a good friend earlier today and I jokingly said, 'Well, my children's livelihoods begin tonight," Goff said.
Clearly, Goff is aware of how high the stakes are in this latest attempt to get KU football right. But he calls that "good pressure."
"I wanted this job," he said. "I wanted this opportunity. And I wanted the expectations and the pressure that came with it. I obviously knew football was going to be at the forefront. So, to me, being here today is an awesome feeling.
"I'm very confident in what we're doing here, and it feels good to know that the process is moving forward."
Just before 5 p.m., as the players made their way from the team bus to the locker room to suit up, Goff jumped in front of the line to greet each one with a fist bump and words of encouragement.
That was a new part of his game day routine — nothing he had done before and nothing he planned to do Friday. He acted on a feeling and flashed back to the time when he stood in front of those same players and asked them to trust him.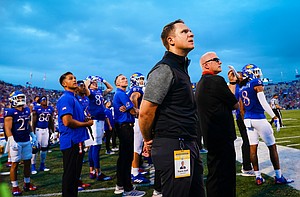 Senior receiver Kwamie Lassiter II asked to speak to Goff after he addressed the team on that day back in April. And he had just one question: "Why are you doing this? It's pointless. We finally feel like we're together and you're going to ask us to make another transition?"
Goff appreciated Lassiter's willingness to push back and ask a tough question. It drove him during the search that brought Leipold to Lawrence.
"And now look at Kwamie. He's as much of a leader as we have and believes in Lance and this staff as much as anybody," Goff said Friday. "I'll always remember Kwamie Lassiter for that."

From 5 to 6:30 p.m., Goff hit a few tailgates and had a handshake and smile for every donor, former player, staff member and fan he encountered.
At one of those tailgates, KU donor Mick Lafferty had a message for KU Chancellor Douglas Girod.
"I told him that we've drank a lot of Kool-Aid over the years," Lafferty joked. "But I like this flavor. It's nice to have somebody youthful with new ideas who believes he can get it done. The positivity's great."
Added Lafferty's wife, Margaret Lafferty: "With Lance and Travis, you can just feel how they're connected. We're hoping this is it."
Goff watched most of Friday's game from the field.
He swayed with nervous energy. He looked part fan, part coach, part AD. And it was clear that he both loves and understands football.
He talked briefly about a college game he watched on Thursday night. He discussed the routes KU's wide receivers were running. And he walked to the other end of the field between the first and second quarter to get a different view and try to change KU's mojo.
"Now that we've kicked off, it's a very calm feeling," he said midway through the second quarter.
At halftime, Goff went up to the suites. After a couple of rounds of hellos and handshakes, he headed back down to the field for the finish.
By the time Goff emerged from beneath the west stands, South Dakota had scored a late touchdown and the Jayhawks trailed, 14-10, with a little more than five minutes to play.
That, of course, was not part of Goff's plan for the day.
Even though his vision for the program has always been big-picture, long-term stuff, he knew that a victory on opening night would make it easier to continue to push the buy-in. From the players. From the fans. From his staff. From himself.
Leipold's team took care of that with a dramatic 11-play, 64-yard, game-winning drive that came with 1:10 remaining.
"Like everybody in the stands, I was just living second by second to see those guys getting it done," Goff said. "And they did."
"That first one, you want it so bad for the coaches, so bad for the kids and so bad for the fans. We want it so bad next week, too, but the first one is a little bit different because you want to reward so many people who have stood by us."
Just before kickoff, Goff was in the locker room listening to pregame speeches and last-minute advice given out by KU's coaches.
"I was tucked away," he said. "Didn't talk to a soul. Just stayed out of the way."

By night's end, he was in the center of the locker room, holding the game ball high in the air and roaring with excitement.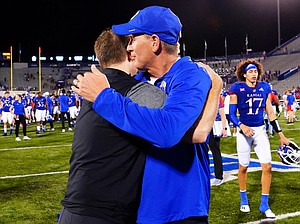 "This is just a small sample size — a few weeks, a few months — of where you guys are going to take this program," he said before shouting, "But how about this head coach of Kansas football?"
He then handed the ball to Leipold, who humbly accepted it before deflecting the credit to his staff and players.
There was a moment before that one, though, that put a bow on the whole day, and it came roughly seven hours after that text message from Leipold to Goff.
With the stadium buzzing with joy and approval, the two men found each other on the field and hugged.
"There probably aren't any words that paint it better than that," Goff said of his emotions as the clock hit :00. "It was a little bit of a mini-culmination, even though we all know we're just getting started."