Friday, September 3, 2021
The Lance Leipold era of Kansas football opened with a victory — in dramatic fashion — on Friday night at David Booth Kansas Memorial Stadium.
In front of an energetic crowd of more than 25,000 fans on a steamy Friday night, the Jayhawks overcame a slow first half for both teams and held on to win, 17-14.
Document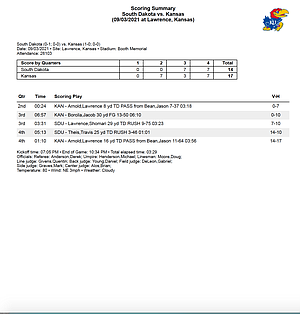 The game-winning drive featured starting quarterback Jason Bean making a clutch fourth-down throw to Mason Fairchild over the middle with the game on the line and also Bean and the Kansas offense overcoming a holding call on Fairchild after Bean had run the ball to the USD 3.
Two plays after the hold, Bean found Lawrence Arnold on an out route. Arnold did the rest, pivoting to the outside at the 9 and racing into the end zone for the game-winning score.
That TD was the second pitch-and-catch scoring connection between Bean and Arnold on the night.
The Jayhawks did not pick up their first first down until early in the second quarter. And Kansas struggled to cross midfield for much of the first half, as well. But the Jayhawks finally got on the scoreboard on an 8-yard touchdown pass from Bean to Arnold with 24 seconds to play in the half.
KU pushed its lead to 10-0 midway through the third quarter on a 30-yard field goal by Jacob Borcila.
Photo Gallery
KU football v. South Dakota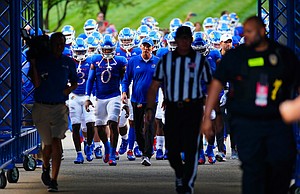 View a photo gallery from the Jayhawks' 17-14 win over the Coyotes Friday night.
South Dakota's offense finally cracked the scoreboard with 3:31 to play in the third on a 29-yard touchdown run by Shomari Lawrence. Late, with 5:13 to play, USD running back Travis Theis, a native of Pratt, Kan., ran up the middle for 25 yards and a go-ahead TD after the Coyotes (0-1) had stuffed a fourth-down try by Kansas near midfield.
The dramatic win moved the Jayhawks to 1-0 for the eighth time in the last 12 years and Kansas will head to Coastal Carolina next week looking to move to 2-0 for just the second time in that span.
Kickoff is slated for 6:30 p.m. Friday from Conway, S.C.
Check back later for more from tonight's KU victory.
How They Scored:
Second quarter
:24 – Lawrence Arnold 8 pass from Jason Bean. Jacob Borcila kick. (KU 7, USD 0).
Third quarter
6:57 – Jacob Borcila 30 field goal. (KU 10, USD 0).
3:31 – Shomari Lawrence 29 run. Mason Lorber kick. (KU 10, USD 7).
Fourth quarter
5:13 – Travis Theis 25 run. Lorber kick. (USD 14, KU 10).
1:10 – Arnold 16 pass from Bean. Borcila kick. (KU 17, USD 14).
https://www.youtube.com/watch?v=aDpMYcamsDg