The depth within the Kansas football team's running back room took a substantial hit during the preseason, when an injury forced sophomore Daniel Hishaw Jr. to undergo season-ending surgery.
Plus, the Jayhawks were down another potential rusher for at least one game, with redshirt freshman Amauri Pesek-Hickson out Friday due to an undisclosed injury.
Hishaw had missed practice time recently, leading up to the team's opener, but KU didn't announce the longterm injury until Friday evening, a little more than an hour before kickoff.
Pesek-Hickson's setback, per a KU spokesperson, is considered week to week, depending on how the recovery process goes.
Photo Gallery
KU football v. South Dakota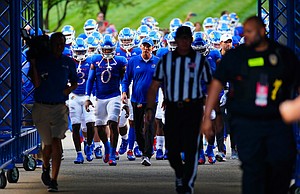 View a photo gallery from the Jayhawks' 17-14 win over the Coyotes Friday night.
Junior receiver Kevin Terry, a former Texas Tech walk-on who transferred to KU earlier this year, also will be out for an extended amount of time. Terry had drawn praise during the preseason and looked to be on track to be a part of the two-deep before getting hurt.
Hishaw, a powerful, 5-foot-10, 220-pound back from Moore, Okla., was KU's second-leading rusher in 2020. As a true freshman, Hishaw averaged 4.4 yards per carry and ran for 229 yards and two touchdowns while appearing in eight games, mostly as a backup.
Senior reserve linebacker Takulve "TK" Williams, who moved over to the defensive side of the ball after playing receiver earlier in his career, also was out.
Burt hurt early
After joining backup quarterback Miles Kendrick, defensive end Kyron Johnson and receiver Kwamie Lassiter II as a captain for the opener, super-senior nose tackle Sam Burt suffered an injury early on in the first quarter.
After KU's trainers attended to Burt, who hurt his right arm while helping make a play in the middle of the action, he walked off the field with his arm supported in what looked like an air cast.
Self stops in for pep talk
On the day before the Jayhawks' season opener, they heard from a different head coach than usual. Men's basketball coach Bill Self dropped by the football team's indoor practice facility Thursday morning to speak to the team and deliver a pep talk.
In a clip posted to KU football's social media accounts, Self told the football players the most fun he ever had during his career came years back, when he was building a program.
"And you have an opportunity to do this right before our very eyes. You have an opportunity on the ground floor," he told them.
Self's speech included him encouraging the Jayhawks to "really care for each other" and be willing to make a play for a teammate.
"The real stud is the guy that takes on a double-team every time to allow somebody else to make a play — that's the stud. And you guys know it," Self said.
The head coach of the athletic department's marquee program also told the football players they make people at KU proud, even if they didn't realize that.
"But go do something special," Self added. "Everybody's undefeated. There's an air of optimism. There's nothing better on this campus than getting off to a good start in football, because it creates buzz. It creates energy that we all want and strive (for) and this place needs. You're gonna get the credit for doing that. Enjoy making it happen."
https://twitter.com/KU_Football/status/1433828289949339649
Abnormal game days
Coming to KU from Buffalo and the MAC, Leipold was more than familiar with leading his team onto the field on days other than Saturdays in the fall.
Document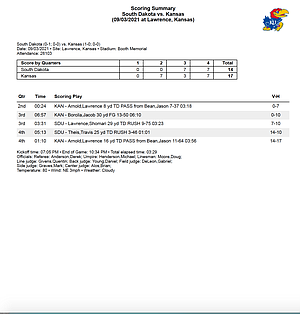 Leipold said ahead of his debut as KU's head coach that during his six-year run in the MAC he became accustomed to playing "Tuesdays, Wednesday, Thursdays and anything in between."
For this atypical game week, the Jayhawks' new head coach said, the team treated its Sunday like a Monday and so on, with the second and third days of the week serving as the heavy work days. Leipold and his staff typically uses the fourth day of a game week to "polish things up" and then has a walkthrough the day before a game.
"Then we go get after it," Leipold said of game days.
Coastal impressive in debut
The first road trip of the Leipold era will take the Jayhawks down to Conway, S.C., next week for another Friday night under the lights. KU's road opener won't be any vacation, either with No. 22 Coastal Carolina (1-0), which won in Lawrence each of the past two seasons, finally getting to play a home game versus the Jayhawks.
The Chanticleers opened their season on Thursday by destroying The Citadel, 52-14, at Brooks Stadium.
A year ago, the upstart program from the Sun Belt Conference jumpstarted its season with a 38-23 road win at KU, before finishing 11-1 and ranked No. 14 in the final AP top 25 of the 2020 season.
Although none of the Chants' top three rushers in the romp over the Citadel had more than nine carries, Coastal got 211 rushing yards and five touchdowns combined out of Shermari Jones, Reese White and Braydon Bennett.
100 years of Memorial Stadium
KU's season opener against South Dakota marked the official beginning of the program's 100th season playing in its home venue, now named David Booth Kansas Memorial Stadium.
The first game in the old structure's history happened almost a full century ago, when KU defeated rival Kansas State on Oct. 3, 1921.
The stadium is recognized as the first built on a college campus west of the Mississippi River. It's currently the seventh-oldest college stadium in the country.
https://www.youtube.com/watch?v=aDpMYcamsDg