If there ever was any question that Kansas basketball players were going to get big dollars or big merchandise as part of college athletics' new name, image and likeness rules, put that question to rest.
Remy Martin, KU's transfer point guard from Arizona State, became the first KU basketball player to land a significant deal under a partnership led by a pair of former KU athletes who hope to be awarding thousands of dollars a month in NIL deals to KU student-athletes.
Martin on Thursday morning signed a marketing deal with Lawrence-based Crown Toyota, and walked off the lot with a new car — a 2021 Toyota Camry. Other terms of the deal were not released, such as whether Martin receives other compensation or what type of marketing duties he might have to do for the dealership.
"This is amazing," Martin said while hopping in the car for the first time. "I'm just super-grateful for the opportunity. Being in college for the amount of time that I (have), I never would've thought I would see the day where I'd be able to make some money off this opportunity and get a vehicle, which is unreal to me."
The deal, which technically was a lease for Martin, was brokered by 6th Man Strategies. The company was founded by brothers Matt and Ryan Baty, both former KU baseball players . The company recently announced that it had reached agreements to handle NIL deals for all 18 Kansas men's basketball players.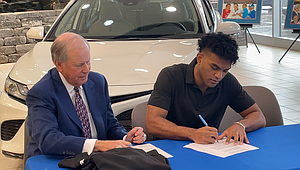 Before Martin was handed the keys to his new ride, Matt Baty said simply, "This is the new age of college athletics."
Indeed, prior to the NIL rule changes, a local business giving a new car to a basketball player likely would have been the epitome of an NCAA rules violation.
Now, it may be a requirement to keep up with the Jones in the world of college athletics. Baty said there will be more car deals in the future.
But perhaps more interestingly, the company is looking to capitalize off of the large donor base that supports KU basketball.
Traditionally, those donors have given money to Kansas Athletics, which uses the dollars for everything from scholarships to facility upgrades. But 6th Man Strategies is now wanting to get KU fans to send the company money on a monthly basis, which the company then will use to fund NIL opportunities for Kansas basketball players.
6th Man Strategies is currently doing fundraising and promotions for what it calls its 100 Club, which will be made up of people who will pledge $1,000 a month to support NIL opportunities for Kansas basketball.
On Thursday, though, it was all about Martin's car. Martin, who was without a ride until signing on the dotted line, said he was overjoyed about the opportunities that already have come his way in the NIL era, which first went into effect on July 1.
"Once I heard about the NIL deal, it was kind of the cherry on top," he said of his decision to stay in college one more year and come to Kansas. "I was more focused on the bigger picture, but, obviously, this is a blessing. It's something that every college athlete wants, but we can never get distracted by it. … I'd be kind of dumb not to try to capitalize on this while I'm here, but my whole goal is to try to make it to the NBA and I'm here to try to help KU win."
As for the specifics of the car, Martin said that was left in the hands of the dealership and owner Miles Schnaer.
"It didn't matter, as long as it got me from point A to point B," Martin said. "Looking at this car right now, I am extremely grateful. It could've been pink and I still would be in that car every single day."
Martin, though, said he has plenty of business to take care of on the court, too. He said Thursday that practices have been intense and that the team has built strong chemistry, no small feat for a group that features 10 newcomers.

"We're ready to compete," Martin said. "And, myself, I just want to play. I'm ready to play."
KU's first opportunity to do that will come Saturday at a closed-door scrimmage against Tulsa in Oklahoma. After that, KU will take on Emporia State at Allen Fieldhouse next Wednesday in the lone exhibition game on the Jayhawks' schedule.
From there, all attention will shift to the season opener against Michigan State on Nov. 9 at the Champions Classic in New York City. Martin said Thursday that he believed the new-look Jayhawks would be ready for all three early-season challenges.
"We have the guys and we have the veterans to do it," he said. "It'd be different if we had all freshmen, but we have veteran guys who have been here for a while.
"We all know the ultimate goal, and we all want that. We all love each other, we all want the best for each other and we all want to win."
https://www.youtube.com/watch?v=hLoE7UBZrNg
https://www.youtube.com/watch?v=PA2lT3vABkI