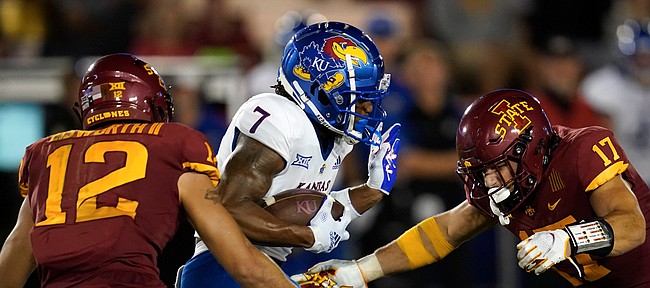 A starter for the Kansas football offense the previous five weeks, receiver Trevor Wilson came in off the bench for the Jayhawks this past weekend against Oklahoma and wasn't as involved as much as usual.
Wilson, who entered KU's seventh game averaging 2.8 catches and 47.8 receiving yards per game, went without a reception for the first time this season — his first at KU, after joining the program as a transfer from Buffalo this past summer.
KU head coach Lance Leipold, who has coached Wilson, a redshirt sophomore, since 2019, said though Wilson "didn't play as much" versus the Sooners, it wasn't because Wilson was underperforming or anything of that sort.
Leipold said one of the reasons that Wilson had fewer game reps was because the staff wanted to get another receiver, sophomore Luke Grimm, involved, too. Leipold said Grimm had an "excellent" week of practice leading up to the OU game, and had been practicing well in recent weeks.
KU got the ball to Wilson twice as a rusher versus the Sooners, and each carry went for 2 yards.
Grimm made three receptions for 50 yards in the latest loss for KU (1-6 overall, 0-4 Big 12), and he caught a 14-yard touchdown pass from Jason Bean in the fourth quarter.
"Now Trevor is continuing to work hard," Leipold added of Wilson, who leads all KU receivers with 16.9 yards per catch and ranks second on the team in receiving yards with 287, trailing only Kwamie Lassiter II (347).
"We've got to find ways to balance all of that and get him back in the flow," Leipold added of Wilson, a speedy, 5-foot-11, 200-pound wideout from Tallahassee, Fla.
No update on key OU 4th down conversion
As of midday Tuesday, when Leipold had his weekly press conference, KU's head coach said he hadn't yet received further clarification from the Big 12 office regarding the Sooners' crucial fourth down conversion late in the game, which drew significant attention due to its unusual nature.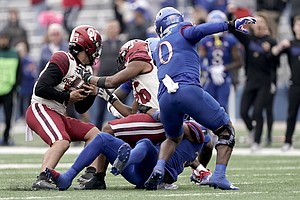 On a fourth-and-1 rush by the Sooners' Kennedy Brooks, KU linebacker Rich Miller knocked Brooks backward before the running back could cross the line of scrimmage and drove him into the backfield. It appeared the play was about to be a tackle for loss and a fourth-down stop, giving the ball back to the Jayhawks, who were down five points at the time. Instead, OU quarterback Caleb Williams went over and took the ball from Brooks before an official's whistle ever blew the play dead, and then the QB carried the ball for a first down.
Leipold said he had hoped to connect with the Big 12 office on the matter on Monday night, but that wasn't able to happen, and that it could occur sometime after his press conference on Tuesday.
"From what I've read and what I've seen, I kind of know it's not going to change anything," Leipold said. "You know, it's going to be said momentum wasn't stopped, ball didn't cross the line of scrimmage, legal forward handoff. And we've sent in what we think so, yeah."
After OU's 35-23 win on Saturday, the Big 12's coordinator of officials, Greg Burks, provided an explanation of the fourth-and-1 play via a released statement.
"The reviewable aspects of the play were position of the ball in relation to the line of scrimmage, and if possession was ever lost by the offense. The ball never crossed the line of scrimmage and there was never a loss of possession, not a fumble, so this play was a forward handoff behind the line of scrimmage," Burks said.
L to Sooners came down to a few plays
Asked if there were potentially game-swinging moments that stood out to him when he examined the video from the OU game, Leipold described those as "shoulda, couldas."
"I think it goes back to things we say all the time — most games are decided between three to five plays," Leipold said.
KU's head coach mentioned: OU's two fourth quarter fourth down conversions (the other was a 40-yard Williams TD run), KU getting an 8-yard rushing TD by Bean called back due to a holding call early in the second quarter and KU not recovering a fumble on one of OU's third quarter TD drives.
"But I'm not saying these to single out the people that are involved in those plays," Leipold clarified.
KU's coach said his team did a number of positive things to put itself in position to challenge the Sooners — a scenario few thought possible.
Some of the highlights for Leipold were KU's 14-play TD drive to start the game, the Jayhawks' 10-play TD drive in the third quarter that answered the Sooners' first score of the day, as well as that KU only punted once and suffered just one turnover.
"Those are things that we hadn't been able to do," Leipold said. "So those are the ones I kind of want to make sure that I'm emphasizing. We can do it, and we're gonna need to do those things again."