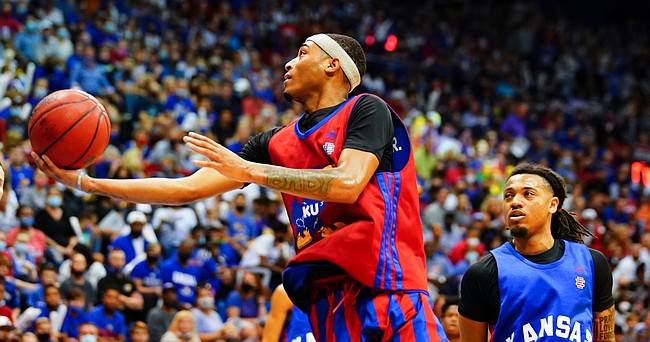 With Remy Martin and Dajuan Harris in line to handle most of the minutes at the point for the 2021-22 Kansas basketball team, the Jayhawks appear to be in better shape at the position than they were a year ago.
But don't be surprised if you see the two point guards on the floor at the same time for chunks of games during the upcoming season.
"I like them playing together," Kansas coach Bill Self said at last week's Big 12 Media Day in Kansas City, Mo. "I really do. We've practiced that quite a bit."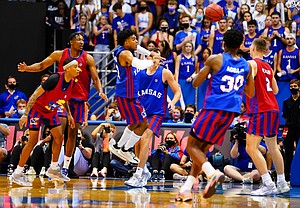 Figuring out how that works — who starts, how many minutes each gets and who sits to make it possible — remains a work in progress. But Self said playing the two small guards who both have great vision and the ability to push the pace could be a big lift for the Jayhawks this season.
Much has been made about what Martin can bring to the KU offense during the upcoming season.
But what about his defense?
Known as a high-volume scorer and shooter at Arizona State, the multi-time all-Pac-12 guard also has some defensive prowess, according to Self.
"If he is turned up, his defensive potential would be one to create havoc and make teams uncomfortable," Self said in Kansas City. "If he doesn't play up underneath guys or whatever, he's not big enough to create problems. So for him to create problems, I think he's got to be turned up all the time."
Those words described perfectly what Harris was able to do last year, in his first season of eligibility with the program after red-shirting Year 1.
Whether out there on his own or playing alongside senior defensive stalwart Marcus Garrett, Harris showed the ability to take over games with his pressure and tenacity on the defensive end of the floor.
KU senior Ochai Agbaji said he has noticed several things in Harris' game that he knows he learned from Garrett.
"Him and Marcus were really close last year," Agbaji said. "So obviously I feel like he has gotten stuff from Marcus about defending the ball. I know I have. And I know that's something that Dajuan has taken pride in, getting that knowledge from Marcus."
Having Harris and Martin out there together this year, however, would do more than bring a different dimension to the Kansas defense. Self noted that Harris' strengths as a true point guard could free up Martin to spend at least part of the time playing more like he did at Arizona State.
"When he and Juan play together, I think that gives Remy more of a chance to be a guy that would score more points," Self said. "I think they could be really good together."
Asked recently during his first media session with local reporters since arriving in Lawrence whether he would emphasize being more of a pass-first point guard at Kansas than he was at ASU, Martin said he was not planning to put any limitations on his game during the upcoming season.
"I'm just looking to go out there and play my game," Martin said. "Whatever the defense gives me, I'm going to take. Obviously, I've got a job to make other guys better, but because I have a lot (of talent around me), I just go out there and play and make the right reads. Whatever the right read is, I'm going to make (it)."
The first chance for the Jayhawks to try out the Harris-Martin pairing comes this weekend, when the Jayhawks travel to Tulsa for a closed-door scrimmage with Frank Haith's TU squad on Saturday.
After that, the focus will shift to the Jayhawks' lone exhibition game against Emporia State on Nov. 3, followed by the regular season opener against Michigan State on Nov. 9 at the Champions Classic in New York.