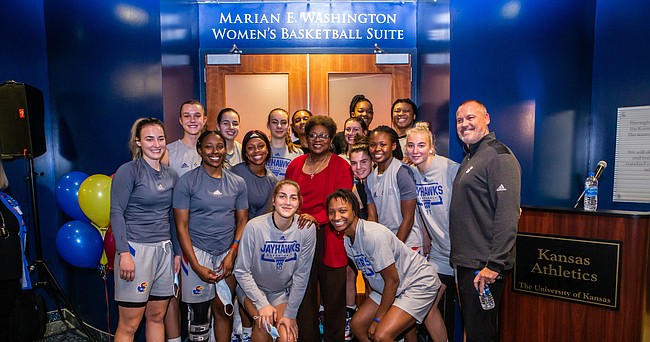 Legendary former Kansas women's basketball coach Marian Washington now has her name stamped on the outside of the KU women's locker room.
A ceremony to unveil the new name of the Jayhawks' quarters at Allen Fieldhouse — Marian E. Washington Women's Basketball Suite — took place on Friday, with Washington, current coach Brandon Schneider, KU Athletic Director Travis Goff and members of the current and past KU teams in attendance.
The event featured lots of stories, memories and smiles about Washington's 31 years at Kansas, where she racked up a program-best 560 victories and also put her hand prints on several other aspects of women's sports at KU.
In 1974, after her first year coaching the KU women's hoops program, Washington started KU's women's track program and served as the head coach there for a year. She also was KU's first AD for women's athletics from 1974-79.
"She provided opportunities that otherwise would have not been there," Goff said. "And mentorship that was truly unprecedented. Since she's left KU, she's continued to do just that, and we are so proud to be able to unveil this tribute to her."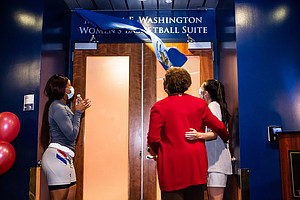 Prior to coming to Kansas, Washington was the first of two Black women to play on a United States international team. And in 1982 she became the first Black woman to coach a U.S. international team, which culminated with her being on Team USA's Olympic staff for the team that won gold in 1996.
"Coach Washington was such a trailblazer who really helped elevate the game of women's basketball," Schneider said at last week's Big 12 media day in Kansas City, Mo. "We just felt like it was really necessary to honor coach Washington in any way that we could and continue to connect the great heritage of our program during her time there and the past players with the current players.
"We could not be more proud to be able to walk into a facility that has (her) name on it. That is going to be something that we treat with tremendous respect."
Friday's ceremony was the first of a few planned by KU this season to honor Washington's legacy and impact on the university and women's basketball. Next month, KU will host the Marian E. Washington Celebration Weekend that will include a full and formal fete to celebrate her contributions.
"I want to thank this university and this athletic department for this remarkable honor," Washington told the crowd that gathered on Friday. "This university stood by me despite racism, sexism and inequality, and with the help and support of my family and friends, we made history and we paved the way for women to excel in any sport."
Washington was just 27 years old when she was hired by Kansas and today, at age 75, she said she still feels the same rush of emotion and pride in the program that she did all those years ago.
"When I look at this women's facility, it's second to none," she said Friday. "I'm so proud of what this department has done for our women. This is an honor and truly a blessing. I just pray that the efforts of our past will be the spirit which inspires us to achieve excellence in the future."