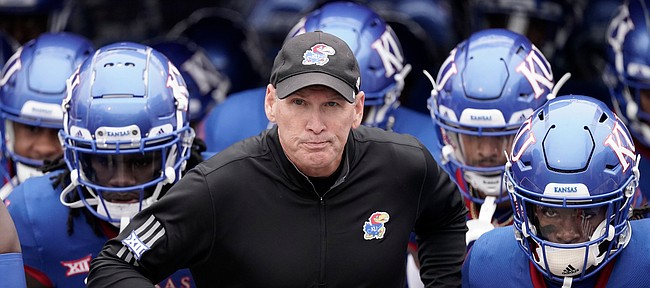 A Kansas football team that had lost its previous five games by an average margin of 32.6 points wasn't expected to pose much of a threat to Oklahoma Saturday at David Booth Kansas Memorial Stadium. Nevertheless, the Jayhawks had the unbeaten Sooners on upset alert before OU recovered just in time to get out of Lawrence with a 35-23 win.
Though the Jayhawks' losing streak extended to six games, they hope the competitiveness they showed in their latest setback — arguably their most promising overall performance of the season — will be just the boost they need for the stretch run ahead in Year 1 of head coach Lance Leipold's rebuilding project.
Following the game, Leipold said he was proud of his players, especially with how they executed the game plan in the first half, when the KU offense had the ball for 22 minutes and the Jayhawks' defense pitched a shutout against the heavily favored Sooners (8-0 overall, 5-0 Big 12).
Leipold noted the KU offense was "excellent" on third downs in the first half (7-for-9 before halftime, 9-for-13 in the game), and showed the OU defense a variety of looks.
"For us, where things had been the past few weeks and the margin of defeat and things like that, it really shows a lot about our young men and our assistant coaches in my estimation," Leipold said of KU (1-6, 0-4) competing with reigning Big 12 champion OU.
The players, Leipold went on, continued to accept coaching and work toward improving despite recent blowouts on game days.
Leading up to the nationally televised matchup with the unbeaten Sooners, Leipold said the coaches preached to the players about "what a great opportunity" was in front of them.
"Early kickoff. Not as big a crowd as maybe (the Sooners are) used to playing in front of. We thought a lot of those things could maybe stack in our favor," Leipold said, adding he thought the players seized that moment.
The same Jayhawks who were already completely out of contention in the fourth quarters of recent conference losses to Baylor, Iowa State and Texas Tech actually took a 17-14 lead into the fourth versus OU.
Junior quarterback Jason Bean, who went 17-for-23 passing for 246 yards and one touchdown, said it meant "everything" to the players to have a late-game lead after struggling in recent weeks.
"I think the team was excited, with just the way we were playing," Bean said. "We were playing really good up to that point (in the fourth quarter). Offensively, we had a really good game this week (412 total yards, 6.3 yards per play). Obviously turnovers hurt, playing a good team like that."
KU only turned the ball over once against the Sooners, but the mistake came at a bad time, with KU attempting to answer OU's go-ahead TD in the fourth quarter and the Sooners surging.
After picking up a pair of first downs and moving across midfield, a Bean completion to receiver Steven McBride turned into a giveaway when Key Lawrence forced a fumble and Justin Broiles recovered the ball. A few snaps later, OU extended its lead to 28-17.
Bean said he liked the fight the Jayhawks showed versus OU, and that he saw that potential with this group all season. While the QB expressed how proud he was of the offense, he said he was especially appreciative of how the KU defense played in the first half, shutting out the Sooners.
"I'm excited in the direction that this team is going," Bean said. "There's a lot of momentum for this program."
In super-senior Ricky Thomas' opinion, the Jayhawks' showing in their seventh game of the season could be a "tremendous" moment for the program.
"Wish we could've got the win, but we're going to build off this, go back, watch film and come back even harder, ready to work," said Thomas, who came away with his first interception of the season and third of his career against OU.
"I felt like we showed our fight, our physicality," Thomas said, "and that we can fight for four quarters straight without backing down to anyone."
True freshman running back Devin Neal, who ran for 100 yards and scored two touchdowns in goal line situations, agreed that KU competed in a way that should propel the team forward, as the Jayhawks continue to keep looking for ways to improve.
"I think that game gives us confidence that we can compete with the best," Neal said, adding that Leipold talked to the players afterward about how close they were to getting a different result out of the matchup with OU.
In recent weeks, Leipold spoke openly about how a lot of the players on both sides of the ball just needed to experience some more success on game days and build some confidence.
KU's head coach said after his team threatened to knock off OU (which dropped one spot to No. 4 in this week's AP poll) that he witnessed confidence growing among the Jayhawks throughout the game.
"But at the same time we didn't make enough plays down the stretch in the fourth quarter," Leipold added. "But definitely a lot to build on here today."
In the locker room following a game that the Jayhawks felt came down to just a few key moments, Leipold told his players they weren't going to be satisfied by giving teams like Oklahoma a good fight.
"We got a taste of it. There's a lot of disappointed guys," Leipold said. "We've got to find a way to make those extra two or three plays that make that really a celebratory locker room."
Next up for the Jayhawks is a Saturday road date with No. 15 Oklahoma State (6 p.m., FOX Sports 1). The Cowboys (6-1, 3-1) are coming off their first loss of the season, a 24-21 road defeat at Iowa State.