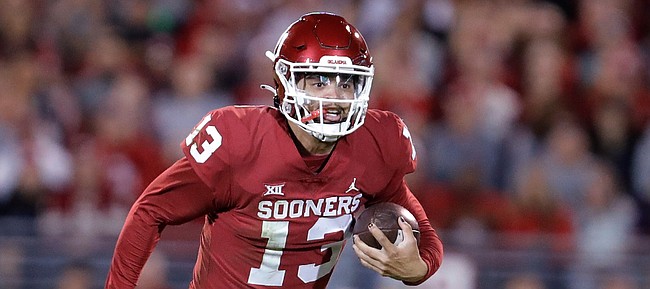 — Kansas (1-5 overall, 0-3 Big 12) vs. Oklahoma (7-0, 4-0) • 11 a.m. kickoff, David Booth Kansas Memorial Stadium • Game-time forecast: 61 degrees, intermittent clouds, 43% chance of rain • TV: ESPN • Radio: KLWN, FM 101.7 / AM 1320
Keys for Kansas
1. New QB, same old Sooners
Who needs a preseason first-team All-American quarterback anyway?
Apparently not Oklahoma.
Two weeks ago, during the second quarter of the Sooners' Red River rivalry game with Texas, true freshman Caleb Williams replaced redshirt sophomore Spencer Rattler at QB. During the rally to beat the Longhorns and a 52-31 win over TCU last week, Williams has completed 71% of his passes for 507 yards and six touchdowns, and hasn't thrown an interception.
"He's a really talented young man," KU head coach Lance Leipold said of Williams, the 6-foot-1, 218-pound QB from Washington, D.C.
"To replace a preseason Heisman favorite (in Rattler), who's 15-2 as a starter, who's completing (almost) 75 percent of his passes, you've got to be pretty confident this guy's pretty good," Leipold added of the move by OU head coach Lincoln Riley. "And he is. (Williams) creates more things with his legs and he does some things. During our open week I had a chance to catch bits and pieces of the end of their Texas game and how well he played and they played to rally from a deficit."
Even though there wasn't a lot of game footage for KU's staff to examine before facing Williams, defensive coordinator Brian Borland said that didn't affect how the Jayhawks prepared for taking on a potent OU offense (averaging 42.7 points and 479.1 total yards per game).
"They went from the Heisman frontrunner and benched him and went to another five-star freshman that looks like he's playing like he's about 30 years old," Borland said, adding OU's offense hasn't missed a beat since going with Williams.
The KU defense has recorded just one sack in its three Big 12 defeats and has seen league QBs from Baylor, Iowa State and Texas Tech combine to complete 73.7% of their passes for 245.7 yards per game, with seven TDs and one interception.
It will be another long day for the Jayhawks if they can't bother Williams and disrupt the Sooners' offensive rhythm. And KU defenders won't be able to focus solely on Williams as a thrower, either. The dual-threat QB arrives in Lawrence with 13 carries, 154 yards and two TDs on his stat line.
2. Get Bean out and running again
KU's offense was more dynamic earlier in the season, when quarterback Jason Bean was a rushing threat. In two consecutive stale performances for the offense — a 59-7 blowout loss at Iowa State and a 41-14 homecoming defeat at the hands of Texas Tech — Bean wasn't a factor in the run game.
ISU bottled the speedy QB up for five runs and 19 yards, and then Tech followed suit, limiting Bean to five carries for 14 yards.
That development didn't surprise Leipold.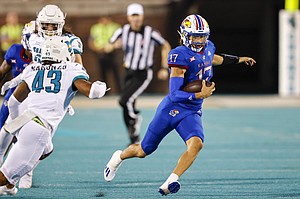 "I'm sure people have looked and they saw he could be dangerous," KU's head coach said of what's changed of late for Bean, with opponents making sure to contain the QB and thereby limit the Jayhawks' offensive ceiling.
Bean said this past week Tech kept defenders wide, making it hard for him to improvise and take off for runs.
While Bean can help himself and the rest of the offense out by completing more passes, KU offensive coordinator Andy Kotelnicki wants to guarantee there are running opportunities for the mobile QB, too.
"I've got to do a good job of making sure I can continue to find ways to allow him to use his strength, regardless of what we're getting from the defense," Kotelnicki said.
Having a balanced approach, the O.C. said, is always important while attacking a defense. But the Jayhawks will also need to execute on the play calls and make sure they're not going three-and-out and punting the ball away.
"At the end of the day, if you have five (defenders) in the box and you have five blockers and you can't effectively run the football," Kotelnicki said, "it's just going to be a long day."
3. Embrace the massive challenge
Year 1 of Leipold's rebuilding project already has proven to be challenging for players and coaches alike. And now the Jayhawks have to go up against an undefeated Oklahoma powerhouse that's on a 15-game winning streak dating back to October of 2020.
What will it take for KU to compete, given the disparity between the states of the two programs?
"We're going to have to play our best football to date. We have to be excited about the opportunity to have the No. 3 team in the country coming in here," Leipold said.
The Jayhawks have been looking for progress on both sides of the ball all season, and Leipold said now they get the chance to line up and be evaluated against one of the best teams in the country.
"Embrace that," he said of his message this week. "You only get 12 of these opportunities a year. That's one thing, whether you're winning or you're not, that you need to embrace if you're a competitor at this level."
Borland said defensively the Jayhawks don't want to approach this game thinking about it as an even greater challenge than usual.
"But, you know, the film doesn't lie, either," Borland added. "They're a team that you can have defensed, and they have enough talent to make you miss and make plays anyway."
The Jayhawks, despite their current five-game losing streak and status as an even bigger underdog than usual (Las Vegas oddsmakers favor OU by roughly 38 points), won't enter the matchup with OU expecting to lose or playing that way, Borland said.
"It's tough, but quite honestly, as I've told our players, every week is going to be tough, and we just need to be competitors," KU's D.C. said. "And make sure that we're prepared, we're going to do our best and just make sure that Oklahoma gets the best version of Kansas this week, and then we'll see what happens."
OU hasn't lost to KU since 1997. The Sooners have won each of the last 16 meetings in the series by at least 15 points and have won by an average margin of 44-13. In the past seven seasons, that gap has been even wider, at 52-13.
Prediction
OU 49, KU 17