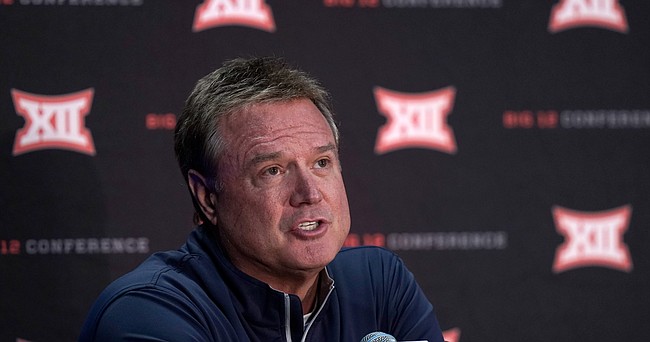 Already well versed in going eight- or nine-deep during any given game, Kansas men's basketball coach Bill Self said Wednesday he was dabbling with the idea of pushing KU's rotation to double digits during the upcoming season.
On one hand, Self believes that doing so will be easy. The longtime KU coach said at Big 12 media day that he could not recall having 14 players with similar talent levels on the same roster.
On the other hand, Self said trying to disperse the minutes in a way that takes advantage of everyone's talents without disrupting the overall flow and chemistry of the team would be more difficult.
"The challenge to me is how do you get from 14 to 10," Self said while assessing his lineup. "Trying to determine who's going to actually play will be the challenge."
Typically, when KU has played two big men in the past, Self has played a maximum of four bigs and five guards in his regular rotation. Oftentimes, the total number has shrunk to eight or even seven.
But with so many new faces and intriguing options on this team, which will enter the season as the Big 12 favorite and ranked third in the nation, Self said he could envision playing at least one more body on a regular basis.
Who that will be, or even what position, remains to be seen and likely will come down to matchups. If KU plays small — four or five guards — there could be more opportunity for freshman guard Bobby Pettiford to get some regular run.
If KU plays bigger, or even if the Jayhawks elect to go super-small and put a guard-type player at the 5, that could create a bigger opportunity for freshmen KJ Adams or Zach Clemence.
Both, Self said Wednesday, have been among the top newcomers in terms up picking things up quickly and grasping the style and philosophy KU utilizes.
"I love our roster," Self said. "I'm not downplaying that at all. But (we) don't have a roster that people are looking at (as) top-10 picks, lottery picks, things like that. We've got a bunch of guys that are good basketball players."
Thus far, during some demanding practices, they all have received plenty of reps.
"Right now, there's nobody unhappy because in practice you have to play 10," Self said. "Sometimes the people that are on the court in practice just feel like that's the way it will be in a game. (But) in a game, you can only play five."
KU's first two game-like opportunities — Oct. 30 in a closed-door scrimmage at Tulsa and Nov. 3 in an exhibition game against Emporia State — will give Self and his staff a better idea of what works, what doesn't and how things fit.
"I still think we probably have to get into the season to see how all that will play out," Self said. "But if we don't have that mentality, that we put winning first — if we win enough we'll all benefit from it — then this team won't be as good as it can be. All our best teams in the past have always had that mentality."