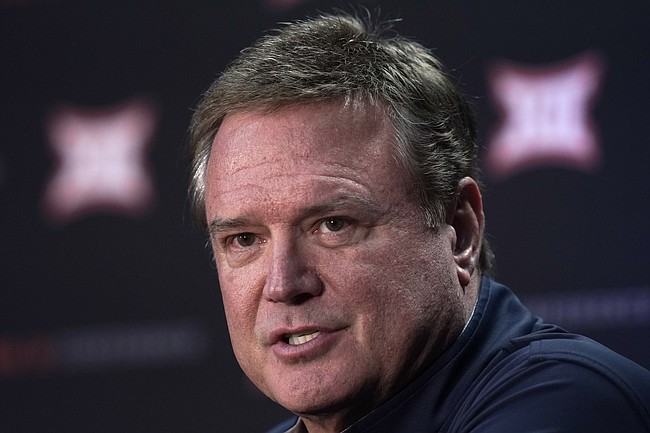 Kansas City, Mo. — University of Kansas Athletic Director Travis Goff said Wednesday that KU has heard nothing new about the timing of a ruling in its NCAA infractions case.

Speaking with a small group of reporters at Big 12 men's basketball media day at T-Mobile Center, Goff referred to the recent update from the Independent Accountability Resolution Process as "looking in the rearview." He added that KU does not have "any new dates or indicators about what the timeline might look like going forward."
The IARP provided an update on the timeline of KU's case nine days ago, but that only included a look back at the process and progress over a 16-month time period that ended on Aug. 30. Most of the entries on the "procedural timeline" that was published on the IARP website were condensed down to a one- or two-sentence recap of procedural goings on.
As of now, the only real reference point for when a ruling might come came in late April, when the IARP said that all six active cases would be resolved within the next 12 months.
Despite the uncertainty, Goff said KU would continue to be prepared for anything.
"Every week that goes by, you start to feel like it looks like it's coming (after) the season at some juncture," he said Wednesday. "But we'll be prepared for any of the scenarios that might be out there."
Asked whether the up-in-the-air nature of KU's case was weighing on them in any way, KU seniors Ochai Agbaji and David McCormack said it had not.
"None whatsoever," McCormack said. "Our goal is just to focus on the season, take it each game at a time and prepare to execute this season."
Later, KU coach Bill Self said he, too, had no information about where the case was headed from here.
"I think that probably some progress has been made," said Self, who was answering questions about KU's infractions case a full two years ago in the very same venue. "But it's been going on, obviously, a long time, and I don't have any idea on a timeline."
Self has never been shy about discussing the negative impact KU's looming infractions case has had on KU's recruiting. However, on Wednesday, he softened on that stance a little.
"I think we've actually done pretty well recruiting," he said. "We haven't got everybody that we've recruited, but I've never been at a place where we went 50-50 on everybody we recruited. If you recruit the best players and you get one or two, you're really happy regardless (of whether) you recruit 10 or 12. I think my assistants have done a good job of getting us in on good players."