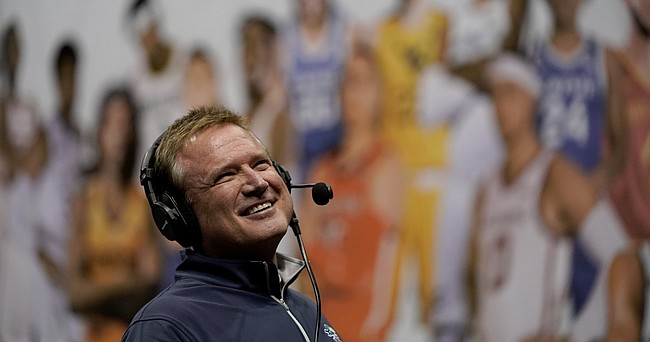 Kansas City, Mo. — It's separation amid the preparation that Kansas men's basketball coach Bill Self is looking for from his roster during the final stretch of the 2021-22 preseason.
"The next two-and-a-half weeks need to be no wasted time," Self said Wednesday at Big 12 media day at T-Mobile Center.
Just 10 days out from a closed-door scrimmage at Tulsa on Oct. 30, and two weeks shy of the team's lone exhibition game against Emporia State at Allen Fieldhouse, Self said the next couple of weeks of practices will tell him a lot about where this team stands.
With eight new scholarship players still trying to blend with six returners, Self said the pace to this point has been slower than in normal seasons. He also said juggling so many bodies and trying to find ways to get all of them minutes has proven to be a challenge.
Photo Gallery
Kansas at Big 12 men's basketball media day 2021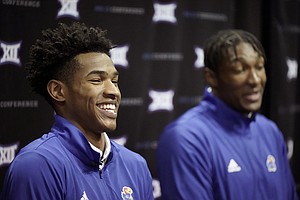 Kansas at Big 12 men's basketball media day 2021
So instead of spreading everyone too thin and playing some of his starters reserve minutes, Self is happy to turn things up a notch in practice to see who can keep up.
"I think it's going to be one of those things where it's understand it, or they would get left behind," he said Wednesday. "If you want some separation, now's the time where you could get some separation just because you're going to be putting in stuff and their heads are going to be spinning."
So far, Self said most of KU's practices have been carried by returning starters Ochai Agbaji, Christian Braun, David McCormack and Jalen Wilson along with three-year Jayhawk Dajuan Harris.
"But that's not what you want to do," Self added. "Because you can't play those five guys (exclusively). Other guys have got to be able to play with them. But, right now, that's what we're doing. We're relying on those on those five guys plus Mitch (Lightfoot)."
So how does Self expect the rest of the bunch to get from Point A to Point B in time for the Nov. 9 season opener against Michigan State at the Champions Classic in New York City?
He says it's simple.
"If their mindset's right," Self said. "It's more about how much tape am I going to watch? Am I going to really study? Some people run a play just to run a play and don't run a play to score. That happens with us all the time, and they've got to figure that stuff out."
In some ways, Self said freshmen KJ Adams, Zach Clemence and Bobby Pettiford have shown the ability to progress faster simply because that trio is starting from scratch and is not trying to move away from several years of past experience at the college level like some of the transfers.
"They have actually been ahead — and not playing better — but ahead (in terms of) what we think wins, maybe more than the portal guys," Self said. "Without question."
"With a high school kid, they don't know yet," Self added. "So sometimes it's easier, I think, with a high school kid to actually to get him to understand what you're doing because you don't have to break as many thoughts of mind (from them) saying, 'I've been doing this for five years; this is what's natural to me.'"
The goal now — for Self, his veterans and the KU newcomers — is to take all of that talent and each player's good intentions and craft it into a team that is worthy of its preseason accolades as the No. 3 team in the country and the Big 12 favorite.
KU's most experienced players certainly believe that can happen.
"Oh, we're going to be fantastic," McCormack said Wednesday. "We have a lot a lot of pieces to the puzzle, and the greatest part is that we can rearrange it any way that we want. We can adapt to any part of a game."
Added Agbaji: "We're going to be great. Obviously I have the highest expectations for us every single season, but this season's kind of giving me that vibe from our (2019-20) team, where we were really successfully and (had great) camaraderie, so I'm excited."
Self put those comments into perspective with a little deeper look at where things currently stand.
"I think our ceiling is high," he said Wednesday. "But, to me, your ceiling is based on if you're tough, can you guard and can you shoot. And right now I think that we're going to meet a couple of those. But there's still some things defensively that (I'm not sure about) that if we get really good at this team could be really good. But right now we're not close to being good enough yet."