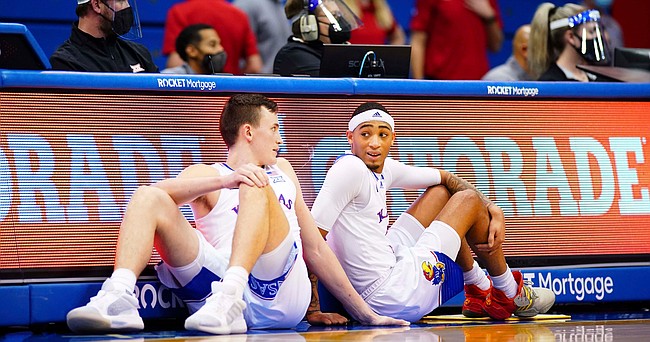 The Kansas men's basketball team landed at No. 3 in The Associated Press preseason poll ahead of the 2021-22 college hoops season.
The Jayhawks, who finished last season ranked No. 12 in the poll, came in behind No. 1 Gonzaga and No. 2 UCLA, a pair of teams that played each other at last season's Final Four.
Monday marked the 10th consecutive year that KU was ranked in the top seven or better entering the college basketball season.
The Zags picked up 55 of the 63 available first-place votes and the Bruins grabbed the other eight.
Villanova and Texas round out the top five, with Michigan, Purdue, Baylor, Duke and Kentucky joining to make up the preseason top 10.
In all, the first AP poll of the fast-approaching season features three Big 12 teams in the top 25 and two others (Oklahoma State and Texas Tech) receiving votes.
Michigan State, KU's season-opening foe at the Champions Classic on Nov. 9 in New York City, was the top team listed in the receiving votes category, effectively ranking the Spartans 26th in the first poll of the season.
Counting Alabama, which KU could face in the ESPN Events Invitational in Orlando in late November, the preseason AP poll includes nine teams listed on KU's 2021-22 schedule. Because of the Big 12's double-round robin format, those nine teams account for 13 of the 31 games on KU's regular season slate.
Last November, KU broke UCLA's record for most consecutive AP polls ranked in the top 25. The Jayhawks remained in the poll for nine more weeks after passing UCLA's mark of 221 (from 1966-80) and finally fell out when the streak reached 231. KU's streak started in early February of 2009.
AP Preseason Top 25
1 – Gonzaga, 1,562 (55)
2 – UCLA, 1,459 (8)
3 – Kansas, 1,427
4 – Villanova, 1,332
5 – Texas, 1,315
6 – Michigan, 1,255
7 – Purdue, 1,213
8 – Baylor, 992
9 – Duke, 963
10 – Kentucky, 894
11 – Illinois, 861
12 – Memphis, 831
13 – Oregon, 775
14 – Alabama, 713
15 – Houston, 694
16 – Arkansas, 673
17 – Ohio State, 581
18 – Tennessee, 563
19 – North Carolina, 547
20 – Florida State, 381
21 – Maryland, 294
22 – Auburn, 267
23 – St. Bonaventure, 238
24 – Connecticut, 161
25 – Virginia, 125
Others receiving votes: Michigan State 87, Indiana 41, USC 30, Arizona 26, Virginia Tech 25, Oklahoma State 25, Xavier 22, Texas Tech 17, Richmond 13, Rutgers 11, Colorado State 11, LSU 7, Belmont 7, San Diego State 5, St. John's 5, Mississippi State 5, Syracuse 5, Drake 4, Colorado 4, BYU 3, Notre Dame 3, Louisville 3