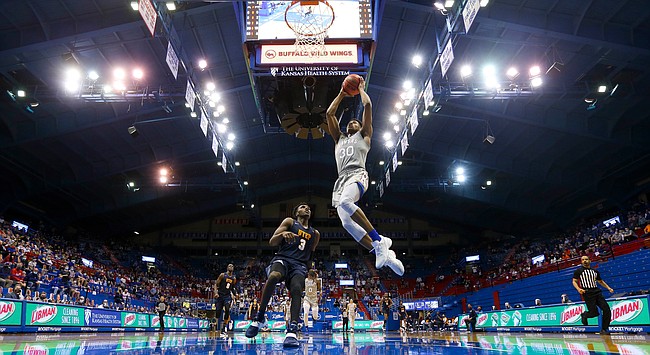 Sixth Man Strategies, which oversees and manages name, image and likeness opportunities for all 18 Kansas men's basketball players, has rolled out its initial NIL initiatives.
The first comes in the form of a raffle that will give 20 winners and a guest of their choosing the opportunity to have dinner with Kansas coach Bill Self and the team next spring in Lawrence at a time and date that will be determined later.
KU fans can purchase raffle tickets in bulk quantities — 10 for $10, 40 for $25, 100 for $50 and 250 for $100 — through Nov. 9. The drawing will take place shortly after that and all winners will be announced via the players and on various Sixth Man Strategies social media platforms.
All funds from the raffle will go to the name, image and likeness fund set up by Sixth Man Strategies for all 18 KU athletes.
In addition to the raffle, Sixth Man Strategies has formally announced details of its 100 Club, another NIL initiative that will feature 100 donors pledging $1,000 per month to the company's NIL fund.
According to information released about the program, 100 Club donors will have access to annual events with the team and Self, gear, an autographed ball, pre- and postgame events, practices, monthly newsletter, discounted rates on merchandise and greens fees at the Jayhawk Club in Lawrence and more.
According to the flyer announcing the details of the 100 Club: "Our goal with this $1.2 million annual fund is to supersede what every other program is doing nationally in NIL opportunities and ensure Kansas Basketball student-athletes have the resources to remain competitive."
In addition to searching for donors to help fund the NIL projects, Sixth Man Strategies, which was co-founded by former KU baseball players Matt and Ryan Baty, has sought out to educate Kansas fans and potential donors on why such a program is important for the university and the athletic department.
As ambassadors of the "global brand" that is Kansas Basketball, Sixth Man Strategies believes that KU's current and future players are in a unique position to represent the school and themselves on a grand scale.
As a result, Sixth Man Strategies, and others, believe that these players deserve to be rewarded for their hard work and the individual brands they have created.
The main goal for Sixth Man Strategies, in no uncertain terms, is for KU to lead the nation in NIL endeavors, which, according to Sixth Man Strategies founders, are "nearly limitless."
"NIL opportunities are very much an important factor for the nation's top basketball recruits," the flyer reads. "For Kansas Basketball to remain competitive, it's important that recruits considering the program know that the Jayhawk network of supporters will provide opportunities to maximize the value of their brand in comparison to other destinations."
The flyer also notes that the recent rise in player movement through the transfer portal also figures to be impacted in the future by what NIL opportunities are available.
"Kansas Basketball players need to know that their market opportunities will be supported by our vast Jayhawk network of resources and they will not need to look beyond Kansas for the entirety of their college career."