The leading tackler for the Kansas football defense, safety Kenny Logan Jr.'s most recent game wasn't his favorite — not only because the Jayhawks lost at Iowa State, but also because he had to sit out the entire first half after being flagged for targeting the week before.
The junior safety has 39 total tackles, four pass breakups and two forced fumbles in his four and a half games of action so far.
As Logan and his teammates come off their bye week and return to action on Saturday versus Texas Tech (3 p.m., ESPN+), he took some time during the Jayhawks' media session to look back on his experience at ISU and share his thoughts on what's ahead for KU (1-4 overall, 0-2 Big 12).
Q: What was it like for you in the first half of that Iowa State game, having to be on the sideline?
A: "It was pretty tough, not being out there helping my guys play at a high level. I was just trying to make sure I had great body language and could be a great leader for my team, and just try to help those guys and encourage them through the whole first half."
Q: Could you tell in the first half they were missing what you usually bring, in the secondary especially, with your experience?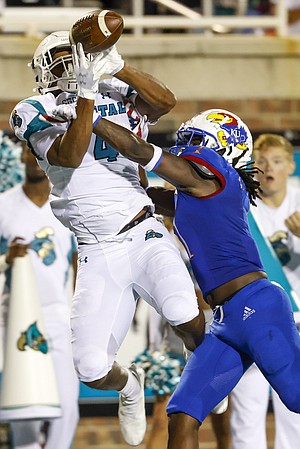 A: "I wouldn't say that. It was just little miscues that we had. But I feel like the guys that were out there were trying their best to execute at a high level. And we just had a few miscues. We're (past it), trying to focus on this week and get a 'W.'"
Q: What all were you doing in the first half when you were on the sideline?
A: "Yeah, I was pretty much coaching them up, trying to tell them what I saw, trying to tell them what they could've done better. And just trying to see eye to eye with those guys on what they were seeing out there, so we could go make plays and just do better in the second half."
Q: How different was that for you, where your first rep is in the third quarter of a game — does that affect how you play at all?
A: "No, it didn't. Me, I'm gonna be the same person from start of the game to end of the game. I was a little upset about it, but I was happy to be out there with my brothers and just be able to go help, just try to go get a 'W.'"
Q: Defensive coordinator Brian Borland said you told him you are never going to get another targeting penalty. That's tough though, right? How do you pull that off?
A: "Just playing with fundamentals, playing with great execution and just doing what the coaches teach me to do."
Q: In what ways do you want to elevate your game even more in the weeks ahead? You guys have seven more games left.
A: "I just want to continue to improve as a leader, continue to improve like vocally. Just make sure I'm doing my assignments, I'm doing my 1/11 that's helping the team. Just make sure I'm bringing great energy, being a great leader and just trying to make plays."
Q: In the secondary what's been emphasized for you guys at practices since that Iowa State game?
A: "Communication and tackling."
Q: That's kind of been all year, right? What do you feel like it's going to take to get to that next level where you guys are better in those areas?
A: "Just continue to practice at it. Practice makes perfect, so we've just got to continue to chop at wood and practice those things."