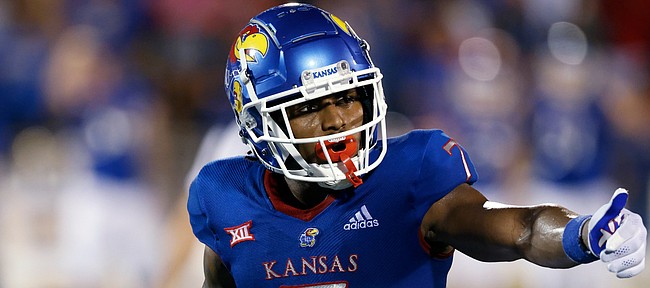 Any modern college football offense worth its salt needs a deep threat receiver to stretch the field and force opposing defenses to cover more ground. That's why the emergence of Trevor Wilson as a legitimate downfield target has been so important for Kansas.
Lance Leipold said Wilson, the former Buffalo wideout who followed his head coach to KU, provides the Jayhawks with a must-have element.
"You can see that in this conference a lot, and in college football today you've got to be able to take some vertical throws and create big plays, and he's one of those guys," Leipold said.
After spending his first two years of college at UB, Wilson quickly made an impact as a redshirt sophomore this season with KU (1-4 overall, 0-2 Big 12). Entering Saturday's homecoming game versus Texas Tech (3 p.m., ESPN+), Wilson is averaging 18.1 yards per catch, which ranks third in the Big 12.
Wilson said relocating from the MAC and joining Leipold and several members of his Buffalo staff at KU was a no-brainer for him, and the receiver from Tallahassee, Fla., hopes to help Leipold and company change the program's culture.
"I just trust in Coach Leipold. I believe in him," Wilson said. "He's an excellent coach and that's one of the main reasons I didn't hesitate to follow him over here."
Once Wilson got to Lawrence via the transfer portal this past summer, he formed a connection with another transfer, former North Texas quarterback Jason Bean, that would play a key part in his successful transition.
Five games into the season, as pointed out by Football Outsiders contributor Parker Fleming, Bean ranks third among Big 12 QBs in percentage of pass attempts for 20 or more yards. Of the 119 throws Bean has let loose so far, 17.6% were downfield attempts of at least 20 yards.
Oftentimes it's Wilson who is beating defensive backs or just using his ball skills in the air to bring in those deep shots. The 5-foot-11, 200-pound receiver delivered KU's highlight of the season so far with an improbable, juggling 42-yard catch at Duke. He also made a 45-yard reception versus the Blue Devils in Week 4, had a 39-yard catch at Coastal Carolina and picked up 26 yards through the air at Iowa State.
As the Jayhawks return to action following their bye week and take on Texas Tech (4-2, 1-2), Wilson has a team-leading 271 receiving yards on 15 catches, with one touchdown.
With Wilson's speed and ball skills, Bean said he developed trust in him "as soon as I got here" in the summer, when Wilson and other receivers ran extra routes with KU's QBs during the weeks leading up to preseason camp.
Bean thinks transferring in at the same time as Wilson and the fact that they're roommates boosted the connection, as well.
And though Wilson is "not the tallest guy in the world," as the QB put it, that doesn't matter because of Wilson's strengths.
"I think just his explosiveness, his route running and his ability to get open down the field and kind of separate himself from the defense," are what make Wilson such a strong target, Bean said.
Wilson is just one reception away from matching the 16 receptions he made in 2020 during Buffalo's pandemic shortened 6-1 season. Leipold said that's when the receiver began showing signs of his big play ability, through creating separation from defenders, as well as his knack for tracking the ball's path in the air and making sure he meets it at the ideal spot.
KU's head coach said some receivers can run like Wilson, but not all can make the types of impressive grabs he has this year.
"From the time he arrived on campus back in Buffalo, we thought he was going to be that type of guy with that type of speed," Leipold said.
KU offensive coordinator Andy Kotelnicki, who also spent two years around Wilson at UB, said Wilson is starting to grow and mature as a player, which is shining a spotlight on his abilities.
"Well, he's got some juice when he runs. So when you have that obviously you want to let that open up and run down the field," Kotelnicki said of Wilson giving KU a deep threat.
KU's O.C. said the goal is always to put fast players in situations that allow them to play fast.
And Wilson appreciates the way Kotelnicki sets him up for success.
"Whatever he's comfortable with you doing, whatever he can trust you doing, you can count on him doing that in a game," Wilson said of what he likes most about Kotelnicki's approach. "So whatever you show in practice you'll be able to do it in a game."