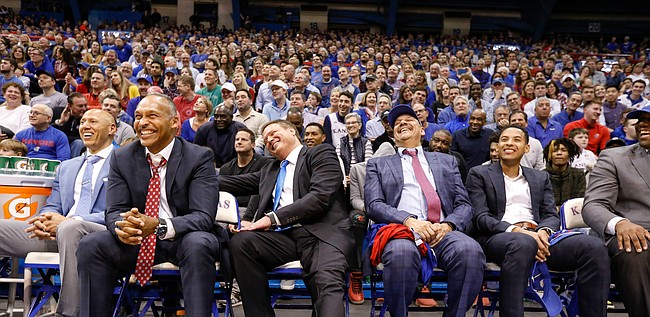 With 10 newcomers and one of the biggest rosters he's had at Kansas, KU basketball coach Bill Self said recently that the early-season installation of certain aspects of the program would proceed at a different pace.
"I don't know that we've changed a lot," Self said recently. "I think we're going to go slower than we have in the past, which will be very boring for our older guys. But I think we have to do that."
Slower does not necessarily mean sluggish, though. In fact, one of those newcomers, senior forward Cam Martin, said the vibe in practice, dating all the way back to boot camp last month, has been as intense as any he's seen. And Martin credits Self and his staff for making it that way.
From Self and veteran assistants Norm Roberts and Kurtis Townsend, to first-year full-time assistant Jeremy Case, Mr. Positivity, Fred Quartlebaum, always-on strength coach Ramsey Nijem and others, Martin said the players were greeted each morning by a group of coaches who were thrilled to be there and even happier to push the players to work.
"Just great energy," Martin said. "They bring the energy in the morning. Coach Rams, when he stretches us, he brings great energy. Everybody's just locked in, trying to get better."
Those words sat well in Self's ears, as the veteran KU coach about to begin his 19th season in charge of the program recently acknowledged that he and his staff would be learning how to work with this group on the fly.
"All players tell you guys stuff that you want to hear," Self joked. "They're professionals at that. But I hope Cam means that when he says the coaches have brought more energy, because I do think our coaches are very excited about this team."
The reason for that excitement, even to Martin, was easy to spot.
"(We're) just coming in every day and getting better," Martin said. "We're not trying to look too far in the future, just coming every day and working and (believing that) everything else will take care of itself."
Senior walk-on Chris Teahan, who has been through a couple hundred KU workouts and practices during his career, also said that the juice from the coaching staff was noticeable.
"There's a different kind of energy around the program this year," Teahan said. "I don't know whether it's (because) last year was just so on and off with having no fans and the corona stuff and it was weird for everybody. But this year, coaches come in locked in every single day, all the assistant coaches are there, and we've taken our communication to the next level, making sure everyone's on the same page."
When asked if this year's early practices had become redundant, senior forward David McCormack smiled and shrugged.
"It has been a little bit repetitive," he said. "But I think it allows me to work on my patience, being a veteran as far as teaching points with newcomers and young guys coming in and trying to understand how our system works."
The Jayhawks, who are expected to be ranked in the top two or three of the preseason national polls, are now less than a month out from the season opener, Nov. 9 against Michigan State at the Champions Classic in New York City.
Prior to that, KU has an exhibition game slated for Nov. 3 against Emporia State and a closed-door scrimmage at Tulsa later this month.